Campervan Hire Tasmania
Search for Campervan Rental in Tasmania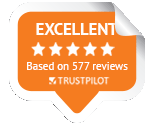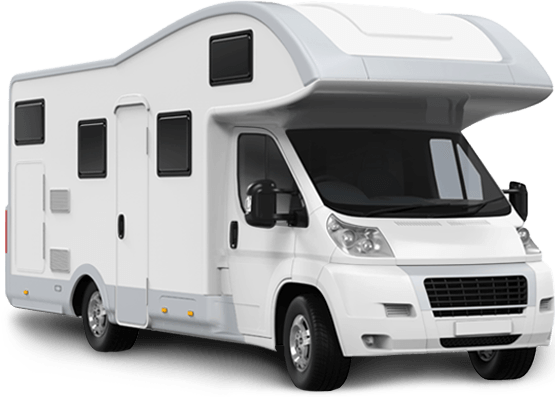 Explore Tasmania with campervan hire from DriveNow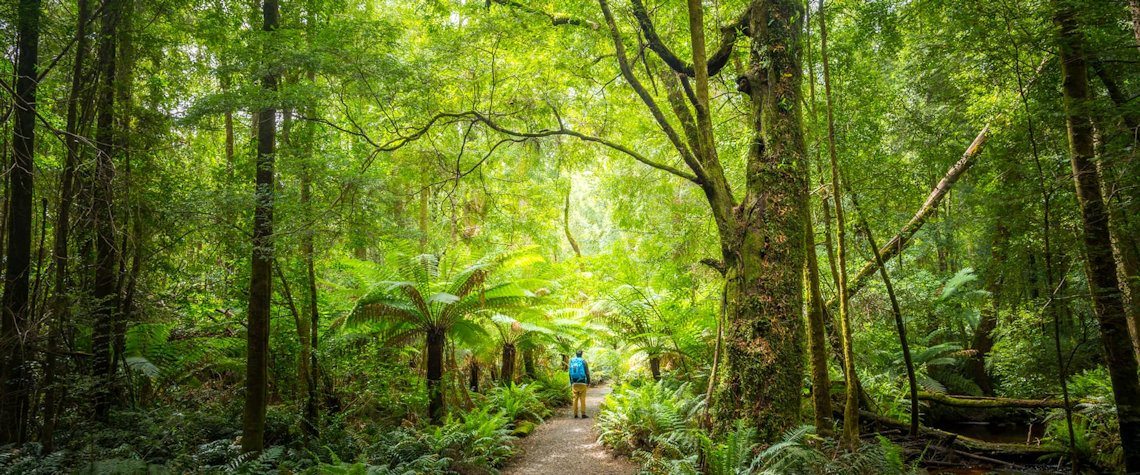 Tasmania is a fantastic destination for those looking for a domestic trip that feels a bit different. After all, the fact it's not connected to mainland Australia can make a trip to Tassie feel a bit more exotic than a jaunt to
Melbourne
,
Sydney
,
Brisbane
,
Perth
, or other Aussie trip sites. While you'll of course need a flight or ferry to make your way to Tasmania, once you're there you can rely on your own set of wheels to make your trip exactly what you want it to be.
There's certainly nothing wrong with opting for quality
car hire in Tasmania
from DriveNow for your holiday, as there is a stack of awesome accommodation options that, when combined with the right vehicle rental, can be the foundation for an awesome visit. But if you want to experience the island in a totally different way, campervan hire in Tasmania could be just the thing for you.
DriveNow makes Tasmania campervan hire in
Hobart
or
Launceston
and other sites around the Apple Isle an absolute breeze. You can take care of sorting out motorhome hire in Tasmania with just a few clicks or taps on your favourite device whenever it suits you, knocking out transportation and accommodation arrangements in one fell swoop. Just punch in what matters most to you, whether it be size, price, brand, or something else, and browse and compare a huge list of options from some of the most trusted brands in the business. You'll find Tasmania campervans from huge suppliers such as
Maui
,
Cruisin
,
Mighty
,
Jucy
,
Britz
,
Apollo
and many more. That means less time digging around the internet for vehicles, not to mention accommodation, and more time spent planning your itinerary so you make sure you hit all the highlights during your holiday!
Sounds pretty good, right? Once you've found the campervan in Tasmania for you, start plotting course for these awesome areas.
Image source:
discovertasmania.com.au
Get a Taste of Nature with These Beautiful Outdoor Areas in Tasmania
One of the best parts of Tasmania is that it is full of amazing natural beauty that is just waiting to be explored by you and your travelling party. With quality motorhome rental at your disposal, you have the power to make your way to the amazing hiking trails and scenic water views situated all over the island state. Besides just having your own set of wheels, you can have the vacation you want with plenty of room for storing any gear you might need to enjoy these natural beauty spots to the fullest. Here are just a few ways to get in touch with nature during your time in Tassie.
Cradle Mountain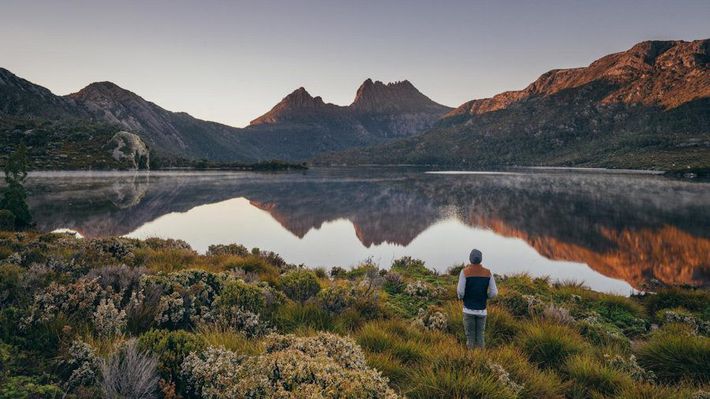 Cradle Mountain is arguably Australia's most famous trekking spot
Source: australia.com
Perhaps the most well-known natural attraction in all of Tasmania, Cradle Mountain has drawn hundreds of thousands of visitors to the Apple Isle through the years. One of the most beloved, and at times challenging, hiking trails in the Southern Hemisphere, if not the world, Cradle Country is a haven for those who are looking for outdoor excitement. The area features a collection of wonderful walking trails that cater to different physical abilities, so you can tackle a longer route if you think you've got what it takes or just go on a leisurely outdoor stroll if you want to get some fresh air cycling through your lungs.
The crown jewel of the entire range is the vaunted Overland Track. It is certainly not for the faint of heart, so novice hikers or those with physical ailments probably want to sit this one out. The entire stretch covers 65km and will often take about six days to complete. That means you'd be better off passing if you're worried about spending too much time away from your Tasmania campervan hire! The trail is busiest between October and May, so keep that in mind when planning your holiday. Also make sure to check before you go, as some parts of the year (usually the aforementioned busy stretch) requires a booking.
Freycinet Peninsula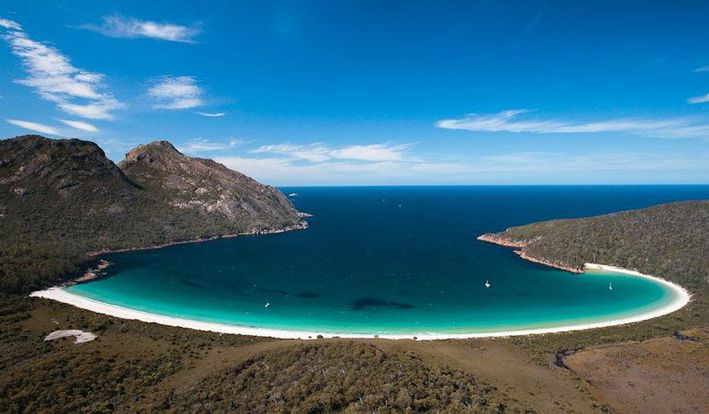 Drink in the delicious views on offer at Wineglass Bay on the Freycinet Peninsula
Source: australiantraveller.com
Freycinet National Park on the Freycinet Peninsula is full of a huge range of gorgeous natural shapes and structures that there's something for just about anybody who's keen to get a bit of fresh air into their system. Wineglass Bay, while nowhere near the vino-friend Tamar Valley (more on that in a bit!), is delicious in its own right. One look out over the lush blue landscape of the bay and you'll understand why it's one of the most photographed locations in the entire country.
In addition to Wineglass Bay, you'll find a handful of beaches to dig your toes into, outcroppings of picturesque pink granite, and even more awesome walking trails, whether you want a quick stroll through the woods or are looking to leave your motorhome parked for days as you camp on the trail. And, don't you worry, there are plenty of places for you to post up with your Tasmania campervan hire as you enjoy this outpost on the eastern coast of the state.
Cataract Gorge
A gem nestled tightly into the northern section of Tasmania, Cataract Gorge is a great place to check out and won't even require you to pack up your gear and get back in your hired motorhome if you don't want! Located around 1.5km from the Launceston CBD, this is a lighter option than the more intimidating Overland Track and Freycinet Peninsula walks if you or those you're with are looking to throw on the hiking boots and get out amongst it. Don't feel like going for a walk? No problem. You can relax and bask in the glorious views provided by the Cataract Gorge chairlift. And, if you're feeling a bit toasty, you can don your swimmers, throw on a bit of sun cream and hop into the pool at First Basin.
Tamar Valley


Reward yourself for all the hiking and driving with a stop in the Tamar Valley
Source: discovertasmania.com.au
If you want to take your taste buds for an adventure and are fond of a few glasses of red or white, a visit to the famous Tamar Valley region north of Launceston is something that you should definitely make sure you include on your to-do list. One of the top stretches of wineries, orchards, and vineyards in Australia, and perhaps the world, the Tamar Valley is a great place to unwind and enjoy both the scenery of the Tamar River region as well as the wine itself. Even better is that the area makes for a fantastic road trip route for you and your Tasmania campervan rental!
Where to Stay in Your Camper Hire in Tasmania
With DriveNow's simple, cheap camper hire in Tasmania, you won't have to worry about finding a spot in a hotel or backpacker hostel around Tassie when you want to rest your head. While there are dozens of awesome places and areas in which to stay, doing all the research, from reading reviews to searching for deals and digging through checklists about what is and isn't included, can take a huge chunk of time that would be better spent looking forward to your big trip! When you have a motorhome in Tasmania, where you park is your place to stay for the night! And with DriveNow's stable of solid suppliers, you'll be getting a camper with comfortable sleeping amenities that will make your decision to skip the lobby all the better.
Here are some great spots in which you can set up shop when you're ready to take a break and relax, whether it's for a night or a more extended break from the road.
Discovery Holiday Parks Cradle Mountain

The Discovery Holiday Parks location in Cradle Mountain keeps you close to the region's action

If you're into outdoor adventure, it's sure going to be hard for you to pass up getting a taste of what Cradle Mountain and the area surrounding the range has to offer. And the Discovery Holiday Parks at Cradle Mountain location is an excellent spot to set up base for a healthy stay at this sensational site.
Discovery Holidays Parks have been a mainstay for Australian travellers for years, and you'll get much of the same dependability and services here. You'll be able to get your hands on a powered site for your campervan, giving you the juice you need to take full advantage of your vehicle's capabilities. But that's the just the start. You'll be positioned right next to the World Heritage site that is Cradle Mountain Lake St. Clair National Park, meaning you'll always be just a few steps from fun times in the wilderness. It's also the starting point for the Overland Track for those who are keen to strap on their packs and test themselves on one of the most rewarding walks in the world.
Stanley Cabin and Tourist Park

Stanley Cabin and Tourist Park gives you a chance to fall asleep to the sound of calming, rolling waves

Situated on a peninsula on the northwest corner of the island that reaches out into Sawyer Bay, Stanley Cabin and Tourist Park is a great way to experience yet another part of Tassie. You'll be right on the water, which will serenade you with waves gently rolling to the shore as you fall asleep. The small village of Stanley sits at the foot of The Nut, a cliff face with walking tracks and a chairlift to its summit, giving you a great vantage point out over the sea.
Launceston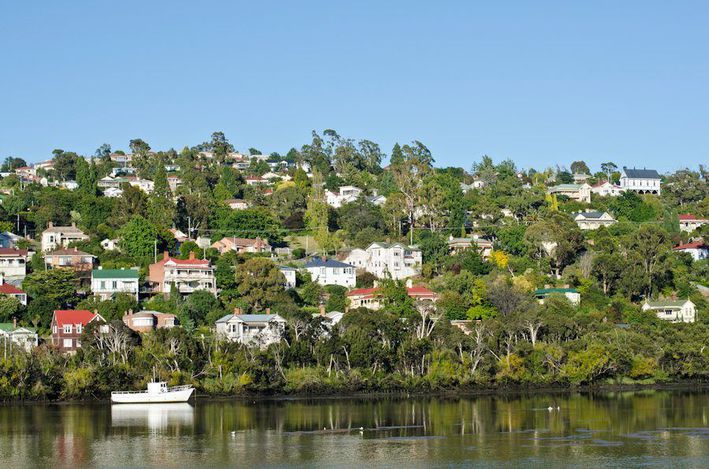 A collection of great parking spots makes it easy to visit Launceston in your Tassie camper hire
After Hobart, there's little doubt that Launceston is the premiere urban centre to visit in Tasmania. Along with an awesome range of food and drink options within the city limits, you'll also be right next to the revered Tamar Valley and its delicious wineries. Luckily for you and your motorhome hire, there is plenty of room for you to post up while you explore the city and its immediate surrounds. Checkout this Hobart to Launceston self-drive itinerary for some great ideas to explore Tasmania's stunning east coast from historical Port Arthur up to world-renowned Binalong Bay and Bay of Fires.
As with Cradle Mountain, there's a Discover Holiday Parks in Hadspen Park just south of Launceston near the wonderful Tamar Valley that has the comfort and space mobile travellers have come to know and love throughout the years. Regroup and plan your next steps with Wi-Fi access and laundry services, and let the little ones stretch their legs on the fun playground equipment. The Big4 Launceston campervan park is another great option from a well-known chain amongst travellers that also has something special for the kiddos—a giant jumping pillow!
Put Your Motorhome Hire in Tasmania to Use on these Great Road Trips
Of course having accommodation amenities with you at all times is one of the best things about having the keys to a campervan in Tasmania. But let's not forget the other major benefit of motorhomes—the wheels! Being able to see different parts of Tassie whenever you want is one of the greatest perks of hiring a campervan. Ready to hit the road? Here are some of the finest routes you can take across this great state.
Tamar Valley
By now you already know there's a strong collection of delicious reasons to check out the Tamar Valley. But did you also know it's a perfect place to see during a road trip in your Tasmania camper? Well, believe it. You'll get a solid stretch of about 60km of the winding Tamar River, the aforementioned orchards and vineyards, and loads of other sensational scenery. We recommend a couple days for this trip, which isn't super long in terms of kilometres covered, but features plenty of worthwhile stops that can fill up the hours in the blink of an eye!
Your trip begins in Launceston and takes you to the north coast of Tassie to George Town. As you cruise along in your motorhome, the Tamar River on your left provides plenty of excellent window dressing for those who aren't tasked with keeping their eyes on the road. Along the way you'll have the chance to stop at a handful of dazzling wineries, sampling the grapes and picking up a few to enjoy once you've parked up for the evening. Once you hit George Town, you can explore the town, which served as one of the country's first settlements. You can even unwind on the beach once you've put the keys down for the evening.
Either on the way to George Town or on the way back to Launceston, you can swing across the Tamar River to Beauty Point, which sits on the other side of the winding waterway. This is a place that is especially welcoming for children, with animal experiences at Seahorse World and Platypus House that are perfect for little ones.
Huon Trail


The lush beauty of Hartz Mountains National Park is just one of the treats of a Huon Trail trip
Source: discovertasmania.com.au
If you're looking to set off for adventure from Hobart, the Huon Trail could be a good guide for you to follow as you navigate your motorhome hire through the southern part of the island. Starting from the capital, you will make your way through the Huon Valley and its wonderful variety of landscapes. The textures and colours of the visuals outside your window are worth the effort alone, as you'll be treated to many of the features that make Tassie so great: beautiful aquatic views of the Huon River; the mighty peaks of the Wellington Range; and the wooded areas of Hartz Mountains National Park.
But don't think you should stay confined to your camper during your voyage. What kind of road trip would that be? A bad one is the answer! Along the way you can stop off at the thrilling Tahune Forest AirWalk, which gives you a bird's eye view of the region, or head underground to explore the epic Hastings Caves a bit past the town of Dover. If you want, you can push it to the limit and drive all the way to the coastal town of Cockle Creek. That's the furthest point south you can drive in all of Australia. It's also the home of a wonderful sandy white beach and crystal clear blue water.
Get Ready for Your Tasmania Campervan Trip
Being able to compare and contrast excellent options for campervan hire in Tasmania with DriveNow is one of the first steps in planning an awesome holiday. But that's just a start. Next, you need to get the rest of your trip sorted out. Here are some things to keep in mind so you can go into your camper voyage to Tassie with your eyes wide open.
Parking Your Motorhome Hire in Tasmania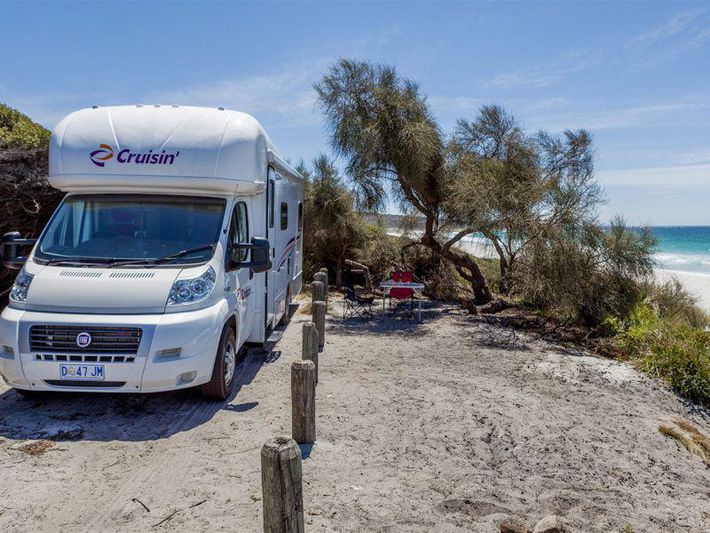 There are heaps of great places to set up your campervan for a night (or more) in Tassie
Source: australias.guide
One of the greatest benefits of campervan hire is the mobility it provides, both in terms of transportation and accommodation. But just because you have the power to make pretty much any place you can park your home for the night doesn't mean that you should. Pulling over and spending the night wherever you want isn't a great idea for a few reasons. For one, it might not be safe. For another, it might not be legal. You don't want to trespass on somebody's land or impose on the protected natural habitat of our furry Tasmanian friends! Stick to specific camping areas (such as the ones we've conveniently listed for you!) and you'll be in good shape. Not only will you be on the right side of the law, you'll have access to wonderful amenities and playing areas for your young travellers along with beautiful surrounds.
Parts, Pieces, and Accessories for your Tasmania Campervan Rental
Having your accommodation with you at all times means you'll have plenty of space to keep all of your things within arm's reach (or at least close to it). But that's not all you'll get. When you rent a campervan in Tasmania from DriveNow, you'll get more than some sleeping areas, wheels, and shelter. You'll get all the extras that can help make you feel at home. The tools you need to eat, sleep comfortably, and relax are often included in your rental package. Just to be sure you know what you're getting, check your listing and/or contact your supplier so you can be clear on what's included. Many include outdoor seating and sleeping gear that can make relaxing outside of your ride that much more enjoyable. These can not only enhance your trip, but could also save you a lot of packing space and hassle!
Don't Sweat Driving
Listen, DriveNow understands that a lot of people might not have much, if any, experience driving a motorhome. That's why we're here to tell you that you need not be afraid of operating one of our high-quality Tasmania campers! After all, these aren't massive, clunky machines you'll be working with. Here at DriveNow, we give you access to a giant range of contemporary vehicles with many of the same features that make today's popular cars and trucks so beloved. Compare vehicles with power steering, automatic transmissions, and attractive, manageable sizes and shapes today!
Tasmania Weather
The climate in Tassie can vary greatly between the seasons, of which there are four each year. In the winter the average temperature sits between about 3 and 11 degrees Celsius, with summer temperatures during the warmer months of December to March sitting between 17 and 23 degrees.
In terms of precipitation, you won't encounter too much rain in Hobart, while the west coast of the island features enough wetness to keep the rainforests thriving. That being said, no matter where you are in Tassie, it's wise to keep a range of clothing on hand when possible. You don't want to be caught out during a cold snap or surprise deluge!
Find and Compare Cheap Car Hire For Free in Tasmania with DriveNow
When you use DriveNow for campervan rental in Tasmania, you make finding vehicles from major suppliers at great prices that much easier. You'll be able to easily browse what's on offer from proven brands such as Britz, Cruisin, Maui, and Jucy, so you can have a clear picture of the different size, shape, and price options available to you. With so many pick-up locations around Tasmania, you'll be able to grab the keys at a spot that's convenient for you so you can get your trip started quickly and on the right foot.
DriveNow's lowest price guarantee also means you'll be able to keep your cash for more important parts of your trip, such as sampling the glorious wines of the Tamar Valley or indulging in amazing treats in Launceston and Hobart. You won't get caught out with surprise fees, as the price you see when you book is the price you get.
Why Use DriveNow for Motorhome Hire in Tasmania?
We partner with Australia's top rental brands to maximise your choice
Guaranteed lowest rates
100% Australian owned and operated
Free booking service with no fees or hidden charges
Pay when you collect the vehicle not when you book
Objective and impartial comparison of rates
Access to camper hire in Tasmania takes the stress out of one major part of planning your big trip. We've been helping Australians gain access to the vehicles they need for more than a decade and are ready and waiting to help you compare and find the right fit.
Tasmanian Campervan Holiday Parks - DriveNow 10 Collection
The DriveNow 10 Campervan Collection for Tasmania is a snapshot selection of holiday parks ideal for those renting a campervan in Tasmania. All come recommended and provide features such as powered sites, multiple shower blocks, dump stations, BBQ facilities, washing machines and onsite Park Managers.
Tasmania Campervan Rental Locations
Discover amazing experiences in Tasmania