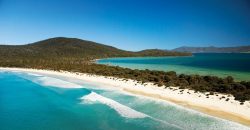 Hobart has many wonderful things to offer its visitors. Beautiful scenery, food, historic attractions, to name a few. What many visitors don't make enough time for are the day trips from Hobart. Many of Tasmania's best attractions are just an hour or two from the capital city. Grab a cheap hire car deal from Hobart and visit these great places for a day trip.
Maria Island (pictured)
Once you step foot on Maria Island you won't want to leave. The island is beautiful with a rugged coastline and gorgeous sandy beaches. Take a cruise to the island, where your more...
The post The best day trips from Hobart appeared first on DriveNow Blog.