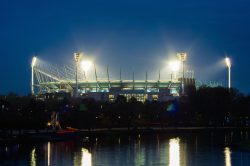 Melbourne hotels are in abundance and any footy fan will know there's always a "good one" just around the corner.  But where to start when heading to the mighty MCG for the match of the day? We've just kick five goals straight with these recommendations.
Hire a car from Melbourne Airport and book one of these Melbourne hotels.
Adara Richmond
Adara Richmond is only a 10-15 minute walk from the MCG. It's hardly a hassle when you're enjoying contemporary and spacious living in an inner-city serviced apartment. You'll have full kitchens, washers, driers and high-speed WiFi in your room. There's more...
The post Five Melbourne hotels within walking distance of the MCG appeared first on DriveNow Blog.