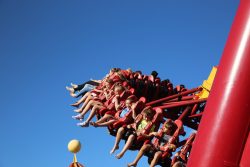 What to do when the school holidays arrive next winter has the whole family shivering in its collective boots?
You head north, hit the east coast and soak up the sun in between theme parks, that's what. But it's not for the faint-hearted. We may be heading into the warmer weather, but here's a cool plan for school holidays next winter.
A Gold Coast adventure with theme parks on the agenda in a Griswald-style escape may be an oldie, but it's certainly a goodie and the perfect way to elude the Victorian winter chill for a week or so. With more...
The post Gold Coast escape – how to plan your next winter school holidays away from Melbourne appeared first on DriveNow Blog.