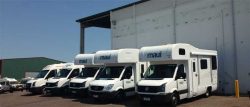 If you are planning a campervan holiday in the Top End of the Northern Territory and exploring more remote locations, here are some tips from our experience on the road. Much of this applies to travel any way in remote Australia. If you have ideas and tips you'd like to share, please send them into [email protected]
Tips:
Walk round and thoroughly check your Campervan rental before you leave the branch. Take photos of any existing external scratches or damage. Check inside that everything is working. Your campervan supplier will be helpful and will work with you on this more...
The post Campervan Hire in the Top End – Travel Tips appeared first on DriveNow Blog.