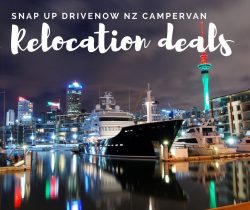 RELOCATION deals. Now that's one of the most overlooked opportunities for those looking for an inexpensive and fun way to explore a destination. Right now, for example, there are dozens of cheap New Zealand campervan rental relocation deals just sitting there waiting to be clicked and most of them are for $5 a day at the time this blog hit the blogosphere.
So, how does it work? The DriveNow campervan rental relocation list is updated each day between 8.30am-9.30am (AEST) for travel in the coming two or three weeks. That's when the list is fresh and vehicles most likely to more...
The post Relocation, relocation, relocation with a New Zealand campervan rental appeared first on DriveNow Blog.