Embark on the Ultimate Canadian Adventure with Campervan Hire from DriveNow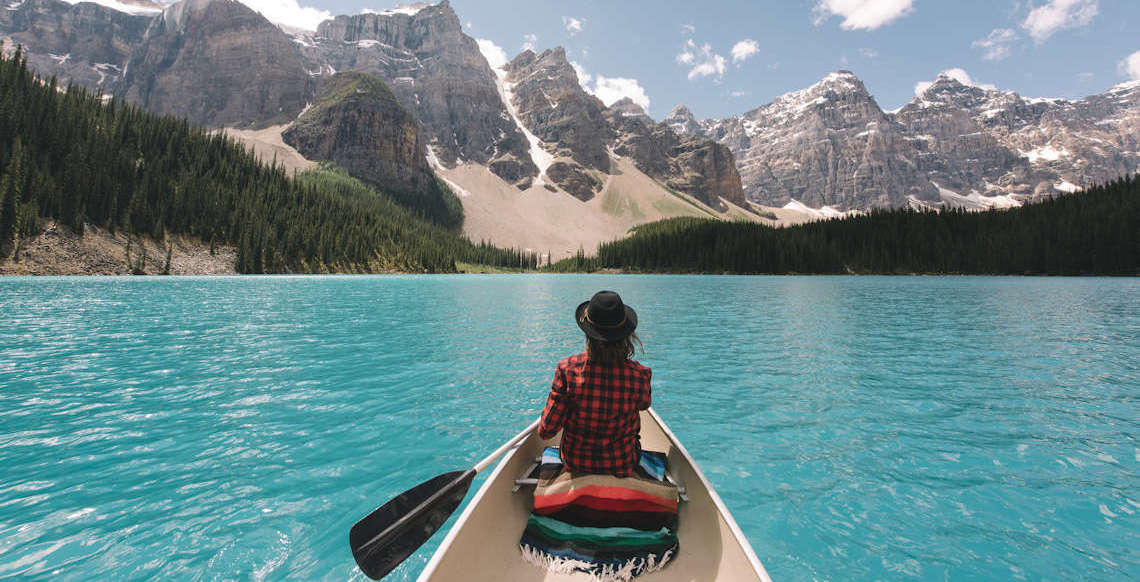 Glassy lakes, snowcapped mountains, action packed cities; Canada really ticks all the boxes. The vast country in the northern hemisphere is a real crowd pleaser, and it's not surprising that visitors flock to admire its beauty and soak up its culture year after year.
Canada boasts glorious hot summers and stunning snowy winters; perfect for thrill seekers and nature lovers to explore the incredible geography. National parks and mountain ranges filled with hikers and mountain bikers in summer become snowy wonderlands in winter, packed with skiers and snowboarders keen to experience some of the most dramatic terrain in the world.
And it's not just the outdoor fanatics who can appreciate what Canada has to offer. Cities bursting with history and culture, thriving sports teams, and delicious local food and drink are just a taste of what's waiting to be explored on a trip to Canada, with just as much to do for a relaxing holiday as there is for an action-packed adventure.
The country is so large that it could really be considered several countries. Encompassing 13 provinces and 3 territories, Canada stretches all the way from the northern United States to the Arctic Circle, making it as diverse geographically as it is culturally. This means that the only hard part about planning a trip to Canada is deciding where to go! While you won't be able to cover the whole of Canada in one trip (unless you have a very, very kind boss), a great way to explore the country and get as much in as possible is to travel by campervan.
Hiring a campervan in Canada means that not only do you have your transport sorted for the duration of your trip, but you also don't have to worry about hotel bookings or sticking to a set itinerary. With a campervan rental in Canada, you can chop and change your plans as you wish, putting all the power in your hands.
There are many operators offering motorhome or campervan hire in Canada, and it can sometimes be tricky to pick between them all. To solve this problem, make your booking with an unbiased comparison site like DriveNow, where you can browse campervans from a huge variety of makes, models, and sizes, to find one that suits your needs and budget.
So what are you waiting for? Pack your hiking boots, charge your camera, and prepare for the road trip of a lifetime! Still not sure what to expect from a roadie in Canada? Here's just a taste of what's in store.
Waterfalls, Whales and Natural Wonders: What to Look Out for on Your Trip to Canada
As you would expect from a country of this size, no guide can do justice to the number of incredible landmarks and natural beauties to be explored in Canada. However it's always good to have a number in mind before you set off to give you a taste of what's in store. Here are just a few of the biggest hot spots located all over the country for you to check out in your Canada campervan rental.
Niagara Falls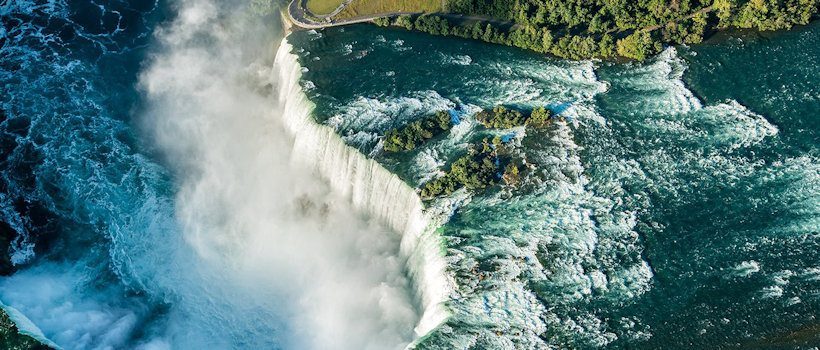 Marvel at the impressive sight that is the Niagara Falls
Source: Niagara Falls State Park
They may not be officially considered as one of the Seven Wonders of the World, but we won't disagree if you think Niagara Falls certainly deserve a place on there. The name Niagara Falls is given to the group of three waterfalls that straddle the border between the USA and Canada. The three waterfalls are Horseshoe Falls, the American Falls, and the Bridal Veil Falls, which collectively create a spectacular display that draws tourists from all corners of the globe. The city of Niagara Falls, after which the landmark is named, is situated in Ontario in the South East of the country.
Jasper National Park
While Canada isn't all about its breathtakingly good looking scenery, there are some places that just have to be seen to be believed. Japer National Park is the biggest national park in the Canadian Rockies, covering 10,878 square kilometres of mountains, lakes, and wilderness. Sports lovers will be spoilt for choice here, with a fantastic network of trails both in summer and winter, perfect for hiking, skiing, and exploring. If sports aren't your thing, that's alright, there's still plenty to see and enjoy. The landscapes and mountain villages here can be enjoyed just as much for a drive through or a day trip, and there are plenty of places to park your Canada campervan rental. Jasper National Park is located in Alberta, around 3 hours' drive from the cities of Edmonton and Calgary.
Toronto and Montreal
We understand that those who take campervan holidays are often more interested in spending time in the great outdoors rather than trekking through big cities, but when there are exciting foods to discover and fascinating attractions to see, exceptions can be made. Campervans in Canada can be picked up at destinations all over the country, but it can be convenient to find one close to a city airport to avoid finding transport to and from your vehicle. Of course, this also gives you the perfect excuse to do some sightseeing.
Toronto and Montreal are two of the best-known cities in Canada, and for good reason. Toronto is multicultural, diverse, and full of fascinating things to see and do. Known as Canada's capital of the arts, you'll find eclectic events, exhibitions, and live music performances, as well as some of the world's best restaurants and bars.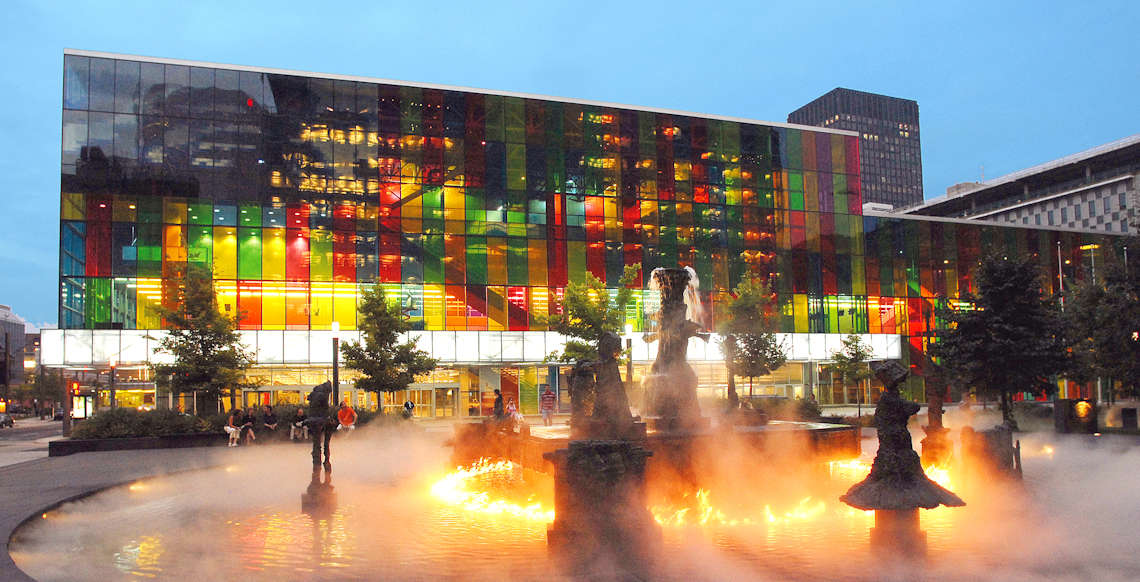 Soak up some sights in Montreal, one of the most popular tourist destinations in Canada
Source: Destination Canada
Montreal is located in Quebec, in the South East of Canada. It is the most predominantly French speaking province in the country. The city is often compared to various old European cities thanks to its impressive elaborate architecture, winding canals, and vibrant music scene.
Where to Park your Canada Campervan Hire
The beauty of hiring a campervan rather than using normal accommodation is that you can make your own rules (to a certain extent, at least). There's no stress about booking hotels or hostels at the last minute, and if you feel like changing your destination mid trip, you can go where the wind takes you.
While the idea of simply parking up in a romantic spot in the middle of nowhere is very appealing, in reality it can be much more convenient (and legal!) to look for designated campsites and holiday parks, which come with toilets, showers, and power points. There are hundreds of such campsites all over Canada, but here are just a few:
Lake Louise Campground
Lake Louise in Alberta is a hugely popular spot for outdoor lovers. With its sparkling turquoise water and hiking opportunities in summer and nearby ski fields in winter, there's a wealth of opportunities for fun on offer. While you may want to consider staying somewhere slightly warmer during the winter months, if you visit Lake Louise during the summer, Lake Louise campground is an excellent place to park up your Canada camper van rental and explore the area. The campsite offers essential facilities like showers and toilets, as well as picnic benches, fire pits, and electric hook ups. All this on top of stunning mountain views wherever you look!
Riverside Resort, Whistler


Enjoy views like these on a regular basis as you hike and bike around Whistler
Source: Whistler.com
Whistler is another favourite spot for those looking to soak up some of Canada's natural beauty. The town is located 120km north of Vancouver in British Columbia, and while winter will be very cold for campervan travelling, summer also offers endless opportunities for hiking, biking, marvelling at the glorious mountains or meeting some of the local wildlife with Bear Viewing Tours..
Riverside Resort in Whistler is located a short distance from the beautiful Green Lake and offers a range of activities and outdoor areas to make the most of the surroundings. The area is also full of pleasant shops, cafes, and restaurants within walking distance, so you can leave your Canada motorhome or campervan hire at the park and go for a stroll.
Gros Morne National Park Campground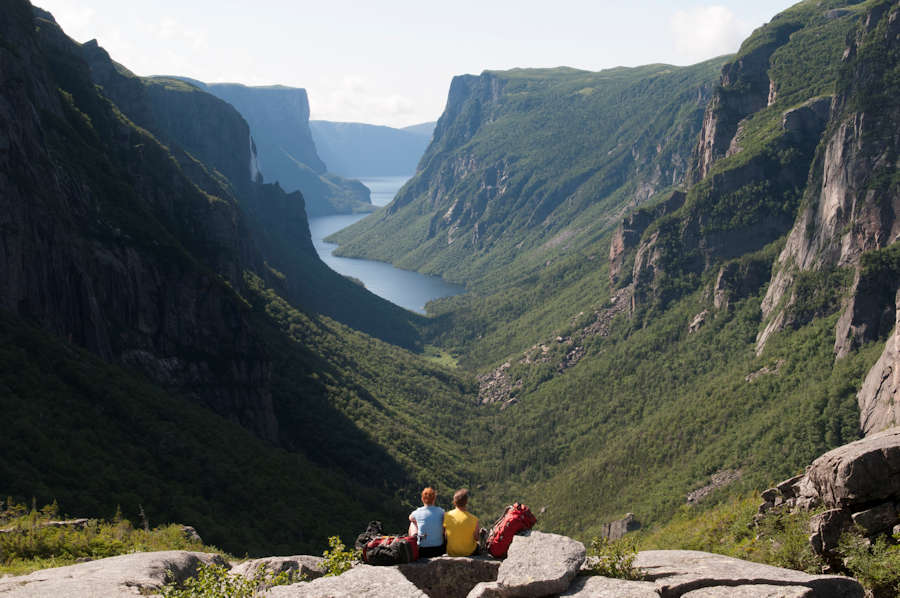 Look down upon Western Brook Pond Fjord in the Gros Morne National Park
Source: Destination Canada
Looking to get really into the wild? Head east to Newfoundland, where you'll find magnificent cliffs, waterfalls, and glaciers, as well as a great selection of campsites and walking trails. The Gros Morne National Park is situated on Newfoundland Island, and involves taking a ferry from North Sydney to port Aux Basques. Once you're there, enjoy the peace and tranquility in the Gros Morne National Park Campground, where you'll find showers, fire pits, power, laundry, and everything you need for a relaxing but remote camping experience.
Where to Next? Popular road trips to take your Canada camper van hire
Canada is one of those places that you could keep coming back to for years and still never see half of the spots that you have on your list. One way to attempt to solve that problem is to rod trip in your Canada campervan rental! Here are some of the most popular road trips taken by visitors to Canada that can help you get and eyeful of the country's most popular sights.
Calgary to Vancouver
This road trip takes in some of British Columbia's most impressive scenery and enables you to get a taste of both the city and the great outdoors. The trip could take anything from a week to two weeks, depending on how many stops you take and how fast you drive! The route takes you past several well-known towns including Golden, Revelstoke, and Salmon Arm, where you can stop and enjoy mountain biking, spot Grizzly bears, and sample local craft beers and cheeses among many other activities.
Jasper to Yellowstone
Jasper to Yellowstone is a great trip to take if you're thinking of travelling on into the USA. Make sure this is pre-rranged with your passport and vehicle rental beforehand, so you have no surprises at border control! If you drive non-stop from Jasper to Yellowstone it would take around 13 hours. However there would be no fun in that, so break the trip up over at least 10 days or so and enjoy stopping in some of the glorious lake and mountain side campsites on the way in your motorhome hire. Some of these places include Banff, Lake Louise, and Missoula in the US state of Montana.
Montreal to Tadoussac
Explore Eastern Canada with this road trip from Montreal to Tadoussac in Quebec. Pick up your camper van or motorhome hire in Montreal and either take a grand loop returning to the city or take a one way camper van rental and continue on elsewhere after Tadoussac. If you start in Montreal, have an explore around the vibrant city before heading to Jaques Cartier National Park, where you can canoe, hike, bike and stay at the convenient Jaques Cartier campground. On your travels to Tadoussac you can also stop at Lac St Jean and La Mauricie National Park, where you'll find convenient places to park your campervan. This trip could take you anywhere from a few days to a fortnight, depending on how many stops you take.
The Cabot Trail, Nova Scotia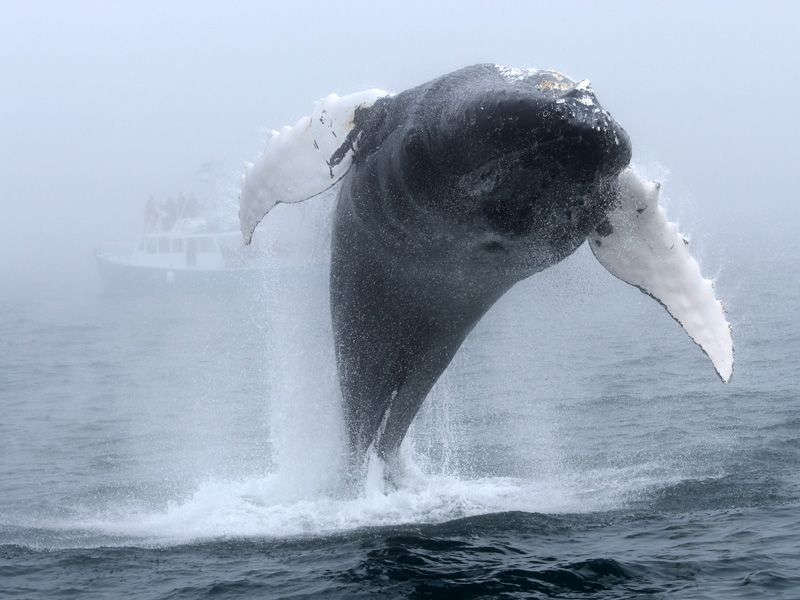 Add the icing on the cake to your incredible road trip and look out for whales and other wildlife on the way.
Source: Mariner Cruises
For another eastern adventure that could be done in as little as five days, head to the Cabot Trail in Nova Scotia. This 300km trail circles around the north of Cabot Island and is becoming world famous thanks to the incredible beauty of the landscape. There are many activities to be done during your camper van trip including golfing, whale watching, and moose spotting.
Get Convenient, Cheap Campervan Hire in Canada from DriveNow
With so many things to see and do, all set amongst a beautiful landscape, it just makes sense to hire a campervan in Canada if you want your best chance of ticking all the boxes during your holiday. Besides incredibly convenient transportation at your fingertips, Canada campervan hire also gives you comfortable accommodation at all times.
When you book your campervan hire in Canada with DriveNow, you'll get to choose from awesome makes and models from some of the best campervan suppliers in the world, including but not limited to, Britz, Maui, and Jucy. All you have to do is sort by the features most important to you, whether it be size, cost, or certain amenities. Then you'll get a clean snapshot of what vehicles are available where so you can find what you need quick and spend more time planning how you're going to spend your time in the north.
In addition to convenience, you'll find a collection of great options for campervan hire in Canada at awesome prices. And don't worry about paying up front—you don't even have to show us your credit card until it's time to pick up the keys. Just another great perk of renting a motorhome in Canada from DriveNow!
Why Use DriveNow for Campervan Hire in Canada?
DriveNow has been comparing Campervan Rentals since 2003
Impartial and instant rate comparison
Free booking service with no fees or hidden charges
Quick and easy
Guaranteed lowest rates
Hiring a motorhome in Canada could give you the power to have the trip of a lifetime. Find easy campervan hire comparison on DriveNow and get ready to roll!