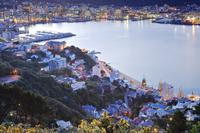 Winter in Wellington. New Zealand's north island is an absolute gem at any time of year, but even more so in winter. Not only will you generally find the roads are quieter and there are no lines to get into most places. You have the freedom to move at your own pace and book as you go along.
Many people will flock to the south island for winter on the ski fields. But Wellington has plenty to offer plus more. Pick up a hire car from Wellington airport and make this the place of your next winter getaway.
Choose from these things to do…
Go shopping
Shopping is always a good idea on a rainy day and Wellington has many charming shopping hotspots. Cuba Street is known for its vintage stores, such as Ziggurat, along with boutique stores and New Zealand designers. Lambton Quay is also popular with locals. But if you're also looking for all sorts of handmade arts and crafts, the Wellington Night Market or the Underground Market will serve you perfectly.
Have a go at ice skating
Wellington turns into a winter wonderland when the colder months hit. There are ski fields nearby, but if you want something very quick and easy then you're in luck! In recent years the city has started hosting its very own outdoor ice rink when the mercury plummets. It's a great way to have fun, learn some new skills and exercise all at the same time.
Explore Zealandia Sanctuary
Travel just a few minutes from downtown Wellington and you'll discover the joys of the Zealandia Sanctuary. Stroll through the area and you'll be able to spot geckos, parrots and even the endangered little spotted kiwis. It's worth joining a guided tour of the sanctuary to learn more about these creatures. Tours run during the day, in the evenings and at night. Each offers a different experience.
Tour Kapiti Island
Kapiti Island is a nature reserve and it's home to some of the country's most endangered birds. It's not just the island but also the waters surrounding Kapiti Island that make it a safe haven for endangered species, so they can thrive again. The number of people who can visit the 10km long island each day is limited. Only licensed tour operators are allowed to bring visitors to the island.
Jump on board the Northern Explorer Train
When the time comes for you to leave Wellington and head north to Auckland, you'll want to make sure you do it the right way. Sure, you can easily catch a flight. But why not buy a ticket for the Northern Explorer Train, so you can spend hours passing beautiful scenery? You'll pass snow-capped mountains, rolling hills and pristine rivers.
BRIANNA PIAZZA