Part 1 – The North 
The Tamar Valley is a treasure trove of natural wonders, history, and unexpected tales waiting to be explored. So, pack your hiking boots, gather the family, and embark on these unforgettable adventures in one of Tasmania's most captivating regions.
Do day trips from Launceston or make it part of your itinerary enroute to Devonport.
If you're a nature enthusiast and love discovering hidden wilderness treasures, we've got a treat for you! We've put together a list of some fantastic short walks in the Tamar Valley that are perfect for a day trip from Launceston, and they're all family-friendly, and some are suitable for travellers with accessibility issues.
Within a scenic drive from Launceston, the Tamar Valley offers an ideal blend of natural beauty and historical intrigue that combined make for unforgettable bushwalks.
1. The Batman Bridge: An Engineering Marvel with Stories to Tell 
Distances – 38km/30mins from Launceston
Firstly, where the West Tamar meets the East, the Batman Bridge stands tall as an engineering marvel. Rising 299 feet above the water and spanning 676 feet with footings sunk 59 feet into the clay, it's an awe-inspiring sight. Beyond its structural grandeur, the bridge has seen its fair share of drama, from a gentleman in the 1970s with a peculiar request to eco warriors staging protests in the early 2000s. It's named after John Batman, the co-founder of Melbourne. For some breathtaking images of this bridge, check out the website of the company responsible for its cable inspections – it's quite a sight! Take the route East to West and continue onto Narawntapu NP.
2. Narawntapu National Park: Wildlife Extravaganza by the Coast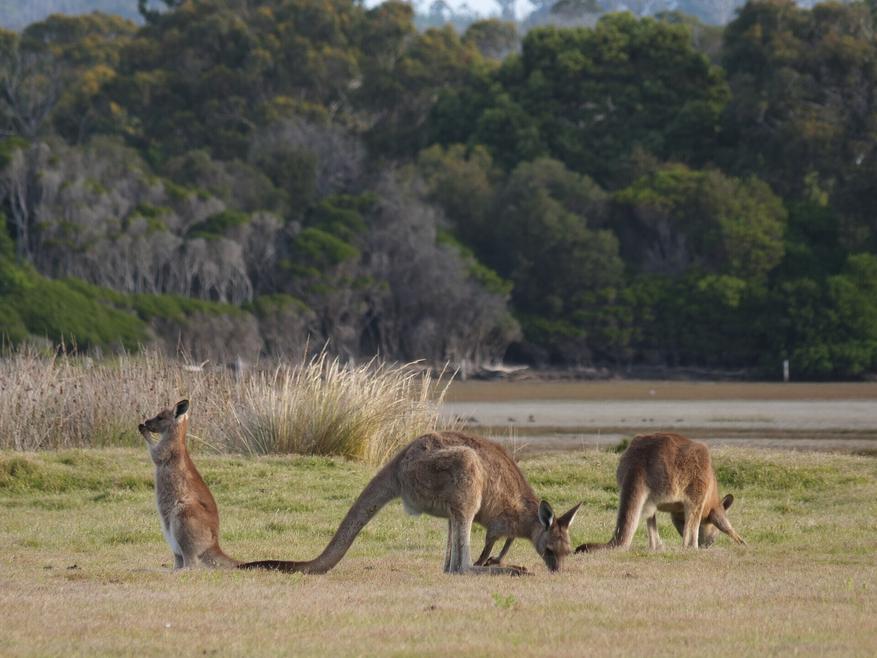 Narawntapu NP – Image Credit – Tourism Tasmanian, Masaaki Aihara
Distances – 80km/1hr 14min from Launceston or 42km/45mins from Batman Bridge
For a wildlife-packed adventure, Narawntapu National Park is hard to beat. This coastal park offers excellent wildlife viewing opportunities and several short walks. One of our Favorites is the Archers Knob walk, which may have a quirky name but promises spectacular views, a sense of accomplishment, and encounters with wallabies, kangaroos, pademelons, wombats, echidnas, birds, and yes, even snakes. The return journey takes you along a windswept beach overlooking Bass Strait, where the Tamar Valley meets the roaring ocean. On a lucky day, you might even catch a glimpse of whales, killer whales, or seals – keep those eyes peeled!
Stay – Campsites – Narawntapu National Park 
3. Notley Fern Gorge: A Wilderness Escape Near Launceston
Distances – 27km/28mins from Launceston or 53km/45min from Narawntapu National Park
As you venture further down the Tamar Valley, the scenery transforms into lush, mossy green forests with crisp, fresh air. The trail meanders through pristine bushland, crossing creeks, passing giant maidenhair ferns, and leading you to a tranquil gorge with the gentle sound of water cascading over rocks. Keep your eyes peeled, as you might spot some local wildlife, from platypus and wallabies to kookaburras perched in gumtrees. One of the highlights is a massive tree that you can actually walk inside, believed to be a hideout for the notorious local bushranger, Matthew Brady. Notley Fern Gorge offers a perfect day trip from Launceston, where you can lose yourself in Tasmania's lush greenery.
4. Supply River Walk: A Journey Through History and Scenic Beauty
Distances – 32km/33min from Launceston or 20km/22min from Notley Fern Gorge
Just north of Exeter, the Supply River walk offers an easy, short hike intertwined with historical significance. This trail guides you along a river crucial to the early British settlers in Tasmania. The Supply River, named for its freshwater source flowing into the Tamar River, it was essential for ships replenishing their water supply during their journeys. The frequent visits by ships led to the development of a water mill, and you can still explore its' remains today. The trail provides insightful interpretation, painting a vivid picture of fresh water's significance to the young colony.
5. Tamar Island Wetlands: An Easy Stroll Amidst Nature's Wonders
Image Credit: Tourism Tasmania, Samuel Shelley. 
 The easiest, closest to Launceston and the most accessible walk – the Tamar Island Wetlands. Here, you'll meander through wetlands teeming with vibrant birdlife. While it's not uncommon to spot a snake, fear not! They tend to stay away from the boardwalk, so you can observe them from a safe distance. The wetlands serve as a breeding ground for native birds and snakes. As you cross over expansive river sections to reach Tamar Island, you'll find amenities, historical artifacts, and delightful spots for picnicking. From the island, you'll be treated to breathtaking views of the Tamar Valley, stretching all the way to Launceston and the distant mountains. It's truly one of the best spots to soak in the valley's essence.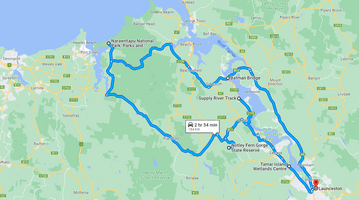 As you enjoy Tasmania, don't forget to pay your respects to the traditional custodians of Lutrumita, the land on which you travel, in the case of the Tamar Valley, the Letteremairrener people.  Travel lightly in these fragile environments – Take only photo's and leave only foot prints 

Feature Images – credit, Tourism Tasmania, Samuel Shelley.