If you are not American you might find the concept of National Monuments a little confusing.  The Statue of Liberty is a National Monument and that seems like a monument,  but thirty-nine Giant Sequoia trees in the California Sequoia National Forest are also National Monuments, whole historic forts from the American Civil War and Native American Heritage sites are also National Monuments, and that's where it gets a little confusing. It's really the use of the word 'monuments' that causes the confusion.   
National Monuments (NM) are anything that should be protected, they could have scenic, cultural, or geological values of national significance.  Over the last hundred years, 129 National Monuments have been proclaimed.  During that time some NM have been reclassified as NP (national parks).   Grand Canyon was the first NM, proclaimed by President Roosevelt that later became an NP.  Adjoining the National Park's lower end is now the Grand Canyon-Parashant National Monument, an area as large as the Grand Canyon which is a convergence of 3 ecological regions that are vital to the health and well-being of the National Park. 
In Utah, the majority of the National Monuments are geographical/archeological sites and most are in close proximity to the Mighty 5 National Parks.  
Utah has 8 National Monuments.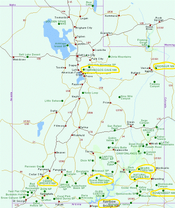 Cedar Breaks National Monument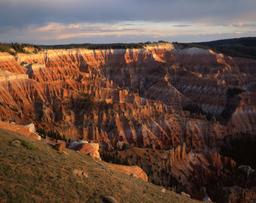 Image credit: Tom Till, courtesy of Utah office of Tourism
This 600m deep geological amphitheater is similar to the pink and ochre hoodoos in Bryce Canyon National Park.  Cedar Breaks can be very easy to see from roadside lookouts on UT-143. Don't attempt the drive in winter,  Cedar Breaks canyon rim is 10,000 feet above sea level. 
The closest town is Cedar City that's 45mins away.  
Grand Staircase-Escalante National Monument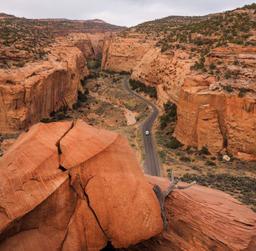 Image credit: Jerry Price, courtesy of Utah office of Tourism
Backcountry at its most authentic. The best way to see the Grand Staircase and feel like you are staring in your own western movie is to do a 4WD or All-Terrain Vehicle tour, the best sights are on the unsurfaced roads.  Scenic slot canyons, sandstone cliffs, and ancient fossil sites. 
There are several access points to the Grand Staircase-Escalante,  Cannonville, Kanab, and Escalante. 
Rainbow Bridge National Monument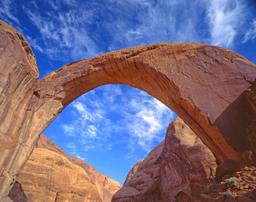 Image credit: Tom Till, courtesy of Utah office of Tourism 
Is one of the longest natural bridges in the world. This 71-meter long sandstone beauty was formed during the Triassic/Jurassic period and is located at the foot of the Navajo Mts.  To access this ancient Pueblo Indian sacred site you need to do a cruise from Lake Powell – there is a 2km walk from the jetty to the monument. Highly recommended as a great day out. 
Hovenweep National Monument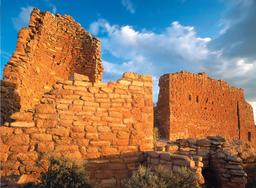 Image credit: Tom Till, courtesy of Utah office of Tourism
An archeological site of buildings dating back to AD 1200 – 1300 constructed by the ancestral Puebloans.  The ruins comprise Hovenweep Castle and town square as well as a few D-shaped dwellings.  This fascinating site shows the ancient terraced hills that were used to cultivate crops and the masonry that was used for the buildings. Stay in Blanding or Bluff, they are both 45mins away. 
Natural Bridges National Monument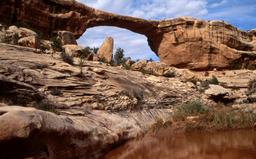 Image credit: Mel Lewis, courtesy of Utah office of Tourism 
Located in White Canyon are the three bridges of Sipapu, Kachina, and Owachomo. You can walk or drive the Natural Bridges NM. The drive is a 15 km one-way loop taking you above the Canyon,  the views aren't amazing from the road but you can stop at each arch and do a short walk to a lookout for a photo,  at the end of the loop the last bridge, Owachomo (pictured above), has an easy 1km walk into the viewing area which gets you closer than the lookouts of Sipapu and Kachina. 
If you're up for it there is a difficult 20km round trip walk that will take you under all three of the bridges,  it's classified 'hard' so be sure you can manage it before setting off.  There are shorter walks to each individual bridge from the lookouts that are much easier. 
The closest towns are Blanding and Mexican Hat both about 70km's from the site. 
Bear Ears National Monument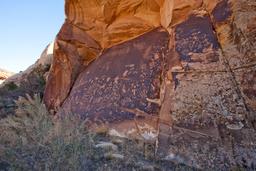 Image credit: Matt Morgan, courtesy of Utah office of Tourism
Bear Ears seen from a distance are actually twin buttes that even in native languages are referred to as Bear Ears. This site has fantastic examples of ancient petroglyphs. Newspaper rock (pictured above) has a full wall of rock carvings, one of the most extensive in the country. Just 45kms from Monticello it's well worth the detour. 
Dinosaur National Monument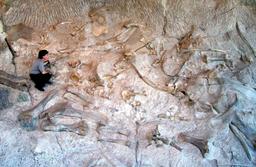 Image credit: Utah office of Tourism
Thanks to time and erosion you can view the bones of Diplodocus, Stegosaurus, Apatosaurus, and many other Jurrasic giants at the Quarry Exhibition Hall in Vernal on the Colorado border.  You will also want to do the drive through the quarry canyon taking you along the Yampa and Green rivers and perhaps have a fish or book yourself on a whitewater rafting tour. 
Timpanogos Cave National Monument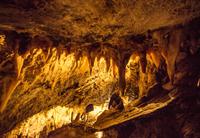 Image credit: Jay Droghns, courtesy of Utah office of Tourism 
Only 55kms south of Salt Lake City in the Wasatch Mountain Range are the three caves that make up the Timpanogos Caves National Monument.  The cave's beautiful Stalignits and Staligtitis are only accessible on a tour.  This protects the fragile environment from damage, it's not expensive but a necessary precaution for the longevity of the caves.  
Book your tour as soon as you know when you will be there.  
Oh Utah,  so much to do, so little time!