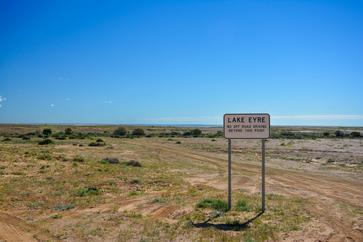 Australia is the place to be if you're looking for unforgettable outback experiences. Many people imagine the Red Centre when they think of 'the Great Outback'. But the good news is you'll find   ncredible outback experiences all over the country.
If you're looking for a taste of Australia's laidback lifestyle, then one of these outback experiences will be perfect for your next getaway. Just hire a campervan from your nearest capital city, and head inland.
See Australia's largest lake
700 km north of Adelaide
Lake Eyre's vastness in the South Australian outback is bound to blow your mind. Most of the time the lake is dry, but about every eight years it swells into an oasis with significant rainfall. It can reach 9,500 square metres, attracting wildlife, including thousands of waterbirds. On a clear, sunny day the lake creates the illusion of merging with the horizon. It truly is an incredible sight.
Visit the Opal Capital of the World
850 km north west of Adelaide
Travel to the outback town of Coober Pedy, where the heat is so extreme that people live underground. Stay in an underground hotel, while visiting underground churches and cafes. Perhaps the number one thing on your to-do list should be fossicking for gemstones in Coober Pedy, since it's considered the world's Opal capital. There are plenty of opportunities to purchase these gorgeous stones. You should also take an underground tour to a working opal mine.
Isolate yourself to see untouched beauty
500 km north west of Melbourne
Admire wide open landscapes and amazing sunrises and sunsets at Murray-Sunset desert. It's a great place for camping and bushwalking. One of the most incredible sights, which relatively few Victorians have seen, is the view of the Pink Lakes. Salt mixed with red algae, which throughout the year changes from deep pink to a shimmering white. The pink is most intense after rainfall, while sunset over the Pink Lakes is a photographer's delight!
Search for dinosaur remains
400 km east of Mount Isa
Discover the towns of Hughenden, Richmond and Winton, which make up part of Australia's Dinosaur Trail. These areas are home to fields of dinosaur, marine and megafauna fossils. It's fascinating to take a guided tour and explore the area's history. Further south to Eromanga you'll find Australia's largest dinosaurs. Expect to find skeletons and fossils of Sauropods and Pliosaurs, not to mention shark teeth and shellfish.
Gaze at the stars in Broken Hill
1150 km north west of Sydney
Australia is famous for its stunning night skies. On a clear night in Broken Hill, stars completely light up the horizon, giving you an uninterrupted view of the Milky Way. Broken Hill's night sky shows have become popular with locals and tourists alike. Join a local expert for an intimate stargazing experience, where you'll learn all about how to read the night sky and the mysteries it still holds.
BRIANNA PIAZZA