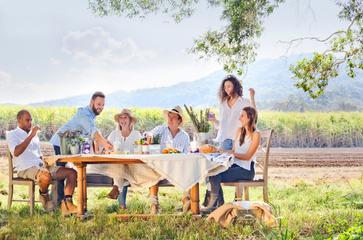 The Tweed region in northern NSW is where the days may be shorter and the air cooler as winter hits its stride, and a hum of events and new experiences are just warming up, offering those on the road the perfect excuse to escape the cold. Some say there's no better time to grab a campervan rental on the Gold Coast in the winter months and head down south to the Tweed region for some fab experiences.
Along with enjoying average winter tops of 20 degrees plus, holiday makers to the Tweed can also renew their love of the region with craft gin and rum tastings, nationally significant art exhibitions, delicious food events and a rare opportunity to get up close with the big three of the sea – whales, dolphins and turtles – in under 3 hours! We chat with the Tweed Tourism Co. team to dig up and present some of their recommendations.

Husk Farm delight
Lovers of craft gin and rum should make tracks to Husk Farm Distillery (pictured) in the Tweed Valley town of Tumbulgum to experience the recently launched Cellar Door & Bar and learn more about the family behind the superb Agricole rum (made from farm-harvested cane sugar) and one of Australia's most captivating spirits, Ink Gin, which famously changes from purple to pink upon the pouring of tonic.
Husk Distillers was borne from humble beginnings in a farm shed by distiller Paul Messenger, wife Mandy and daughters, and survived the region's worst flood in 100 years back in 2017. Emerging from this disaster with a strong conviction to create not only a premium paddock to bottle product, but also an engaging experience for visitors to the distillery, Husk now offers a Distillery Tour to learn first-hand how the spirits are made, which generously starts with a gin and tonic and wraps up with rum tastings.
From craft beverages to hand-made pieces and the finest of art, the Tweed is a place that inspires creative expression.
Murwillumbah an art mecca
The hinterland town of Murwillumbah has long been a mecca for art makers and devotees alike and there's never been a better time to be inspired than this winter with exhibitions showcasing local and national talent.
The township, celebrated for its Art Deco heritage, is bringing the design movement to life over the coming months with a local artists' exhibition at Gallery DownTown in M|Arts Precinct, Façade: Art Deco of Murwillumbah, until 27 July and a major touring exhibition by the National Gallery of Australia (NGA), Art Deco from the National Collection: The World Turns Modern, underway until 25 August at the Tweed Regional Gallery and Margaret Olley Art Centre.
The NGA exhibition, which has commenced its national tour at the Tweed Regional Gallery, showcases Art Deco aesthetics across a range of media from paintings and sculpture to poster art, sourced from the NGA's collection of Australian and overseas pieces.
A must for visitors to the Gallery is also some time spent in the Margaret Olley Art Centre (MOAC), a breathtaking homage to one of Australia's most-loved artists, known for her paintings of still life and interiors, who grew up in the NSW Northern Rivers region.
Taste Tweed Food Festival
The annual Taste Tweed Food Festival is on from 5-14 July with a range of free and ticketed events across the region, from the 6-course degustation Season Signature Dinner, featuring wines by Margaret River's Hay Shed Hill, to mulled wine and street food at the Kingscliff Night market. There's also a lazy lunch, restaurant events, cooking masterclass, twilight cruise, brewery tour and, timed to perfection, a celebration of World Chocolate Day.
Along Mount Warning Road, take a seat at Mavis's Kitchen Long Table Winter Solstice Fire Feast on 6 July to warm up and indulge, with a delectable 3-course lunch served beneath the winter sun accompanied by live jazz tunes, red wine and a cosy outdoor fire overlooking Mavis's expansive country gardens.
To plan a Tweed winter escape, head to visitthetweed.com.au to search for accommodation and more to see and do.
ALSO CHECK OUT 5 GREAT PLACES TO STAY ON THE TWEED COAST