Thank you to our guest contributor Carrie Stewart from LA for her insight into a few of the American Byways. For eight years now, Carrie Stewart has been writing content for web and print,  focused on travel, home, DIY projects,  food,  fashion, and real estate. 
The US is home to some of the world's picturesque prairies, mountains, grasslands, and deserts, making it the perfect place for tourists looking for a thrilling road trip. Unlike the crowded highways, the byways offer an ideal way of getting closer to nature, with these routes also providing a first-hand experience of the diverse landscapes and cultures. Below, we discuss some of the nation's scenic byways.
Beach Boulevard Byway (Jacksonville, Florida – Jacksonville Beach)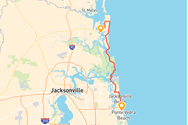 The Beach Boulevard Byway is perfect for travelers interested in the captivating views of the Gulf Coast. The east-west road is a part of US route 90, with the eastern end of this route unsigned as county road 212 (CR 212). The byway traverses through Mississippi's beachfront, with adventure seekers from all parts of the world treated to spectacular seafood. Your menu will likely be composed of gumbo, fresh fish, and other seafood options.
You can also check out the beautiful beach properties along this 26-mile stretch of coastal land that is the perfect relaxation spot during your drives. The picturesque rentals will especially come in handy for travelers who strain their muscles during long drives, with this radiology guide coming in handy if you need to read more on the services to expect when you sustain a significant injury on your road trip.
If you are also looking to extend your stay along the coastal southeast, the Gulf Islands Water Park will be a favorite pick for families. It hosts numerous activities that both kids and adults can enjoy.
The Amish Country Byway (Holmes County, Ohio)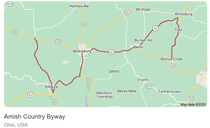 The Amish people are synonymous with simple living, with the Amish Country Byway being the perfect spot to immerse yourself in this often overlooked and distinctive culture. The byway, covering an estimated 257.4 km (160 miles), is served by US route 62, which covers the southwest and northeast areas of the county and ends in Millersburg along SR 39.

Tourists interested in taking a step back from the usual 9-5 will love this Country Byway located in Ohio, with the route offering experiences such as the Doughty Valley Steam Days, the Swiss Valley Tours, and relaxing trips to farms such as the Walnut Creek. Travelers will also be treated to theatrical performances and live music on select days accompanied by home-grown delicacies of cornmeal and hearty meat dishes comprising roast beef and pork chops.
Old Canada Road (Solon – Canadian Border)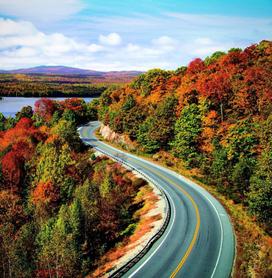 Old Canada Road, Maine, credit Benjamin Williamson
This byway is home to some of Maine's serene woodland scenes, providing the perfect escape from the hustle and bustle of city life. Whether you prefer driving along this 126 km (78 miles) path in the summer or winter, the Old Canada Road (Route 201) is nothing short of magnificent delight. Summer travelers can enjoy the outdoor musical haven at the Lakewood Theatre.
Additionally, motorhome owners will love the venue's expansive outdoor space, making it ideal for overnight parking. Driving north along this byway takes you to the Robbins Hill Overlook, a scenic spot for a picnic as you take in the stunning views of Wyman Lake. Travelling further up north takes you to the Moxie Fall, with the byway overlapping with beautiful sites of the Appalachian Trail.
Route 66 (Downtown Chicago – Santa Monica pier, California)
Route 66 is by far the most famous of the American byways, with the route dotted with numerous monumental sites along a distance of 3939.6 km (2448 miles). It runs through eight different states, with an East-West trajectory taking you through Illinois, Missouri, Kansas, Oklahoma, Texas, New Mexico, Arizona, and ends in California.
The Pontiac-Oakland Museum provides a thrilling trip for car enthusiasts looking to set their eyes upon some of the country's oldest car memorabilia. Ghost lovers will also enjoy a drive through Joliet city, the Joliet prison, and Rialto Square, common spots linked to multiple ghost sightings. The iconic route 66 is also home to numerous cornfields and dainty towns perfect for collecting antiques to remember your trip.
The Lariat Loop (Golden- Evergreen- Golden)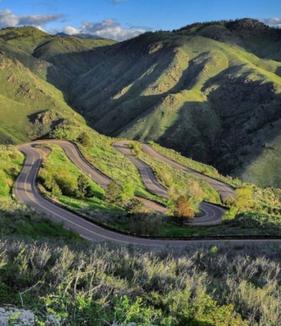 Lariat Loop. Image credit Visit Golden Colorado
The Lariat Loop is one of Colorado's eleven byways and one of the oldest sightseeing destinations common among tourists. Traversing along this 64 km (40 miles) byway allows you to view the Golden Gate Canyon State Park and experience the historic walking tour along the mountain passages. To get the full experience of the Loop, start on Highway 6 in Golden, head to Lookout Mountain, then down to Genesse. Highway 74 takes you from Evergreen on to Morrison and will take you back to Highway 6 at Golden.
Coors Brewing is the spot to be if you love a pint or two. Travelers can enjoy free tours from Thursday to Monday, allowing you to experience one of the nation's finely brewed malt delicacies. Other highlights include the Colorado Railroad Museum and the Dinosaur Ridge.
The Death Valley Byway (Olancha – Saratoga)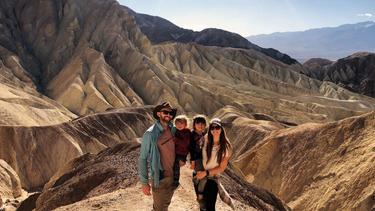 Picture courtesy of Travel Nevada, Image credit – Scott Waters
The Grand Death Valley Byway stretches over 209.2 km (130 miles), with its magnificence known not only to travelers for its mesmerizing landscape but researchers interested in its resources. Also known as Route 190, this byway is located in some of California's and Nevada's deserted regions, hence its unique features. Some spots to be on the lookout for during your drive include the Ubehebe Crater, Badwater Basin, and Devil's Golf Course.
The San Juan Skyway (Durango – Durango)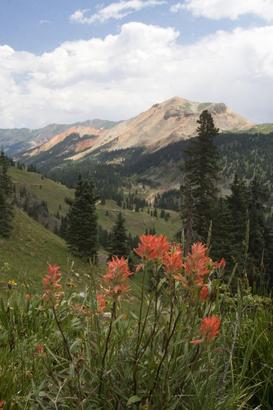 Picture courtesy of Colorado Tourism, Image credit – Matt Inden/Miles
The San Juan Skyway stretches for over 373.3 km (232 miles) and is ideal for exploring Colorado state's magical San Juan Mountains. This bypass takes you back in time, with the road dotted with historic towns such as Mancos and Dolores. It follows US 160 and loops through states highways 145 and 62, ending at US Highway 550 back to Durango. Travelers can also immerse themselves in the everyday living among well-known communities of Durango, Ouray, and Telluride. Other highlights include the Mesa Verde National Park, Animas Museum, and the Mancos Creative District.
The above byways are ideal for you to start your exploring, they allow adventure seekers to experience the rugged terrain and the not so adventurous to enjoy the views and the country towns. Whether you prefer coastal towns, desolate desert land, or peaceful woodlands, the listed byways are a good cross section,  but there are many more.
Thanks Carrie for your advice.