Arnhem Land and 20,000 year old Australians
Day 4 was spent on tour in Arnhem Land and for me this was the absolute stand out of our entire trip – if you can only book one tour in the top end – make it this one. You will not be disappointed in what was a memorable and an amazing experience.
The tour is organised by Lords Safaris (www.lords-safaris.com), one of only 3 operators permitted by the Land council to enter Arnhem land. Yes it is expensive at $810 for 2 adults and 2 children, however worth every cent. You experience that rare opportunity of exploring 20,000 year old Rock Art with a member of the Aboriginal clan that the art belongs to, and all in its raw natural environment. Not for the faint hearted as you'll discover.
Collected at Kakadu Lodge by mini-bus, the 17 of us were driven out to Cahills Crossing to enter Arnhem Land. Access to Arnhem Land is restricted and managed by the Northern Land Council with limited permits issued each year – hence one reason for the higher tour costs.
Cahills Crossing is regularly featured on Australian News in January & February with great torrents of water during the wet season as someone is rescued from a stranded 4WD; for us the causeway was bone dry, with mud flats on one side, tidal water on the other and crocs evident on both. Only the foolish swim or enter the water here.
Our Arnhem Land tour started in the local Aboriginal community of Oenpelli where we met and saw at work the artists and weavers at the local Art centre and learnt more about the community and what it was like living in a remote location
(at least in our eyes) and being often cut off for weeks during the wet season and reliant on air transport for everything – including diesel for the local power station. Life here is not easy and this made the whole experience that bit more real and in some ways confronting.
Our guide, Roland, joined us as we took the short drive to the base of Injalak Hill, renowned for it's rich rock art galleries, some of the best in Australia. Water Bottles, sunscreen and hats an absolute must.
We set off up the hill following a very rough path, really walking over stones and scree for 15 minutes before arriving at the first Art Gallery. No ropes, no steps carved into the hillside and no barriers, just the real thing.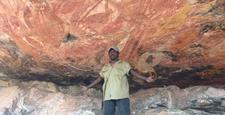 Over the next 2 hours we were taken through more than 10 galleries of varying sizes and ages with Roland describing the use of 2 and then 4 colours in the art and the significance of each piece of work. The walks between galleries involved squeezing down narrow canyons, through rock cracks and along ledges all very safe for the sensible and averagely fit person but not for the infirm, under 5s or unsteady. Areas of the hill are burnt off to discourage goannas and snakes (nice to know) although you may see black kangaroos and wallabies on the hill – but given the temperature most sensible animals are likely tucked up in bed waiting nightfall.

These galleries are as current to their owning clan today as they were to the original artists 20,000 years ago and each year any art work that is exposed to runoff during the wet is carefully touched up and maintained. Whilst the oldest go back 20,000 years there is much younger art work including that painted after Contact – being the first time aboriginals came into contact with non-indigenous people, the first being Makassan Sea cucumber fisherman from Indonesia 500 years ago.

Just before lunch Roland took us through to a large ledge backing into a cave which historically was the burial area for the clan. This was a very spiritual place and the only part of the tour where photographs cannot be taken.

Lunch was 200 feet up on a wide deep ledge overlooking a plateau stretching across towards the Arafura Sea  and on our left an escarpment running down in parallel to the East Alligator River. A photographer's heaven.

Following lunch we explored further galleries before heading back to the Injalak Arts and Crafts Centre in Oenpelli for the opportunity to purchase goods with all proceeds going straight back into the community. Pricing ranged from
$20 through to $3000+ for some of the larges pieces of Art although given these would fetch 4 or 5 times the cost in city galleries this was definitely the place to purchase if Aboriginal Art appeals (and they will post it home for you
as well). What was surprising was how expensive the Pandanus baskets and other weaved products were.

We headed home at 4.30 and by 5.40 were sitting in the Kakadu Lodge pool cooling off – great day and great way to finish. Next is Pine Creek, Katherine Gorge and Cutta Cutta Caves.

Nancy L

We travelled the Top End in a 6 berth Motorhome from Maui kicking off our trip in Darwin. More information and pricing on Maui and other top campervan companies in the Northern Territory can be found on the DriveNow Darwin campervan hire page or contact Reservations on 1300 547 214.