Day 3 Darwin to Kakadu and Yellow Water
We collected our Maui motorhome from their Darwin depot on Bombing road in Winnellie (around $35 from the city). Allow 45 minutes for the staff to show you around the vehicle and explain how everything works. There's DVD you can watch and we were also given a USB stick with the video. A team member will go over the vehicle with you to check for any existing scratches or damage and there's no harm in using your phone camera to snap these just to be totally sure.
Now is also the last opportunity for you to take out any optional excess insurance reduction protection. Unlike car hire your travel insurance is unlikely to cover your excess liability and given you are travelling in the Northern Territory reducing this liability is a good idea. Ours cost $45 a day although we choose not to take the $99 separate rollover cover.
Next stop – the supermarket. There's a Woolworths in Palmerston, or stick on the Stuart Highway and a little further south (22kms from Bombing road) you'll find a Woolies on the right of the highway at Coolalinga – along with a Caltex – handy for topping up before returning the vehicle.
It is strongly (very) recommended to stock up on groceries and other essentials before leaving Darwin – you will find supermarkets elsewhere but these will be more expensive and in less populated areas be small with limited choice. However you will find that EFTPOS facilities are everywhere – there's no need to carry larger than normal amounts of cash.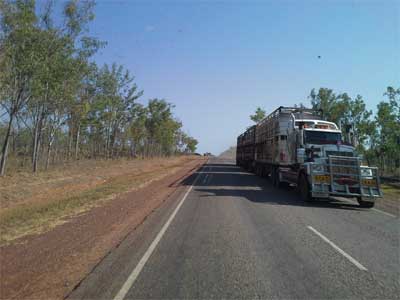 Once fully provisioned including grog (last opportunity is in Humpty Doo just outside the park on Arnhem Highway) we headed for Kakadu, south on the Stuart Highway before turning left turn onto the Arnhem Highway. All very well sign posted to the point our TomTom was really redundant.The 255km drive into Jabiru takes around 3 hours from Darwin. Be aware of Road Trains – these operate across the Territory and can be up to 4 trailers and 50 metres long, impressive and very long trucks!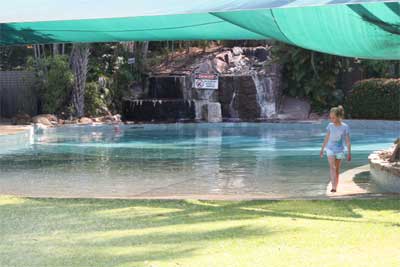 Our first overnight destination was Kakadu Lodge in Jabiru. This proved to be an excellent choice (actually only choice in Jabiru!) and highly recommended. There's plenty of space and powered sites with over 200 they have never had to turn anyone away even in the peak July period so there's no need to book ahead (in fact they don't take bookings for powered sites). There's also unpowered sites, cabins and tent-cabins that can be hired as well.
Toilets and shower block we accessed were the best on our trip. Central Pool was an oasis for the kids and with a bar and bistro adjacent a great meeting place for evening meals and drinks.
Reception have a small shop and selection of tourist materials along with Tour booking services. This park was the best value in our opinion at $43 a night for a powered site and family of 4 along with the best facilities – a stand out.
The next day we headed 50kms south down the Kakadu Highway to Gagudju Lodge at Cooinda to jump on a cruise of the Yellow Water Billabong. $244 for the four of us. Cooinda also has a Caravan Park and is another great spot to stay. It's also home to quite expensive fuel – 50 cents a litre more than major Australian cities! However given its remote location and their limited options in raising revenue it's a bit more understandable – we topped up – in fact we topped up whenever we could.
This was an opportunity to see water wildlife and we were not disappointed. Plenty of salt water crocs which of course were headliners (never knew that they hiss as our youngest discovered) however the abundance of other animals including Buffalo, Whistling Ducks, Darters, Jabiru, Sea Eagles, Ibises, Spoonbills Brolgas and Magpie Geese to name but a few made this quite an amazing 2 hour trip. Something like 25% of all birdlife in Australia feature within Kakadu Park. Belinda, our guide, was terrific and seemed to have eyes in the back of her head in picking up animals that the 40 odd tourists managed to be oblivious to.

Nancy L