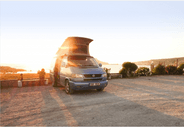 A campervan holiday is a fantastic way to explore the great outdoors whilst giving you an unforgettable experience. Having the freedom to get up and hit the road to your next destination is the beauty of hiring a DriveNow campervan. You'll get off the beaten path and enjoy a completely unique travel experience. To make the most of your travel adventure, we've decided to share our handy travel hacks that will make you a happy camper on your campervan road trip. Enjoy!
Hack 1 – Saving Water
When travelling in your camper, you'll use a water tank for cooking, cleaning, and, washing. To avoid refilling the tank numerous times, as well as being more water conscious, there are some hacks to be more water efficient. When boiling the kettle to make a round of brews, fill the wash basin with the leftover hot water to clean any dirty dishes. You'll save having to use the hot water tap from your tank.
Other ways to spare water for washing up is to use as limited pots and pans as possible. You could go all primitive and cook a feast on a roaring campfire using nothing but wood, fire and food (well maybe some foil too). Or, if caveman style cooking isn't your thing, why not cook up a storm using a one-pot recipe?
Hack 2 – Save on Space
No matter how many people you're embarking on your campervan holiday with, there will never be enough room for everything. Even if you pack lightly, you'll find that you have a cluttered camper and can't find what you need at the right time. When packing for your trip, ditch the hard suitcases and opt for soft backpacks as they are a lot easier to store.
To avoid mess when drying pots and pans, you can be very clever and tie a belt around a tree and attach hooks to it to hang them whilst they dry. Another great storage hack is to bring a shower rack with you and hang it on the inside of your kitchen cupboards to store food supplies!
Hack 3 – Keep bugs at bay
One of the great annoyances whilst camping is those pesky bugs, especially the biting kind. No one wants flies lingering around their food, or mosquitos munching on them during the night. During those long hot summer nights, there's no other choice than to have your camper windows open. If your camper doesn't already have a fly screen, make your own by covering the windows with a mesh screen, to keep the flies out.
Another crafty hack to keep flies at bay when sitting around the campfire is to use lemon and cloves. Simply cut a lemon in half and stick cloves in it and place near where you're sitting outdoors, it acts as a great repellent. Another home remedy for the campfire is to make a sage bundle and burn it on the campfire to repel mosquitos.
Hack 4 – Other Nifty Hacks
For those cosy nights in your camper when you want to relax with a good book or a glass of wine, you'll want to create the right ambience with the lighting. If you forgot to plan ahead and bring a lamp, but have a head torch you can create a homemade lantern. Simply fill an empty plastic milk carton with water, remember to take any labels off, and fix the head torch facing inwards to the bottle. Voila, you have an inexpensive lamp to set the mood.
Save space and avoid having to store soggy bars of soap whilst on the move by making one time cleanse soaps. Simply get a bar of soap and a veg peeler, shave little slices of soap and store them in a sandwich bag to help you stay clean whilst on the move.
As well as using our handy travel hacks to keep you sane whilst on the road, it's always best to plan ahead with your itinerary, especially if you're short on time. We have plenty of useful self-drive travel itineraries to aid your road trip inspiration.