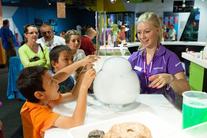 WHAT to do in Canberra? It's a question visitors ask regularly. Australia's capital city has several exciting things to do and landmarks to see. Many attractions in Canberra that will undoubtedly blow you away.
Here's seven things to do in Canberra.
1. Visit Parliament House
When you're visiting the nation's capital city, visiting Parliament House is a must. Explore the public galleries and watch politicians debate at question time. If you're there at the right time, you might even see the House of Representatives or the Senate pass an historic law!
2. Take a tour of the Royal Australian Mint
Since opening in 1965, the Royal Australian Mint has produced over 15 billion circulating coins. Find out more fun facts with a tour of the Mint, where you'll observe coins being produced, learn about historically significant coins and marvel at the National Coin Collection. 
3. Discover history at the Australian War Memorial
The Australian War Memorial is the leading archive and centre for research into the history of Australia's involvement in war. While here, remember the service and sacrifice of Australians during wartime and learn about the people and events that shaped Australia.
4. Walk along ANZAC Parade
A moving and visually powerful walk, with a red gravel strip in the centre with dark eucalypt 'walls'. Start at the Australian War Memorial, which sits at the top end of the parade as you begin your walk, exploring monuments along the way.
5. Go bushwalking in the Namadgi National Park
The majestic Namadgi National Park is rich with Aboriginal History, making up around 46 percent of the ACT's land area. Explore this scenic park's peaks above 1700m on foot, with opportunities to see wild kangaroos, wallabies and emus. Try the popular Booroomba Rocks walking trail, which treats you to amazing views of the Australian Alps at the summit.
6. Test your science knowledge at Questacon
Learn about science and technology at Questacon, the National Science and Technology Centre – best of all, it isn't boring! With over 200 interactive exhibits to explore, you can also free-fall down a six metre slide and experience an earthquake. There's also a gallery for kids under 6.
7. See inside the National Arboretum
One of Canberra's most popular new attractions, the National Arboretum, isn't only beautiful. Important research and conservation work is undertaken here. The Arboretum's collection of trees spans 250 hectares, with the hilltop estate offering wonderful views across Canberra. Learn about how the Arboretum is helping protect tree species and generating new research on how trees grow and adapt.
BRIANNA PIAZZA