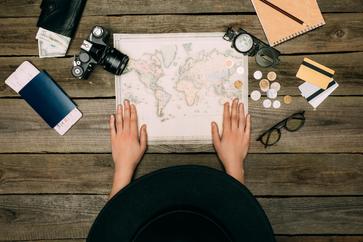 Sometimes as a tourist you feel like you just have a target on your head wherever you go. Ask anybody… usually the most frustrating part of a holiday is having to put up with travel scams.
Expect there's a chance you'll find yourself at the centre of a scam in any destination from Europe to Asia. We've gathered a list of some of the most common ones to look out for to help you on your next journey.
Drivers not knowing the way to your hotel, or your hotel has "closed"
Travellers arrive at Delhi airport overwhelmed and exhausted from their flight. Unfortunately, when you first arrive in a country and completely unfamiliar with the place is often when you're a prime target. Stay alert, because taxi scams can involve drivers doing laps to run up the taximeter and when you question it, the surrounding area appears dodgy and you may not want to get out of the cab alone. Alternatively, cab drivers will tell you your hotel is closed and then attempt to take you elsewhere. Stay alert and take down the driver details once you get in the car. Insist on going where you want, and don't hand over any money or voucher until the end of the ride.
Pick pockets in New York
The 'big apple' is easily one of the greatest cities you'll ever visit. It truly is the city that never sleeps, complimented with a 24-hour public transport service. The underground subway system is convenient and easy to use, but there are tricksters who ride the rails in search of easy prey. Always remain vigilant, especially at night. Fall asleep on the train and you could easily wake up with your valuables missing. Also, if you don't keep your bags locked and in front of your line of sight then pick pockets can take your wallet without you noticing. Alternatively, you can hire a car in New York and drive around for comfort, but this option is best if you're doing some trips outside the city centre.
Beggars in London
This is one of those almost ancient travel scams that you'll find all over the world. Unfortunately, homeless people exist but there are gangs who take advantage of generous travellers by posing as beggars. Someone will come up to you or catch your attention – and they're usually blind, deaf, young or carrying a baby. It makes many tourists feel uncomfortable and sympathetic, and therefore it's difficult to say no to donating some spare change. But you should always watch your belongings. In these scams, someone watches from a distance, noting how much cash you're carrying and where you store your wallet. It's all so they can steal it off you when you least suspect it.
Fake wifi hubs
Thank goodness you can find wifi almost anywhere, including cafes, airports and hotels. It's an absolute life-saver when you're lost and need to load a map, an address, a phone number, your mobile ticket to an event, etc. However, beware of free unlocked connection. Be especially careful about accessing your bank accounts via these wifi hubs. You may actually be connecting to a fake wifi spot set up by hackers who now have access to your device, passwords and online accounts. Before connecting to a wifi hotspot, always as a worker at the location which wifi connection is the official one.
Free goodies that aren't really free
Watch out for this one in Europe. A friendly person will come up to you for a nice chat before placing something like a friendship bracelet around your wrist. They will tell you it's free and not to worry. However, once it's tied on and can't be undone they will demand money. When you refuse, they cause a scene. Often tourists will give in choose to hand over money, rather than be embarrassed. This can happen with any item, including hats. Never allow anyone to put anything on your body, even if it's for free. If they attempt to do so, be firm, return the item and walk away.