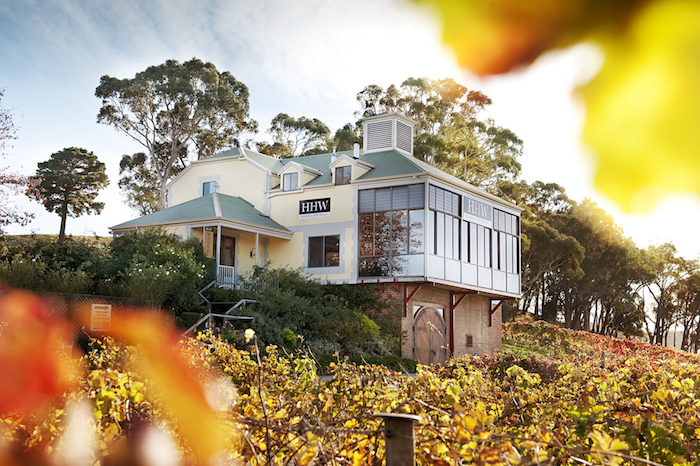 LOOKING for somewhere to sweep your loved one of his or her feet? Then head for the Hills. Adelaide Hills, to be precise, just a 20-minute drive from Adelaide's CBD in South Australia.
It's a land of the long lunch, with nature's eye candy at every turn, delicious locally grown food and wine, and accommodation to match the country's best when it comes to small luxury.
Here are five ways to enjoy your time in this little gem of a region tucked away in South Australia.
No.1: Sticky Rice Villas and Cooking School.
Now here's a place you can get really messy … in the kitchen! The Sticky Rice Cooking School is where some of the best chefs on the planet, including Ty Bellingham, Mark McNamara, David Thompson and Katrina Ryan take a small class and guide them through creating a culinary feast fit for kings and queens.
The dining room setting is beautifully oriental with warm, soft colours, chunky cook books from around the globe lining shelves, a world of spices on tables and cooking tid-bits in nooks and crannies, and an adjoining industrial kitchen where all the action takes place for small groups from Friday to Sunday.
Ours was The Asian Adventure, as Japanese masterchef Yukiko "Yuki" Anschutz assembled her team of loyal helpers (us) and set about not only creating sumptuous goodies like Malay-beef stays with peanut sauce, Thai Red curry of chicken, lemongrass pork, and Cambodian char grilled calamari, but also little pearls of cookery wisdom along the way. After plenty of peeling, chopping, stir-frying, baking, laughing, learning and the occasional near miss, we celebrated our gastronomical achievements and new-found cooking skills over a four course dinner and wine (two sittings throughout the evening).
The accommodation opened in March this year with three architectural gems tucked away privately out the back. Each is inspired by the best villas from Thailand, Japan and Bali and offer plenty of space in two-roomed 70m2 of indoor living area, a private walled outdoor courtyard with beautiful gardens. Floor to ceiling glass surrounds in each villa allows plenty of light and views, and there's the added bonus of under floor heating, designer furnishings and Jag kitchens with an array of magazines for superiors. So far so good!
www.stickricecookingschool.com.au
No.2: Hahndorf Hill Winery (pictured) and Shaw & Smith
A little trip to the Hills can't go without a little tipple or two. For something completely different, head to Hahndorf Hill Winery, not just a boutique vineyard where its Germanic and Austrian varieties take centre stage (Gruner Veltliner is dubbed the world's most food friendly wine), but you can also keep your sweetheart sweet with the unusual yet sublime ChocVino experience. Some of the finest drops unearthed from the vineyard are matched with chocolates from throughout the world.
It's subtle, elegant and brings a whole new sweet dynamic to food and wine pairing.
Up the road is Shaw & Smith for a contrast in winery experiences. Cousins Martin Shaw and Michael Hill Smith realized a dream and produce some of the world's best with their SB's, chards, cool climate Shiraz and Pinot. It's a great opportunity to taste some quality vino in a comprehensive winery operation in elegant surrounds.
www.hahndorfhillwinery.com.au and www.shawandsmith.com
No.3: Bridgewater Mill Restaurant
With an historic giant waterwheel in full swing in a converted flour mill in the Petaluma winery, you'll be making your own splash with your partner while whispering sweet nothings and feasting on sweet somethings at Bridgewater Mill Restaurant. It's a quintessential statement in fine food created from mostly local produce, a winner wine list matched with the dishes, and five star service in a lovely setting.
The tasting menu option is outstanding for lovebirds: think venison chorizo, seared scallops, poached chicken with cucumber, woodear mushroom and sesame, squid balls with radish, peas and wasabi, a melt-in-your-mouth Wagyu beef number before finishing it off with a braised pineapple, coconut caramel and black sesame ice cream. Now that's superior bliss! We didn't just call a taxi to be taken back to our hotel – we called one to carry us out of there.
No.4: Go for a walk or drive and explore the hamlets.
You probably would have noticed by now all this  indulgence surely requires a bit of physical activity at some point to burn it all off. Hit the hills and either enjoy a bike ride or walk in the freshest of air, or go for a drive exploring some of nature's finest countryside with sweeping valley views, rustic and well maintained rolling vineyards, and spend the best part of a day in a hamlet like Hahndorf which retains its strong German heritage. It's a village like no other with Fachwerk buildings, old world ice creamery and lolly shops, chic cafes and restaurants such as The White House, Menz FruChocks Shop, the highly addictive Udder Delights Cheese Cellar, arts, crafts and pubs aplenty.
www.southaustralia.com/regions/adelaide-hills.aspx
No.5: Mount Lofty House
Save the best for last and check in at one of the finest luxury accommodation venues in Australia. This gloriously restored 1850s country estate is set among English style gardens – great for a stroll – and is overflowing with antiques and fine art throughout, but, really, it's all about the views while relaxing. Piccadilly Restaurant is a must and take time kicking back in the Chesterfields in the library or have a play in the billiards room. It's posh, but that's what makes it special.
SCOTT PODMORE