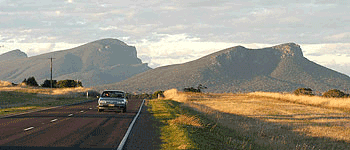 What a place! The Grampians, which are really easy to reach from Melbourne, are absolutely out of this world!
In what is a leisurely three hour drive along the Western Freeway in our campervan rental we picked up in Melbourne, this place is really worth the effort. We stayed at the Parkgate Resort and all of us agreed it's heavenly. The minute you arrive there is a great sense of tranquility. It's really quiet, yet there's also so much to do! If it's a relaxing break you desire then The Grampians is the place to go and the caravan park is second to none with superb facilities including a heated pool and spa.
And it gets even better. For activities, most walks in the The Grampians are easy and have wheelchair and pram access. There are, of course, more strenuous options right up to what they class as the "Experienced" level. However, we did the most basic and the views were simply magical. The hardest walk we took on was down to the bottom of MacKenzie Falls. It's steps all the way, but if our son Boston can do it at three years of age, then anyone can. It's a little more difficult coming up than going down, but it's highly recommended, especially for the great café they have up the top after you "cross the finish line". Nothing is too far away, either, and the drive out to these spots is an experience in itself. You can sit up on top of these landmarks for hours on end just taking in the amazing landscape.
Then it was back into Hall's Gap for a nice glass of red while you sit next to the camp fire and tell everyone about your day of adventure. I'd definitely recommend you stay a week. You can not expect to see it all and experience everything in a day or two. And the local Cultural Centre will really stock you up on all the much needed information about the area, too. Don't delay, get out to the Grampians today!
PETER "SPIDA" EVERITT
The Great Australian Doorstep, visit www.thegreataustraliandoorstep.com.au