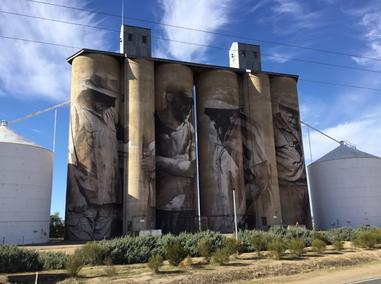 So you are based in Melbourne, staying in Melbourne or you have just arrived. You have done the footy, the restaurants, the coast. It's time to get out and about and flex your driving muscles. But where to go?
Why not try something different and mix a good drive, a great stay, and a terrific art experience all into one and the same. Are you keen? Yes, then jump in your Melbourne car rental and set your GPS to the Wheatbelt region of Victoria
TRAVEL WEST
Whether you use the Calder Highway or the Western Highway, you are assured of some great opportunities for visiting wineries, antique stores, 'famous' bakeries, and assorted fishing, art, sculpture and alternative distractions.
But ultimately, you need to travel through to the Yarriambiack Shire, based either side of Hopetoun.
At this point some wondrous art is made available to you. Art that is 40 metres high, art that is as unique as the townships nearby, art that is a 'one off', art you will see nowhere else in the world!
YARRIAMBIACK SHIRE
This is a seriously progressive shire in the heart of Wheatbelt Victoria. Smaller towns compete with bigger towns.
Tourism becomes an important part of what is a rural economy. Tourism embraces the birth of Silo Art.
Visitors to the Silo Art sees an increase in great places to stay, eat, fish and enjoy the countryside. A terrific symbiosis of the farm meets town, meets tourism is evidenced in the Yarriambiack Shire.
You are not going to want to rush this trip. I would recommend staying a minimum of one, if not two nights to begin appreciation of this area.
WHERE TO STAY
Herein you are afforded the opportunity to find accommodation of differing sorts, but all with a true country feel.
First up try some of the local pubs: as I went through at least one was advertising $25 a night rooms I cannot attest to the quality, but there is always lots to do in a good country pub! There are one or two motels spread along the route at bigger centres like Warracknabeal.
But if you really want to have some fun then hire a motorhome, hit the road stay at one of several well appointed caravan/holiday parks, or try settling in alongside the lake at places like Brim or Beulah.
Stunning views, great facilities and when I was there only $10 per night for a powered site. Yep, before you ask – hot showers, toilets and BBQ facilities come as part of the price. Did I mention the fishing, the all purpose fishing decks, the walks and bike paths? This is a real getaway that you can do across a weekend or longer.
SO WHY DID YOU TRAVEL HERE?
Yep – all of the above is great but the reason we are here is to view some absolutely stunning art work.
Truly gifted artists have transformed dull concrete towers into fantastic art which often are based on local identities. That's right, some of the faces painted, you just might run into at the pub. For the Brim Silo art, all four faces are local farmers!
What is even better is the fact that the numerous silos have been painted by different artists, from different areas, and different walks of life. Now I can tell you all about them, BUT that would be like giving the game score away.
No, you need to grab a vehicle, a friend, a relative (or four), and put two to three days to good use. Go and see what I saw, read what I read, and get told what I was told.
See you there!
THE CHAIR

(DriveNow has teamed up with "The Chair", none other than Dennis Werthenbach, the enigmatic and super popular chairman of the board for Family Parks Holiday Parks & Campgrounds – for more than 26 years, Family Parks has represented independent caravan parks and camping grounds, promoting fantastic holiday destinations for travellers young and old. With so many great caravan and camping parks throughout Australia and New Zealand, Family Parks is more than just a holiday, it's a unique holiday experience.)