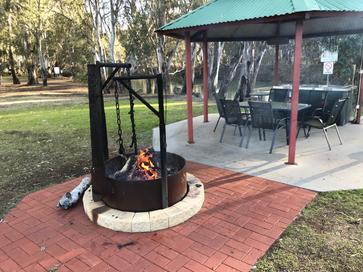 So you have been to the coast, done the theatre and eaten at enough gourmet restaurants. Looking for something different and feel like a road trip to somewhere unique?
Well then, I suggest you pick up a motorhome, or fuel up a car and head to Balranald in southern New South Wales. Oh… may I suggest you bring some sturdy shoes or boots, you will discover why a little later.

LOCATION
Balranald is strategically placed just over the border in NSW.  It is a bit over 400km from Melbourne, and a bit over 500km from Adelaide. It is near to Swan Hill, a tourist attraction of its own standing.  All routes to Balranald are sealed bitumen roads and give access to assorted wineries, view and photos, farm produce like free range eggs, antiques, arts and crafts and a myriad more similar opportunities.
DISCOVERY CENTRE
Having arrived in Balranald can I suggest an immediate visit to the Discovery Centre. Here are some reasons why.
The Discovery Café: Amenities, food and coffee will be available to you after your trip.  More importantly the centre is a wealth of information on what to do and see in the area.  At this point it becomes very much a case ofd individual taste and type of experience one is looking for. Indeed, the Centre is its own tourist experience.
The Interpretive Pavilion: settle in and have all your senses treated to a multimedia and interactive interpretation of the Shire's history. From wood, to wool, to wheat and to the Chinese contribution, you will learn.  The pavilion also supplies visual displays and information on environmental factors such as the wetlands, the birdlife, the Southern Bell frog etc.
Onsite Historical Attractions: check out the historic buildings that house, the Malcom Building Museum, the Old Goal and the Old School.
The Nimmie Caira Project: read more about the area as you wonder through a range of Aboriginal cultural information, statues and sculptures, that are part of the Discovery Centres grounds and landscaping.
BRING YOUR BOOTS
Now earlier I mentioned to bring some sturdy footwear. Luckily enough I had brought mine, and I then went out and 'explored' the two significant national parks in the area being the Yanga National Park and the Mungo National Park.
Yanga National Park is a marvelous expanse of wetlands and forms a habitat for over 100,000 waterbirds and numerous other native animals, some of which are threatened species. It is a special place for Indigenous Australians and includes numerous aspects of their cultural heritage from mounds, to scar trees, to ancestral burial areas and even stone tools.
But my favourite area was Mungo National Park, a chain of dried up lake beds, sand dunes, dust and a 'foreign' look to the landscape makes for a unique experience. It was here that the remains of Mungo Man and Mungo Lady were located showing human habitation of this area going back at least 40,000 years.  There was much media coverage this year as Mungo Man was 'returned' to a traditional resting place. Consider a guided tour – see evidence of human activity at burial sites, fireplaces, stone tools that go back 40,000years.
WHERE TO STAY
I travelled here in a motorhome so stayed at the local Balranald Caravan Park (although you can park up at the visitor centre). There are motels as well. I found the caravan park to be very clean and tidy with very good facilities. I enjoyed sitting around the fire pit and discussing our discoveries of the day with other travellers.
The managers are great and had a wealth of knowledge. The park is flanked by the local river (one of five) and I recommend you bring a fishing rod and have a relaxing sit along the bank during your stay.
Well that's it.  I came for one night and spent three as there was so much to do and see. Why don't you hire a car, grab a motorhome and travel to a genuine 'experience'.
See you there.
THE CHAIR

(DriveNow has teamed up with "The Chair", none other than Dennis Werthenbach, the enigmatic and super popular chairman of the board for Family Parks Holiday Parks & Campgrounds – for more than 26 years, Family Parks has represented independent caravan parks and camping grounds, promoting fantastic holiday destinations for travellers young and old. With so many great caravan and camping parks throughout Australia and New Zealand, Family Parks is more than just a holiday, it's a unique holiday experience.)