EVERY Autumn, there's a road trip in Victoria that every lover of food and wine must experience. Tastes of Rutherglen is a festival every long weekend in March when two worlds collide – an explosion of taste sensations, where the best chefs unite with old and new wineries in the region to match up food with the glorious liquid gold on off
er. Best of all, if you can't make it on the long weekend don't despair – they double up again the following weekend!
People flock from everywhere, whether it's coming from the north in a car rental from Sydney (500km, along the Hume Highway) or from Melbourne in the south (300km, mainly along the Hume). And then there are plenty who head to the north east Victorian hamlet from Canberra (400km). Whatever the direction, the sights and tourist destinations along the way are well worth a stop-off or two.
Rutherglen offers a world of contrasts. A winemaker's dream region steeped in history, glistening with its mix of vintage and modern tastes as generations of family farmers embrace the fresh ideas and creative vision of newcomers now plying the trade; youngsters learning tried-and-true formulas from the veterans, but at the same time teaching some new tricks themselves.
"We're very down to earth here in Rutherglen," says Scion Winery's 28-year-old owner Rowland Milhinch. "You find some of the world's best wines, bloody good wines, but you also find value for money."
Every March, this elegantly understated but famous Australian wine region comes alive for two consecutive weekends for Tastes of Rutherglen, a tantalizing showcase for gourmands and wine lovers.
Milhinch, a stylish and well spoken young man, is a former city graphic designer whose "tree change" with his mother Jan means in theory he's a relative newcomer to Rutherglen's winemaking scene, however, it's definitely in his blood. His great great great grandfather G.F. Morris, of Fairfield Vineyard, was one of the founders of the area's wine industry in the late 1800s.
That blend of old and new is indicative of the region's infectious history and character.
"There are family vineyards here since the 1870s like Campbells Wines and guys like me who have been here for five," Milhinch says. "You can slip down the road and see them rolling an 1800s basket press at All Saints or go over to Michael Murtagh's at Vintara Wines for a stunning vista and also to experience a lovely modern establishment."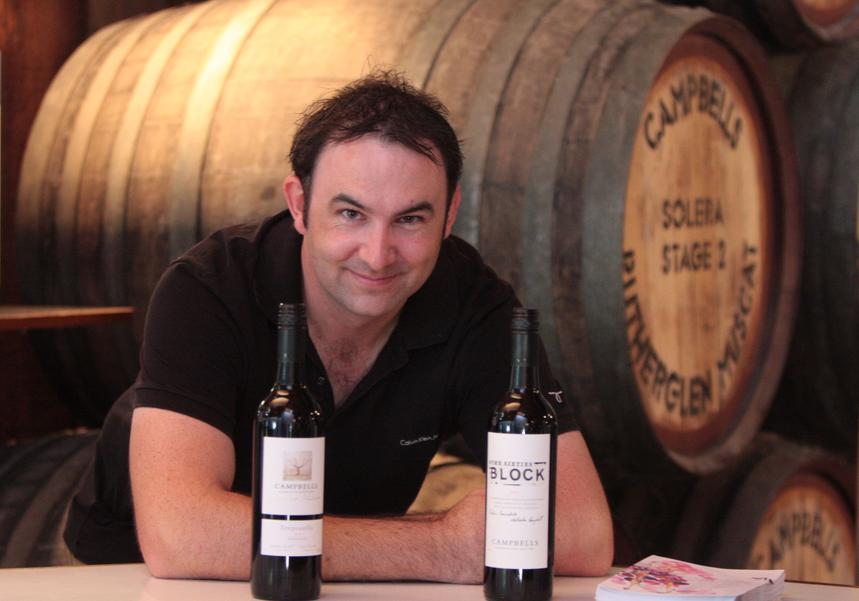 Tastes Of Rutherglen draws more than 10,000 people to the town and Winemakers of Rutherglen executive officer Julia Brown says this year's event also features ample forms of entertainment, starting off with a long table dinner along Rutherglen's Main Street to showcase "hero dishes" on Friday, March 11. This year one of the big bonuses for visitors is the fact you can leave your car rental or campervan back in the park or accommodation venue as shuttle buses will be operating every hour from all directions in the town and those nearby where you may be staying.

"We want to kick off the festival on a high note," Brown says. "We also have a farmers market (March 13) and in addition to various music acts, special dinners at restaurants and wineries, and an art exhibition at the town's memorial hall, we are putting on hourly shuttle bus services on both weekends."

The main event over two weekends essentially promises delicately crafted dishes to complement the specially selected wines ranging from the region's famous fortifieds (Muscats and Tokays) to Shiraz and Durifs, to sparklings, Cinsauts and Chardonnays. Put simply, it's a smorgasbord of wine and food combos. To whet your appetite, think Anderson Winery 2000 Sparkling Shiraz partnered with a sumptuous gourmet BBQ Peking Duck, or perhaps your thing may be mouth-watering barbecued medallions of  Millewa Free Range Chicken on a preserved lemon risotto cake from the glorious Pickled Sisters Café to be washed down with a Cofield Wines 2008 Pinot Noir Chardonnay.

Like Scion Wines' Milhinch, Jen Pfeiffer, a second-generation winemaker from Pfeiffer Wines, says often winemakers from other regions can be fiercely independent of each other, but it's the Winemakers of Rutherglen's willingness to work as a team that sets it apart and makes Tastes of Rutherglen such a relaxed event.

"Rutherglen has wonderful character and as a team we understand the importance of marketing the region as a whole," Pfeiffer says.  "Tastes Of Rutherglen is all inclusive of everyone and held at a great time of the year. Leaves are changing colour, so you have the beautiful vistas of the vineyards, and there's that unmistakable energy in the air because it's also the peak of our harvest and 'Tastes' is timely to celebrate that.

"People who attend Tastes of Rutherglen become friends of Rutherglen for life."

Such earnest words, indeed, which are certainly endorsed by the late Isabel Campbell, mother of veteran winemakers Colin and Malcolm who drive the five generations-strong Campbells Wines. Mrs Campbell once eloquently articulated: "A family winery is not just the wine in the bottle, it's the soil under your fingernails, it's storms and sunshine, tears and laughter, and customers who become family friends."

FOOD HIGHLIGHTS: You cannot miss Pickled Sisters Cafe at Cofield Wines for spectacular home-grown and regional produce (check out the Cauliflower Steaks! A vegetarian's dream dish!), or the amazing Tiuleries Restaurant in Drummond St, Rutherglen, possibly the finest restaurant to be found in any country town in Australia. The wine list is extraordinary, too, boasting the finest on offer from the region.

WINE HIGHLIGHTS: Bullers Wines, Anderson's Winery, Lake Moodemere (check out the hole in one competition where you can win $1000 for popping the ball in the hole on a flaoting green on a lake), Campbells Wines, Scion, Valhalla, Pfeiffer.

Tastes of Rutherglen, March 12-13, 19-20, Visit www.winemakers.com.au or phone 1300 787 929. Accommodation and visitor information: 1800 622 871.