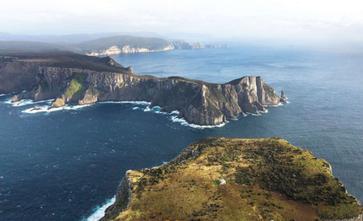 The Tasmania Tourism team says over the coming months the Apple Isle is set to offer a new range of contemporary food experiences on a large and small scale. Enthusiastic newcomers are forging a fresh path as restaurateurs and producers. New experiences have been created to showcase the high quality of agriculture and aquaculture in Tasmania such as cooking schools and touring products.
Grab a Hobart car rental and get ready to taste Tassie in the most beautiful ways this winter and spring.
Tasmanian Wild Seafood Adventures
As Fresh As It Gets
Tasmanian Wild Seafood Adventures invites you to take a morning or afternoon tour cruising through Tasmania's idyllic waterways while enjoying the freshest seafood caught right in front of you. The tour departs from the Hobart waterfront and offers five hours of cruising and feasting. You'll see divers harvest periwinkles and sea urchins from the sea floor through two onboard plasma TVs linked to underwater cameras. You'll visit a Tasmanian oyster farm to taste them as fresh as they get and enjoy a degustation menu including rock lobster, abalone, and salmon. All followed by a platter of Tasmanian cheese and fudge. The tour takes 12 people on board the luxury catamaran that will keep you dry – no matter the weather. The catamaran has warm indoor seating and covered outdoor seating to keep passengers comfortable. Watch out for towering sea cliffs, colonies of seals, flocks of seabirds, penguins, and dolphins.
www.tasmanianwildseafoodadventures.com.au 
Ilha Restaurant, Cygnet
Southern Flavours in Cygnet
Former MasterChef contestant Sarah Clare is set to open Ilha, a new South American style restaurant in her hometown of Cygnet. Cygnet is 50 minutes from Hobart in the agriculturally abundant Huon Valley. Ilha is located in the venue that was formerly the School House Coffee Shop and will serve tapas as well as a seasonal a la carte menu. The wine list will feature wine from Tasmania, mainland Australia, and South America. Sarah appeared on Masterchef 2018 and was a popular contestant, finishing in the top ten.
https://www.instagram.com/ilha_restaurant/
Off The Table
Back To The Source
Off The Table tours offer a unique opportunity for food lovers to go behind the scenes of Tasmania's top producers. Private farms are opening their gates for visitors to pick, taste, and savour the paddock-to-plate Tasmanian food experience. Go truffle hunting, learn how to grow a native kitchen garden or harvest organic forest honey. Experiences include a tour of award-winning Lentara Olive Grove where you can indulge in a tasting tray of olive oils, dukkah, table olives, and olive leaf tea. Take in the 130 varieties of heirloom tomatoes at Tasmanian Natural Garlic & Tomatoes on their official tomato tour. The day includes a six-course tomato tasting, highlighting the diversity of each crop. The Pure Tour Eggspedition is one and a half hours spent exploring Tasmania's largest free-range egg farm Pure Foods Eggs. Tours range in price from $38 to $65 and are held seasonally across Tassie.
Hinton Bay Kitchen Cooking School and Hinton Bay Vineyard
Paddock To Plate
The Hinton Bay Kitchen Cooking School is at the Hinton Bay Vineyard at Hillwood in the Tamar Valley. The large private kitchen is open for visitors to book a variety of cooking classes. Learn how to make authentic dolmades by picking your own leaves from the Hinton Bay vineyard, or join one of the Italian vegan, Thai or cocktail party food classes. Cooking class times are generally 10 am till 1 pm for short courses and 9 am till 3 pm for a full day. This allows time to devour your dishes in the kitchen's dining room overlooking the Tamar Valley. Enjoy a drop from the Hinton Bay Vineyard and perfectly match your cooking class menu with the boutique vineyard's chardonnay or pinot noir. Book your cooking classes as a group of four singles or two couples and stay in the onsite boutique accommodation.
Pulchella Berry Farm
Roadside Delights
Pulchella is a boutique farm in Buckland growing raspberries and seasonal produce. Run by husband and wife team, Adam and Laura-Kate, the property is the perfect spot to stop on the Great Eastern Drive, stretch your legs and taste some of Tassie's sweet berries. The farm gate stall is bursting with seasonal fruit – raspberries, blueberries, mulberries, apples, pears, peaches, tomatoes and mulberries, along with potatoes, eggs, jam, honey and garlic. Pulchella is open every Saturday and Sunday from 9 am until 5 pm. Take a seat at the picnic table or spread out a rug on the lawn.
Check out Driving Tasmania's East Coast itinerary