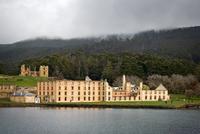 Tassie in winter is one of the most underrated winter adventures. When the cold snap hits then Tasmania is the place to go if you're searching for beautiful scenery, unique sites and less crowds.
Here are six great sights to see and places to visit in Tassie this winter
The Southern Lights
Aussies travel to Norway to witness the incredible Northern Lights. However, what many people don't realise is its southern equal, the Aurora Australis, is right in their backyard. The incredible, colourful Southern Lights can be seen year round from Tasmania, although the best time is during winter. You can literally witness this magnificent natural phenomemon from anywhere in Tassie – so long as you have an unobstructed view of the sky to the south!
Tour Port Arthur (pictured)
Port Arthur is a haunting site but one worth visiting. It doesn't matter whether your familiar with the horrors of the 1996 Port Arthur massacre, which killed 35 people, or the stories of thousands of convicts condemned to hard labour many centuries ago. Port Arthur is a historic site of deep significance to Australia's heritage. It's also Australia's best preserved convict site, able to be visited all year round.
Sample good old Tasmanian whisky
Whisky lovers are going to have the time of their lives in Tassie. Tasmania has a long, proud history of brewing and distilling. The Tassie Whisky Trail is a great way to explore this heritage and meet some of the creators of award-winning blends. It's about high quality whisky, not mass production. The Tassie Whisky Trail takes you to distilleries such Hellyers Road and Launceston Distillery up north, and Lark and Sullivans Cove.
Trek the Overland Track in the snow
This is one for the daring and the adventurous. The Overland Track is popular with hikers during the warmer months of summer. But set out during the middle of winter when there's a clear break in the weather and you'll feel like you have this stunning natural scenery all to yourself. Local companies offer showshoeing trips during the cooler months, giving you a different perpective of the Cradle Mountain-Lake St Clair National Park.
Cosy up by a romantic fire
No matter how cold it may be outside, everybody loves to rug up by a fire with a good bottle of red and a view. There are a handful of stunning luxury lodges scattered throughout some of Tassie's most beautiful areas. Saffire Freycinet overlooks the pristine coast and mountains. Pepper's Cradle Mountain Lodge is another beauty set in the heart of a natural wonderland.
Stop by Chocolate Winterfest
Chocolate lovers can rejoice! If there's any reason for chocaholics to visit Tasmania in winter, then this is it! This one day festival in Latrobe in the state's north is worth the visit. Treat yourself by indulging in plenty of chocolate! Not only that, but the festival has workshops, where you can learn the skills to create your own chocolate creations!
Also check out our awesome Tasmania east coast itinerary suggestions.
BRIANNA PIAZZA