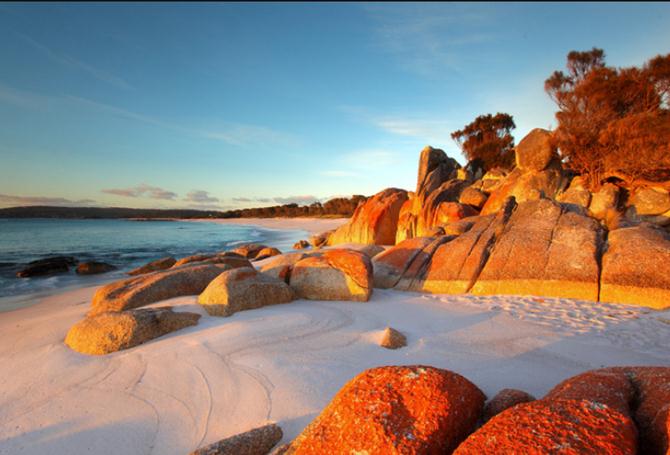 Almost half of Tasmania is covered by national parks and reserves – 20 per cent of which is World Heritage-listed. Here are five fantastic natural attractions set in the great Tasmanian wilderness.
Bay of Fires (pictured)

The Bay of Fires is considered to be one of the most beautiful places in Tasmania. Located on the state's north east coast, this coastal paradise stretches 50 km from Eddystone Point to Binalong Bay. Walk along the white, sandy beach or go fishing in the clear waters. Either way, it's the perfect way to relax and enjoy the spectacular surrounding views.
Cradle Mountain
The still water of Dove Lake mirrors Cradle Mountain's jagged peaks. Walkers come from all over the world to witness this gorgeous scenery in the World Heritage-listed Cradle Mountain-Lake St Clair National Park in the state's north west. Here, you'll come across unique vegetation in nearby forest and waterfalls.
Liffey Falls
Liffey Falls is located in the Midlands region of Tasmania. Many people consider its four distinct tiered–cascade waterfalls exposing sandstone steps as one of Tasmania's prettiest waterfalls. There are two walking tracks to get to Liffey Falls – one is 45 minutes and the other is 2 hours return. Whichever walk you choose, you'll be taken through pristine rainforest, past towering tree ferns and eucalypts.
Walls of Jerusalem National Park
Set in the central highlands, this picture-perfect region is a sight not to be missed. Dolerite peaks, lakes and lush vegetation dominate this alpine wilderness area. These jagged peaks were formed during a period of dramatic tectonic activity about 165 million years ago. Bushwalkers travelling to this remote region must be well-equipped, as the Walls of Jerusalem National Park regularly experiences extreme weather.
Franklin River
This spectacular river is found in the Franklin-Gordon Wild Rivers National Park along the mid northern area of the state. Much of the rugged landscape was shaped by ancient glaciers. The vegetation is also a highlight for tourists, with Huon Pines dating back to over 3000 years. There are walks and historic convict sites throughout the area. However, the best way to explore these world-famous rivers is by jumping onboard a boat. Adventure seekers can also raft or canoe down the river with a day tour.
BRIANNA PIAZZA