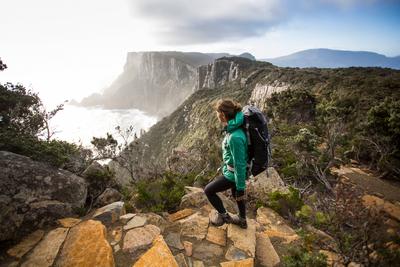 TASMANIA was once the forgotten little state separated from the rest of Australia by Bass Strait and no real desire from most Aussies to mark it down as a summer destination. But it seems now we can't get enough of the Apple Isle so start thinking about your Hobart car rental now with an eye on scooting way down south for the summer holidays.
Let's not forget what happened earlier this year when Tasmania loaded up with gold across five categories at the Qantas Australian Tourism Awards. Not only that, Tasmania collected seven silver, two bronze and The Old Woolstore Apartment Hotel was inducted into the Hall of Fame. What's more, Tassie picked up the most awards out of every state.
Such is Tasmania's charm that Roy Morgan Research earlier this year revealed Hobart now outranks Perth and Brisbane as a capital city holiday destination Australians want to visit.
Awesome walks
When Lonely Planet rated Tassie among the world's top regions a few years ago they named the Three Capes Track a must-do adventure in bushwalking … even before the first steps were taken! But it hasn't taken long for the walk to clean up with awards. The four-day Tasman Peninsula walk features dolerite chasms, architecturally-designed lodging, Eucalypt forests and towering sea cliffs. The Tasmanian Walking Company also was noticed at the Qantas Australian Tourism Awards bagging gold. With over 25 years of experience beneath their boots, not only is the trekking terrific, it can be served with affable guides, wine and plush pillows. Walking in some of Tasmania's most iconic locations, they add more than a touch of class to the experience with the Cradle Mountain Huts Walk, Bay of Fires Lodge Walk (and spa) and more recently the Wineglass Bay Sail Walk.
Luxurious lodgings
As Tourism Tasmania wrote after cleaning up at the awards, "mix the words luxury and Tasmania together and you'll get Saffire Freycinet. Saffire breathes luxury and class. It's been named the world's best boutique hotel. It's no stranger to first place." As it turns out the East Coast resort can now add a new accolade – Gold for Luxury Accommodation. "Saffire appears to have the indulgence recipe just right." Others well worth a stay include The Henry Jones Art Hotel, wth a to die for waterfront position and housed in the landmark historic colonial building, The Hotel Grand Chancellor in Hobart, and Edge of The Bay Resort at the gateway to Wineglass Bay. The Old Woolstore Apartment Hotel is also hot to trot with some major awards and ever-growing popularity for its location on the middle of the Hobart waterfront.
The great outdoors
Blessed with a natural playground where mountain peaks and ocean are always nearby, and "where a short walk can feel a world away from our major cities", as the Tourism Tassie crew tell you. "If you've not heard of RiverFly 1864, it's time to pack your rod. The outfit won Gold for Specialised Tourism Services and offers three-day guided fly fishing trips up at the Western Lakes in private eco-friendly huts. Others include Bruny Island Cruises, the coastal wilderness experience featuring ancient sea cliffs among the southern hemisphere's tallest, sea caves and the occasional whale encounter. Par Avion Wilderness Tours also venture to places inaccessible on foot, taking silver for Major Tour and Transport Operators.
Great drives
The Great Eastern Drive follows a coastline of 176 kilometres of spectacular beauty; dramatic coastlines, world-famous beaches and unique natural attractions. Some say it rivals the best coastal drives on the planet. Check out our Car Hire Tasmania section.
For more visit Discover Tasmania