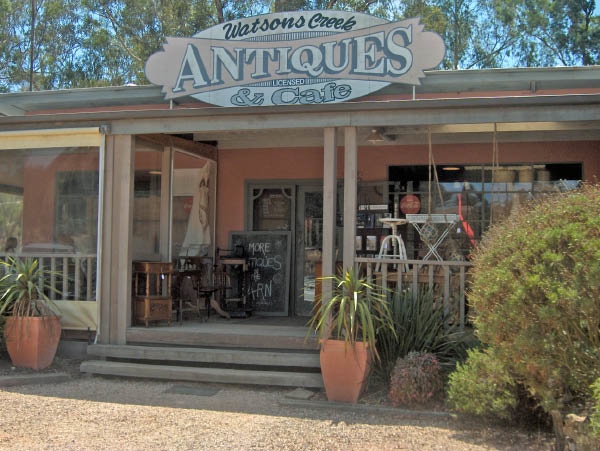 VISITORS to Victoria's capital looking for a weekend day-trip may not know the Yarra Valley is a prime location and only an hour from the CBD in your car rental. They also should know the Maroondah Highway is the most logical route. But, what they might not know is that for a few minutes extra, a whole new world of stunning views and attractions await.
Head out through Templestowe and Eltham and drive through the picturesque valleys of Kangaroo Ground, taking the Yarra Glen turn off  – just past the general store.  Watch out for Watson's Creek Cafe and Antiques, a favourite haunt of locals and tourists for years. It's the perfect stop for morning tea. Wander through the antiques and down the back stairs to a native bush haven where you can have a cuppa with the magpies and kookaburras. Back on the road and a little off the beaten track is Sugarloaf Reservoir, full and beautiful after a good season of rain. Go for a walk or drive the circuit, reminding yourself to go back for a barbecue one day.
Eight minutes' drive and all at once, the elbow bends of bush road open up and a breath-taking vista of the Yarra Valley materialises. Kilometres of farmland, vineyards and – on a clear morning – colourful hot-air balloons, lay before you, the Dandenong Ranges resting quietly in the background.
Appreciate the village-type atmosphere of the Yarra Glen township, then move on to Healesville where you can stop for a leisurely lunch at TarraWarra Estate and then view the magnificent  Australian  modern art collection at the TarraWarra Museum of Art – the building itself  a spectacular feat of architecture.
But don't settle in just yet, start your journey home by calling in at the Yarra Glen pub and wile away a couple of hours listening to live music.
Take your time driving home, making sure to call in at some lookout points.  Then stop for dinner on the porch (later dinner in the restaurant) at Wellers and catch a last glimpse of the Dandenongs as the sun goes down on a perfect day.
OZ BONHAM