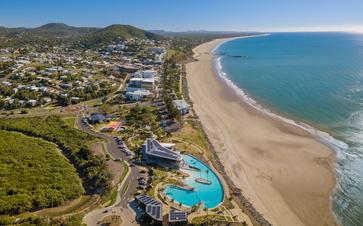 In search of the perfect beach holiday with a dash of pristine rainforest? How about an exciting up-close wildlife encounter complemented by a local vibe that is always welcoming? Looking to enhance your urban art repertoire and spend days indulging in delectable culinary delights? 
Just a half hour drive from Rockhampton and 7 hours north of Brisbane, look no further than the Capricorn Coast. As the Visit Capricorn team invites you to discover a destination that hosts a proud community based on shared strength, passion and values. We ask them to reveal just why you should grab a Rockhampton car rental and enjoy the surrounds.

Take a splash
With endless thrills and a whole lot of fun, Yeppoon's famous foreshore is simply splashtastic. From the 2500 square-metre Yeppoon Lagoon (pictured) to the mythical wonderland of Keppel Kraken, this beachfront bounty is ready and raring for a sizzling summer. The ultimate solution to an exciting, sun-filled day, your memories await.
Embrace the sun, sea and sand
There is absolutely no shortage of stunning coastlines that are perfect and safe for families. With 23 kilometres of coastline, there is a good chance you will find a beach all to yourself. Our humble coastal town is the perfect stepping stone to explore the region's best beaches and nearby Great Keppel Island and Pumpkin Island. Keen for some diving and snorkelling? The Capricorn Coast is the gateway to the Southern Great Barrier Reef.
Whether you are a keen fisherman, 4WD enthusiast, looking to bunker down on a secluded beach, in search of a stroll that deliver salty kisses, or simply wish to enjoy a glass of wine while overlooking the panoramic views of Keppel Bay, there is something for everyone on the Capricorn Coast.
Get lost in the forest
Visit a place where the sandy shores meet spectacular headlands as you explore the outstanding coastal wilderness of Byfield.
Located just 25 minutes north of Yeppoon, you will discover the lush rainforests and spectacular scenery of the surrounding parks and forest.
From rolling sand dunes and beaches to rainforest-edged creeks and rugged mountains, Byfield is rich with diversity and forms one of the largest unspoiled eco-systems on the east coast of Australia.
Our rare Byfield Fern stands unshaken and tall after the bushfires. Flora enthusiasts and nature lovers will be truly inspired by the distinct and opulent discoveries that will be found by exploring this must-see destination.
Shake hands with a Roo
Cooberrie Park Wildlife Sanctuary continues to do what they do best – providing opportunities to cuddle koalas, hold a snake, and get up close and personal with the local boomers. The whole family will love interacting with the animals and beautiful surrounds of this sanctuary.
Pack a BBQ lunch and your swimmers and top off the perfect day with some tucker and a plunge in the on-site pool.
Check out more of what's on offer at Cooberrie Park Wildlife Sanctuary – you won't be disappointed.
Soak up some urban art
The larger than life artworks that are sprinkled across the Capricorn Coast are sure to add a smile to your dial this summer holiday.
Earmarked as some of the most 'instagrammable' photo hotspots, these vibrant and award-winning murals are a must-see. The local artists making their mark on a number of local landmarks are enhancing the region's personality and putting the Capricorn Coast on the map as one of Australia's best street art destinations.