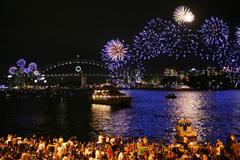 New Year's Eve is perhaps the most exciting time of the year in Sydney and surrounds. Whether you want to watch the spectacular fireworks at Sydney Harbour, or celebrate quietly on the beach, everyone has different ideas on how to best bring in the New Year.
Here are six great places where you could spend this New Year's Eve.
O Bar and Dining
At O Bar and Dining, you'll be celebrating the end of the year while sitting 47 floors above everyone else. This restaurant treats diners to more than just good food and wine – its revolving design gives customers a 360 degree view of the city. Best of all, you get to enjoy the fireworks display from the sky!
On a cruise
A handful of companies allow you to admire Sydney's famous fireworks from the water. Some offer a fancy five course dinner and drinks menu in a relaxing, intimate setting. Others cater for a wilder crowd, with a more party-style boat cruise. Either way, it's an unforgettable way to experience New Year's Eve.
Bradley's Head
This is the ideal spot for families and children celebrating the New Year. Bradleys Head Amphitheatre provides clear views of Sydney Harbour Bridge and the Opera House. There's also live music and plenty of food, while this family zone offers only non-alcoholic drinks.
Taronga Zoo
Have a wild New Year's at the zoo! An all inclusive party package will give you a five-course dinner, or a night of music and dance at an adults only cocktail part. Both events will give you great views of Sydney Harbour when the fireworks arrive.
Royal Botanic Gardens
Sydney's famous Royal Botanic Gardens is one of the city's most-visited sites and on New Year's Eve, it becomes one of the city's most magical. It offers an amazing view of the Sydney Opera House, right near the fireworks. It's a family-friendly location and perfect for a late-night picnic.
North Head
At North Head, you'll be away from the crowds of the popular Bondi or Manly Beach, but you'll still get to admire the fireworks display while relaxing with the family. Bring along a picnic and a blanket as you enjoy the stunning sunset, before waiting for the clock to strike midnight.
BRIANNA PIAZZA