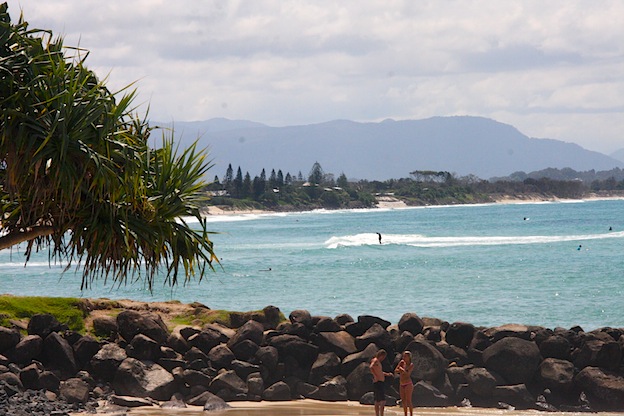 LEAVING the cold of the south behind, team Everitt moved on to the beachside haven of Byron Bay. And what a welcome sight!
After three weeks of grey skies, unloading the campervan we hired in Sydney and setting up at the First Sun Holiday Park in full sunshine was glorious. We thought this was the best camping park in the area because it was located right in the heart of the action.
Looking for adventure, we headed south along the stunning beach and took the one-hour return walk around the coastline and up to the famous lighthouse. It's a fairly easy walk, the kids coped well and the views were gorgeous. Ocean waves crashed against the jagged rock face, and we almost fell off the walking track when we spotted three whales. They were frolicking without a care in the world and we couldn't believe how close to the shore they were. Upon reaching the lighthouse you can just sit around and take it all in or, for a gold coin donation, you can go inside. Occasionally, visitors can even climb to the top – the reward a magical view with the promise of a reviving brew at the coffee shop below.
Back at the main beach, the kids were ready to run wild. Spacious, safe swimming areas and plenty of room to throw a ball around ensured them – and us – of a great time. Then the funky boutique shops called, so while Peter sat at The Top Pub (Beach Hotel), right on the beach, and drank and enjoyed the beautiful atmosphere, the rest of us went in search of some fabulous "one-off'' bargains. The shops in Byron Bay are so unique, (if you are there, check out Buffalo Girl handbags and belts, they are all one-offs) and on the weekend the town markets, behind the Railway Tavern, feature fantastic handmade and homegrown goods.
The roads into Byron Bay, while in need of a little TLC, are fine with a large caravan or a campervan. Just slow down a bit so you don't spill everything in your cupboards.
PETER "SPIDA" EVERITT
The Great Australian Doorstep Series 4 website www.greataustraliandoorstep.com