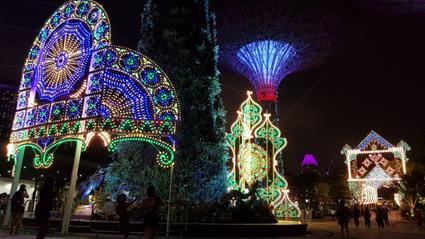 Pop Singapore into the Google flights app and you'll quickly realise return flights from Australia are spectacular value at the moment with a non-stopper on Jetstar from Melbourne costing less than $500 round trip (at the time this blog was published). Scoot's cooking up hot deals too, as is Qantas for those looking for a step up in class.
As most of us know, Singapore is a melting pot of cultures, with great food, restaurants and nightlight, as well as plenty to see and do. Once you arrive, jump in your Singapore rental car and get ready for a variety of fun things during a quick trip before Christmas:
Christmas Wonderland
Embark on a magical journey at Christmas Wonderland 2018. The fifth edition of Christmas Wonderland – the European-style Christmas fair will feature brand new highlights and a new take on crowd favourites when it returns to Gardens by the Bay this 30 November to 26 December.
Brand new iconic luminarie light sculptures handmade from Italy will transform the 57,000 square metre fairground into a wonderland, with Asia's tallest luminarie Christmas tree illuminated in gold, at the entrance of Gardens by the Bay. For the first time, a majestic 22-metre high luminarie mirror maze – the biggest in Southeast Asia – will be the main feature of Christmas Wonderland. Adding a whimsical touch of magic to the festivities is one of the world's top illusionists, Rob Lake, who will headline the performance tent with his critically-acclaimed production, 'The Magic of Rob Lake'.
For an enchanting Christmas, go on a journey to meet Santa at his Alpine House within the Santa's Grotto, a 400-square metre attraction which is the largest of its kind in Asia. The outdoor skating rink has also been expanded and will feature an eight-metre tall illuminated Christmas tree nestled in the middle. Complementing the visual spectacle, a brand new Garden Rhapsody – The Christmas Special light and sound show will also make its debut at Supertree Grove.
Date: Friday 30 November to Wednesday 26 December 2018
Venue: Gardens by the Bay
Singapore's First Disney Tsum Tsum Floral Display
Brace yourself for cuteness overload this holidays as Gardens by the Bay presents Singapore's first Disney Tsum Tsum floral display. "Poinsettia Wishes Featuring Disney Tsum Tsum" sees over 40 Tsum Tsums making their appearance alongside more than 8,000 multi-coloured poinsettias. This is the first time Disney Tsum Tsum – whose name originates from the Japanese verb "tsumu" which means "to stack" – is taking centre stage in Gardens by the Bay's signature floral display in Flower Dome.
Have a fun time spotting the adorable stackable characters preparing for Christmas, including Minnie Mouse and her friends decorating the Christmas tree, Mickey Mouse painting the ornamental baubles, Tigger sliding down ribbons while gift wrapping, and Dumbo lifting presents into the air. Each scene is brought to life amidst a field of winter blooms. Providing a contrast against the traditional red poinsettias are cultivars of other colours such as the rich yellow 'Autumn Leaves', pristine 'Princettia Pure White', and pink and cream variegated 'Mars Marble'. In all, the floral display will feature close to 20 varieties of poinsettias. These are complemented by other plants also synonymous with the season such as Christmas berries, holly, and coniferous trees, including the Korean Fir whose green needles with silvery white undersides give the appearance that it has just been dusted with snow.
Date: From now til Sunday 6 January 2019
Venue: Flower Dome, Gardens by the Bay
ZoukOut (dance festival from sunset to sunrise)
One of Asia's longest running annual dance music festival, ZoukOut, brings Asia's best nightclub and the 3rd ranked nightclub in the world, Zouk, to the great outdoors. The festival is also Asia's largest dusk-to-dawn beach festival in the region.
ZoukOut began life as a modest, one-night-only event that attracted just 9,000 revellers, but it didn't take long for it to build a following on the global party scene, drawing over forty thousand revellers in 2017. This year, programming for ZoukOut runs over 12 hours with the festival ending at sunrise. As a pioneer of the dance scene in the region, ZoukOut has over the years spearheaded the festival and dance music scene by putting together world-class stage productions, immersive experiences and a promise of some of the world's biggest names in dance music.
Date: Saturday 1 December 2018
Venue: Siloso Beach, Sentosa
Adventures with Wildlife
With a mission to inspire people to value and conserve biodiversity, Wildlife Reserves Singapore (WRS) is dedicated to providing visitors meaningful and memorable wildlife experiences. A range of exciting events will take place to end 2018, suitable for all ages.
Twilight Encounters returns with an after dark adventure of fantasy and mystery. There's triple the wild factor with the first-ever Festive Pop-up market in the heart of Mandai, and Wildlife Cluedo at Night Safari's walking trails. Or Enter the Valley of Myths and come face-to-snout with 17 creatures from fantasy and folklore like unicorns, phoenixes and of course, dragons, from 17 November to 31 December. Embark on the Creature Researcher Trail to find out how fantastical creatures were inspired by discoveries of modern animals, their appearance, and their amazing abilities.
River Safari is turning into a giant board game ruled by fearsome river creatures. Brave adventurers must save themselves, and they win a Pin of Honour when the quest is completed. Designed for families, adventurers can form groups of up to six to solve puzzles and escape.
Marina Bay Singapore Countdown 2019
From now til New Year's Eve, Marina Bay will be pulsating with activities as Celebrate in the City, an exciting line-up of events and experiences, brings the public together to usher in 2019. These activities will range from performances by local and international artists, games, carnival rides and outdoor activities. Revelers can look forward to eight marquee events catering to all ages and interests.
On New Year's Eve, Celebrate in the City will conclude on a high note with the Marina Bay Singapore Countdown celebration. Continuing with the theme "Bay of Hopes and Dreams", the celebration invites everyone to ring in the hopes, dreams and aspirations for the new year with activities including light projections, a concert, food truck festival, and bazaar.
Taking this year's festivities to new heights is the inaugural Star Island Singapore Countdown Edition – an outdoor extravaganza at The Float @ Marina Bay fusing magnificent fireworks with cutting-edge technology and 3D surround sound, impressive performances and amazing light shows.