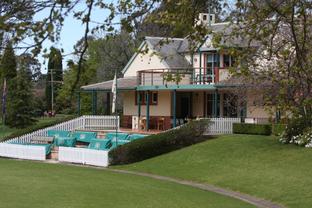 ONE can't indulge in a picturesque road trip after picking up a rental car in Sydney and heading to the Southern Highlands without popping in to say hello to "the Don", the greatest cricketer the world has ever seen.

Of course, to the uninitiated, we're talking about the great Don Bradman, "the boy from Bowral", who blasted world bowling attacks for thousands of runs around cricket grounds worldwide. No-one has come close to conquering his unsurpassable Test cricket batting average of 99. Unfortunately, the cricket legend left us almost a decade ago but his memory lives on at the Bradman Museum in Bowral, a place which has evolved into the International Cricket Hall of Fame.

The journey to this regional highlight south of Sydney isn't a long one, only a one and a half hour to two hour leisurely trip as you exit Sydney via the M5 and end up on the Hume Highway. The drive itself really starts to become pretty the closer you wind your way up to the Southern Highlands and pass through some quaint hamlets and enjoy the views. Nearby are wonderful little tourist towns including beautiful Berrima, Mossvale, Hanging Rock and inland delights like Fitzroy Falls, a natural beauty where you can get away from it all.

The Bradman Museum can be found in Glebe St, Bowral, and you are greeted by an impeccably presented first class cricket oval, complete with white picket fence, scoreboard, sightscreen and small seating area for spectactors in what can only be described as "marvellous", as  another cricket great and veteran commentator Richie Benaud would say.

Bowral is where the young Bradman played during his early years, developing his silky skills before becoming the best batsman the world has ever seen. As the Bradman Foundation tells us, "One of his final wishes was for his ashes to be returned to his boyhood town. In a private ceremony in 2001, the Bradman family scattered Sir Donald's and Lady Bradman's ashes in the Bradman Oval precinct. The nearby garden that bears their name is filled with the Sir Donald Bradman Rose."

Make your way to the museum's courtyard and check out 'A Final Salute', the life-sized bronze statue of "The Don", beautiful monument dedicated to his memory. Inside the museum you can explore a diverse display of significant historical records, cricket gear, baggy greens, photos, mementos, DVD shorts and a souvenir shop. It's a trip every cricket lover must take.