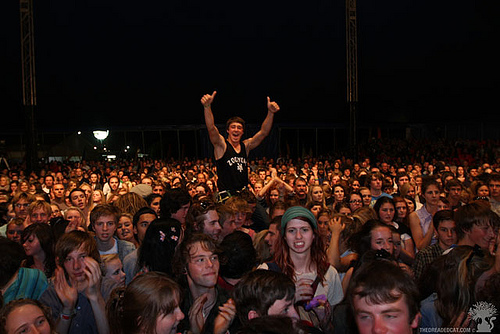 AUSSIES love live music and that love has grown into a festival culture of worldwide appeal, allowing people of all ages to combine their passion for performing acts with an opportunity to visit fascinating parts of the country. What better way to take your car hire or campervan rental for a spin than a music event!
From quaint beachside hamlets and river ports, to sleepy country towns and thriving big cities, the nation's music festival industry is worthy of a standing ovation – and a rockin' good time, of course. Let's take a look at some of the more popular festivals.
QUEENSCLIFF MUSIC FESTIVAL (November 23-25)
Jump in your Melbourne campervan rental and head for the beautiful drive to Queenscliff, with its beautiful beaches and a town steeped in history it's been a popular family holiday location in Victoria for years, and the inclusion in the 90's of the Queenscliff Music Festival on the pristine green of Princess Park, has only added to the area's charm. Overlooking Port Phillip Bay, the festival, is held in late November (technically not summer, but certainly a prelude to it) and features more than 100 national and international acts giving over 150 performances across five stages. www.qmf.net.au
STEREOSONIC (November/December)
Stereosonic, claimed by its promoters to be the biggest electronic dance music event in Australian history, is one of the nation's fastest growing festivals. Now in its sixth year and with a line-up spanning trance, dubstep, house, techno and electronica. Visit  www.stereosonic.com.au
LIFE'S A BEACH (December)
The vibe of the coast and youth culture runs strongly through Western Australia's new Life's A Beach music festival  and in December last year it provided a quality line-up of reggae, roots and hip-hop. The event is located close to the beach at Rockingham and includes skate and BMX demonstrations and mechanical surfboard machines.
TAMWORTH COUNTRY MUSIC FESTIVAL (January)
 From humble beginnings in 1973, the Tamworth Country Music Festival in NSW is now recognised as one of Australia's premier events and one of the top 10 country music festivals in the world. It attracts established acts as well as up-and-coming new talent. The festival this year attracted more than 50,000 visitors who enjoyed 2500 individual events from concerts, record launches and bush poetry, to rodeos and bull-riding. A highlight is the glamorous Golden Guitar Awards. www.tamworthcountrymusic.com.au
RAINBOW SERPENT FESTIVAL (January)
The Rainbow Serpent Festival – from its title to its performance line-up – has been strongly inspired by the Dreamtime and is now an internationally recognised four-day experience combining music, art, performance, spiritual education, relaxation and healing.  Held each January, it attracts more than 10,000 to the western Victorian town to see more than 100 artists of music genres including progressive trance, electro, house, breaks, dub and ambient. Visit www.rainbowserpent.net
AUSTRALIAN BLUES MUSIC FESTIVAL (Feb)
The first Australian Blues Music Festival was held in Goulburn NSW back in 1997 as a way of celebrating this style of music and drawing tourists to the area. With its focus on showcasing the best of emerging and established blues acts from around Australia, this friendly little festival/industry event – with its intimate performance spaces and opportunities to chat with the artists – has grown to be thought by many as "Australia's peak blues event". Visit  www.australianbluesmusic.com.au
ST JEROME'S LANEWAY FESTIVAL (Jan/Feb)
The saying "from little things, big things grow'' was certainly true when the St. Jerome's Laneway Festival kicked off in 2004 in Melbourne's Calendonian lane. Fourteen hundred people attended the first laneway festival. Apparently it was "packed, smelly and full to the brim with great local music''. The festival is now an international touring event with the "Laneway" team priding itself on finding great musical acts early in their career.  The festival rocks around to every capital city so find out more at the website about the next event at www.lanewayfestival.com.au
 SCOTT PODMORE