RELOCATION deals. Now that's one of the most overlooked opportunities for those looking for an inexpensive and fun way to explore a destination. Right now, for example, there are dozens of cheap New Zealand campervan rental relocation deals just sitting there waiting to be clicked and most of them are for $5 a day at the time this blog hit the blogosphere.
So, how does it work? The DriveNow campervan rental relocation list is updated each day between 8.30am-9.30am (AEST) for travel in the coming two or three weeks. That's when the list is fresh and vehicles most likely to still be available. It's the best time to submit a relocation request as DriveNow is more than likely able to confirm your request. The relocations book quickly and therefore as the day progresses the availability becomes more limited. The number of free kilometres on each deal is the distance between the pickup and drop off location plus 550km. Any travel beyond that is charged at AU$0.55 per km.
What routes and vehicles are available as we type? Try these. And if you miss out this time don't despair – set a reminder every month or two to see what deals are up on the NZ relocations page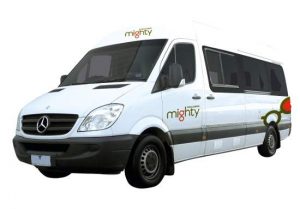 AUCKLAND TO CHRISTCHURCH – between December 31 to January 4
Hit the road in a Mighty Deuce. Microwave yourself some popcorn or some nachos in this super little roomy campervan that sleeps 2. Includes a handy toilet and shower so you've got everything you need. Includes 1350km free. $5 a day and 1350km free. Minimum 4 days and a maximum 7 days. Block out the week right now!

CHRISTCHURCH TO AUCKLAND – between January 10 and January 20
Let's flip it around and jump in a turbo diesel Britz Frontier, sleeps up to six adults, between January 10 and 20 for $5 a day! The large windows around the living area will provide you with an awesome view each morning. as you explore the sites all the way to Auckland. A total of 1350km free.
QUEENSTOWN TO AUCKLAND – between January 27 and January 31
Get ready to start cruising in a Mighty Big 6 which is ideal for two adults and up to four kids. Gas stove, shower and cool CD player to sing those favourite tunes while on the road with 2000km for free.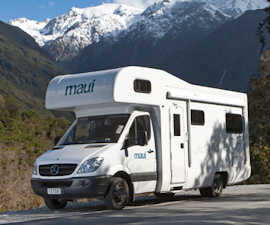 CHRISTCHURCH TO QUEENSTOWN – between January 8 to January 12
The Maui Sunset sleeps six (three double beds) and is perfect for three couples wanting to explore the attractions and sights between Christchurch to Queenstown. Enjoy the spacious fixed rear bed with large windows, with comfortable dinette seating area with full kitchen and bathroom facilities. Minimum three days and maximum six, and 750km free.
Also try 5 great outdoor adventures in Auckland and Campervan adventures in Christchurch
SCOTT PODMORE
Save
Save