Weathermen were redundant for our week in Port Douglas. I mean, how difficult can it be to forecast blue skies and 30 degrees? Sheer and utter bliss. For that's the only way to describe our week in September up North.
Departing a grey overcast Melbourne and with the obligatory (and brief) Sydney stop-over we arrived into Cairns to find the airport in a somewhat chaotic state with extensive renovations underway. To be fair looking at the impressive Qantas check-in area the chaos will be worth enduring.
We'd booked ahead through DriveNow (no surprise there!) and organised an Avis Corolla car rental at Cairns Airport which was perfect for 2 large bags, 2 excited children and 2 parents hoping to spend at least a little time relaxing in peace on the beach, book in hand. Glad to report that no one was disappointed.
Heading up the Captain Cook Highway we did ponder about taking the Karunda Skyrail – this unique Rainforest 7.5km Cableway takes you up from Caravonica over the McAlister Ranges to Karunda and is well worth a visit – however for us the kids had but one appointment in mind and that was poolside 80 minutes north!
Once past Palm Cove the road clings to the coast for 25kms as it winds up the Coral Sea. The scenery is simply stunning, palm-fringed beaches with the Cassowary Ranges as the perfect backdrop.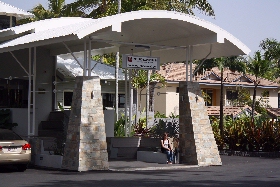 We had booked a 2 bedroom villa at the Rendezvous Reef Resort around 4 kms from the centre of Port Douglas.
It came with DVD player, Digital TV, Sound system with iPod port, in fact everything to keep the kids happy during any down time. Air-Conditioning in the living and bedrooms ensured a comfortable escape from the heat. Most importantly the kids had 3 pools to choose from!
The kitchen had all the essentials including dishwasher but one thing to note the cooker consisted of a 4 ringed hob and microwave but no grill or oven (I guess the thinking is who wants to use an oven on holiday and in such a warm climate). Perhaps other villas were configured differently.
For those without transport there's a minibus shuttle into town every 15 minutes for around $4 a pop. For young families this had everything and was a great place to stay. If you have older teenagers who are looking to party then the resorts are probably not going to meet every expectation.
Other resort highlights included the reasonably priced, good quality restaurant with kids eating for free, BBQ facilities, complimentary Tennis and Pitch 'n' Putt. Staff were great, mostly UK, Irish and Canadian backpackers working their way round the best of Australia.
As for the beach. Well, nip across the road, take a 10 minute stroll through some of the world's oldest tropical rainforest and emerge onto 4 mile beach. Endless sand and sea water that is actually warmer than the pools. I suppose if I was to describe a disappointment it would be that the waves churned the sand so the shallows were'nt crystal clear, but hey that's being pretty picky, this is not a place to miss.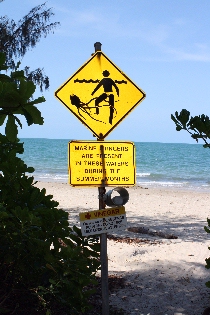 Although September is towards the end of the dry season there was no need to worry about stingers despite the rather novel (for southern and overseas visitors) beach warning signs. Swimming in the sea in Far Northern Australia between November and May is a real no-no – box and the more recently discovered Irukandji Jellyfish (no bigger than your thumbnail) can cause lethal stings. And whilst we're on dangerous animals, avoid swimming in estuaries where salt water crocodiles may be present. Don't be put off by these animals, after all it's their habitat that we have encroached on, the simple rule is ask and follow the advice of local authorities as to where and when it's safe to swim.
Once we had stocked up at Coles we quickly settled into a routine – the kids spent the entire day(s) in the water up to their necks, mornings were dedicated to pool water, afternoons to sea and then it was back to the pool again for a last late afternoon dip. With 6 and 9 year old water-babies this holiday was never going to be pre-occupied by excursions – water activity around the resort & beach was the popular theme allowing everyone to relax, unwind and enjoy.
This routine quickly became the norm with a couple of minor exceptions – an excursion to the Rainforest Habitat Centre (all of 3kms up the Port Douglas Road back towards Captain Cook Highway) . This was fun – plenty of wildlife much of which you could reach out and touch and all set in a great environment.
Sunday is obligatory Market Day at the point off Wharf Street. Whilst much of the wares were of the ilk found at markets elsewhere, it's not often you can buy a freshly picked (or should that be 'dropped') coconut and then watch the husks being chopped off, drink freshly squeezed cane juice (try it with lemon – heaven) or catch a glass of freshly cracked Pineapple juice. A Frenchman selling the most amazing bird whistles and 15 minute Portrait drawings by a Melbourne migrant were other stand-outs. However we quickly returned to the water!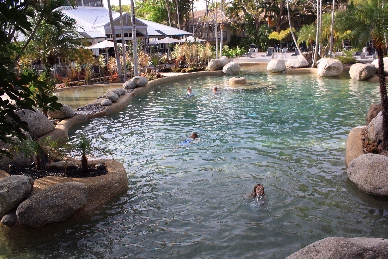 Port Douglas caters for the widest range of budgets. Accommodation includes the luxury Coconut Grove, Peppers Bale, Sea Temple and Mirage Restorts through to Backpacker hotels. There's plenty of mid-range accommodation as well. Eating out is equally diverse with pub grub, Italian and European Restaurants and we found several places offering early diners 'kids eat free' deals which proved to be hugely popular. On a practical level there's 2 large supermarkets, Chemists, banks, Book stores, Internet Cafes, Post Office – in fact I'll not go on here – you have everything you need – so don't worry about packing the kitchen sink!
If you're looking to hire a car in Port Douglas, Thrifty, Avis and Budget all have offices up here, Thrifty on Macrossan Street and the other 2 just around the corner in Warner St at the Wharf Street end. For those taking the Cairns Campervan rental option, Panadanus Holiday Park on Port Douglas Road in Port Douglas is 2 kms from the town centre and has pool, kitchen and powered site facilities. A quick scroll (10 mins max) across the road and through the rain-forest will see you emerge onto 4 mile beach.
It was our first visit that far north and we found everything needed for a great family break away from a rather wet and cold Melbourne. Certainly included in our plans for 2010 for a revisit during the winter months.