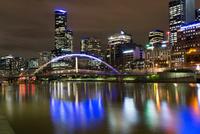 Victoria in the summertime is magnificent. It's glorious and there's no place you'd rather be than enjoying the sunshine while hiking through pristine forest or swimming at one of Melbourne's iconic beaches. Or perhaps your idea of summer means staying indoors to escape the unbearable heat.
Whatever you want to do this summer, Victoria is a place that has endless opportunities for anyone. You can easily pick up a cheap car hire deal from Melbourne Airport with a DriveNow bargain. Once you're all set, hit the road to explore one of these destinations for the day.
Melbourne bayside
On a hot summer's day, southeastern beaches are a godsend with their cool waters. They don't seem to heat up no matter how high the mercury rises. Do you fancy roller skating along St Kilda's famous shoreline? Relax at Brighton Beach or there's Mentone Beach, which is a great spot to take a picnic for the family and have a dip.
Escape the heat via an ice rink
In the heart of Docklands, the O'Brien Group Arena is a major drawcard for professional ice skaters and anyone who's daring enough to give it a try! Ice skating is fun, no matter how much experience you have. Have a laugh with your friends as you listen to some pumping beats and cruise around the rink where it's always cool.
Hike to Masons Falls, Kinglake National Park
Drive just over an hour north east of Melbourne City to Kinglake National Park. Pack your lunch in a backpack and some drinking water and begin the full day 13km walk. It'll treat you to scenic views of the spectacular falls. You'll spot incredible wildlife and discover how the area has regrown since the devastating Black Saturday fires of 2009. You can also do the easy Masons Falls Walk, a 700m one-way walk to Masons Falls lookout.
Take a road trip to Lake Daylesford
The beautiful Lake Daylesford is a magical spot to take a dip in the summertime. Daylesford is one of the most beautiful, historic towns in all of Victoria. It's full of gold rush history and charm. Walk around the lake, go kayaking or just enjoy an iced coffee at one of the nearby cafes with stunning views. Best of all, it's only an hour and a half drive northwest of Melbourne.
BRIANNA PIAZZA