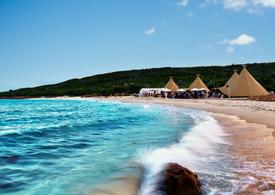 Perth has a lot to offer the Aussie traveller in a campervan. Perth highlights include trekking heritage trails, going to foodie heaven and exploring nature's best-kept secrets.
You can snag a bargain campervan hire deal from Perth Airport. Then your all set to start exploring some of these Perth highlights.
Road trip to Margaret River Gourmet Escape
This year the populat Margaret River Gourmet Escape (above) is back this November from the 15th-18th. The festival attracts more than 50 international and local chefs, including Adriano Zumbo and Rick Stein. Events include lunches, brunches and BBQs. What better way to explore one of Australia's most celebrated food and wine regions?
Trek the Scarborough-Trigg Heritage Trail
Hike past gorgeous beaches and through serene bushland. You get the best of both worlds with the Scarborough-Trigg Heritage Trail. The 7.3km hike is widely considered to be one of Perth's best walks. It's made up of three loops, which allow you to explore Sunset Coast and Trigg Island.
Pay a visit to Wave Rock
So this site may be 340 km south-east of Perth, but the day trip is well worth it. Geologists believe Wave Rock, which is near the town of Hyden, formed over more than 2.6 billion years. The stunning formation, which literally looks like a giant, multicoloured wave, is 15 metres tall and more than 100 metres long. You haven't seen anything like it!
Paddle down Swan Valley River
Fancy a paddle and a wine? With Swan Valley Kayaking you can do just that! It's the perfect combination, allowing you to gently get active, cool off in the water, and relax with some gourmet food and wine. The best part about it is you don't need any experience – just the right attitude! Your guide will teach you how to paddle down this gorgeous river with ease, so you can soak up the amazing views.