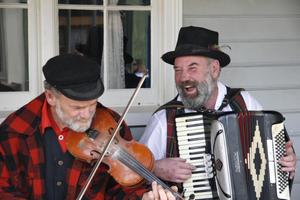 Ever feel like a little holiday away with the family but you don't feel like driving too far away from home?
Here are five places with great family activities, which are only about an hour's drive from Melbourne.
Sovereign Hill, Ballarat (pictured)
Step back in time to the 1850s, when Australia's gold rush drew fortune-seekers to Ballarat from all over the world. This 25 acre outdoor museum is brought to life with horses, carts and dozens of characters in costumes and an original mining site. There are also old-fashioned shops, hotels and schools to explore at Sovereign Hill. Before you leave, make sure you try your hand at panning for gold – you just might strike gold!
Sorrento Back Beach, Mornington Peninsula
Go past Sorrento town and continue along Ocean Beach Road. At the end, you'll come across Sorrento Back Beach. It's the perfect spot for families and from here, you can see Melbourne's distant skyline. Although the water can be quite cool, it's amazing on a scorching summer's day. Head into the water for a little dip, watch ships go by in the distance or explore the surrounding rock pools when the tide is out.
Healesville Sanctuary, Yarra Valley
Healesville is arguably one of the best places to see Australia's iconic wildlife in their natural habitat. Enjoy close-up encounters with koalas, kangaroos, wombats and emus. Throughout the day, free presentations are held, such as Spirit of the Sky. Colourful parrots and Wedge Tailed Eagles fly around an open space and you can also admire them up close. Also make it a priority to explore the Wildlife Health Centre at Healesville, which has vets working around the clock to nurse orphaned and injured wildlife back to health.
Yarra Valley Chocolaterie and Ice Creamery
The ideal destination for chocolate and ice cream lovers! Treat the family for the day to chocolate and ice cream tastings, then buy some of your favourites to take home. You can discover how chocolate is made by watching the talented chocolatiers at work, before browsing more than 250 different chocolate products and flavours! It's also worth stopping here for a delicious lunch or afternoon tea, while enjoying the surrounding picturesque views of the Yarra Valley.
Hike Mt Franklin, Daylesford
Daylesford has long been thought of as the perfect destination for a girl's weekend away or for couples, with its wide selection of spas and relaxation centres. But families can also pay a visit to Daylesford to climb Mt Franklin, which is a small volcanic crater. It's a relatively easy walk to the summit of the 648m high extinct volcano. From the top, you can admire the surrounding country views and enjoy a picnic.
BRIANNA PIAZZA