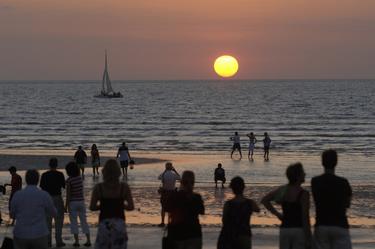 The Northern Territory is a natural paradise waiting to be explored. It's a true gem on the Australian tourism scene with unique natural wonders and experiences. Hire a vehicle from Darwin Airport and start ticking off these five amazing things to do and see.
Uluru
The 348-metre high monolith is an iconic Australian attractions. It's among the world's great natural wonders, which formed about 550 million years ago. Visit at sunrise or sunset to see the rock transform into an array of intense orange and red tones. Many people choose to walk around Uluru's 9.5 km base, stopping at waterholes and hidden caves along the way.
Mindil Beach Sunset (pictured)
At the other end of the Northern Territory is the Mindil Beach which comes alive at sunset. There's no other place quite like it. After admiring the magical backdrop you can then treat yourself to the famous Mindil Beach Market nearby. It's Darwin's largest market which opens every Thursday and Sunday evening between April and October, with more than 300 stalls. Enjoy the aromas of international dishes during this refreshing night in the tropics.
Ubirr Rock
This is one of Kakadu's famous spots. Experts consider the Indigenous rock art in this region among the best in the world. It features animals like turtles, the Tasmanian tiger, to name a few, and includes stories about the law and when Indigenous people first made contact with Europeans. Join a walking tour with an Indigenous ranger guide to learn more about history of the sacred rock art sites.
Jim Jim Falls
On a hot, sticky day you can reward yourself with a swim in crystal-clear waters below the stunning Jim Jim Falls. The waterfall is about 150 metres high and it takes up to two hours to complete the return walking trip. But the walk through forest (and at times the need to climb over boulders) is well worth the hike. You'll never forget the relaxed feeling as you're secluded, surrounded by towering ancient cliffs.
Kings Canyon
Kings Canyon treats you to incredible views of the Watarrka National Park. Imagine red rock cliffs, dense forests and 100 metre high sandstone walls. It's all just a three-hour drive from Uluru. Explore this majestic scenery with walking tours, four-wheel drive tracks or even on the back of a camel. Kings Canyon is also a great place to see the stars in the sky on a clear night.