From the tranquil waters of Lake Tahoe to the enchanting redwood forests in Northern California, California offers a diverse range of family-friendly outdoor adventures all year round. It's the perfect Motorhome or Campervan road-trip destination especially for families.
Create unforgettable memories and immerse your family in the natural beauty of the Golden State. Whether you're a family on their first adventure or seasoned explorers, California's outdoor playground offers the wonders of nature and promises something for everyone from the thrill of a surf lessons in Southern California, to the sand dunes of Death Valley.
1. Gaze at Waterfalls: Yosemite National Park
Yosemite Valley's awe-inspiring cliffs and cascading waterfalls promise to inspire even the most skeptical teenagers. Biking along the Valley floor, hiking the Mist Trail to Vernal Fall, and marveling at the base of the Lower Yosemite Fall are family-friendly ways to experience this iconic national park. Read up on the hikes available and decide which one suits your tribe.
Best time to visit – April to June when the waterfalls are at peak flow.
Stay – Upper Pines Campground – None of the campgrounds have electricity hook-up, Upper Pines is the largest and most convenient campground and also has a dumping station. –  Image credit – Yosemite NP

2. Climb a Volcano: Lassen Volcanic National Park
Lassen Peak, a now-dormant volcano, offers families an opportunity to explore its otherworldly volcanic features. Hike the well-graded trail to the summit, standing at 10,457 feet, and soak in the breathtaking 360-degree vista.
Best time to visit – May to October but plan a trip during late July and early August to witness Lassen's stunning wildflower display.
Stay – Manzanita Lake Campground – NB no electricity, mobile phone coverage but there is a dump station. – Image credit Lassen Volcanic NP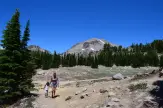 3. Play at the Lake: Lake Tahoe
Nestled amidst North America's most beautiful alpine scenery, Lake Tahoe invites families to engage in a multitude of water activities. Kayaking, jet skiing, fishing, stand-up paddleboarding, and boat cruises are just a few options to enjoy its majestic waters. With scenic cruises, guided kayak tours, and thrilling jet ski rentals, water-loving families will never run out of fun. Book a sunset dinner cruise as a special treat!
Best time to visit – April to October, the water stays warm well into September.
Stay – Zephyr Cove Resort (is a DriveNow favourite) book early.  There are a lot of campgrounds around Lake Tahoe, if Zephyr is full try Meeks Bay Campground – Image Meeks Bay courtesy of Visit Lake Tahoe
4. Rafting on The American River and Gold Country
Got a bunch of dare devils in that motorhome with you?  Embark on an exhilarating rafting adventure on the South Fork of the American River. With numerous outfitters providing guided river trips suitable for ages 4 and above, even inexperienced paddlers can participate. We recommend American Whitewater Expeditions. The surrounding oak-dotted hills in Gold Country offer a chance to delve into California's Gold Rush history, making it a well-rounded adventure for the whole family. – Image credit, American Whitewater Expeditions
Best time to visit – March – October
Stay – Camp Lotus Book early it's a popular spot.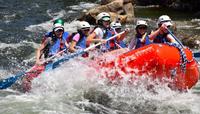 5. Ride Bikes: Big Bear Lake
Boasting over 100 miles of biking trails suitable for riders of all skill levels. From easy rides on the Alpine Pedal Path to adventurous routes in Summit Bike Park, families can enjoy biking together amidst the stunning mountain scenery. (NB You can zip-line, ski and horse ride from here as well) We recommend Goldsmiths Sports outfitters to hire your bikes, don't be scared to try an e-bike (soooo much fun!)
Best time to visit – All year
Stay – Big Bear RV Camp
6. Redwood Forests: North Coast
Venture with your motorhome into Del Norte County's ancient redwood groves that seem straight out of a fairytales. Redwood National and State Parks offer family-friendly hikes amidst the magical flora and a Redwood skywalk in the towering trees. Don't miss the Klamath Tour 'Thru Tree' but you won't be able to drive your motorhome 'thru' but for a unique, kid-pleasing experience watch cars do the drive.
Best time to visit – All year.
Stay – Kamp Klamath but book early,  if you can get in try Chinook RV Resort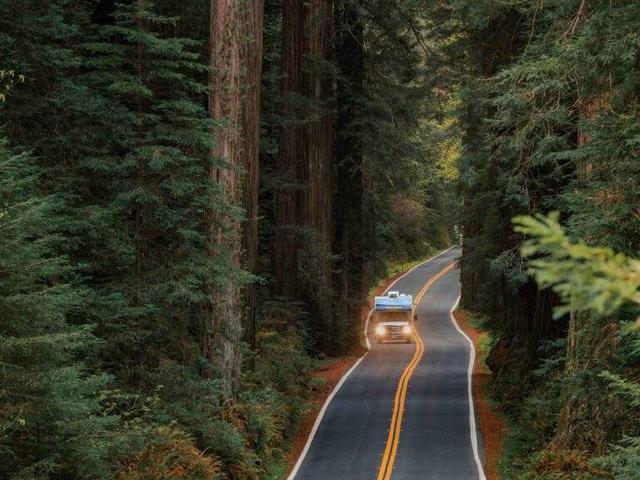 7. Rock Climb and Hike: Joshua Tree National Park
Explore the mystical Joshua Tree National Park, where massive boulder formations and peculiar flora await. Hike to iconic spots like Skull Rock, Hidden Valley, and Cap Rock, or join a rock-climbing adventure for a family bonding experience.
Best time to visit – All year.
Stay – Cottonwood Campground
8. Explore Sand Dunes: Death Valley National Park
Just the name alone should excite the kids for a desert adventure in Death Valley National Park, where sand dunes and otherworldly landscapes await. From witnessing the sunrise at Mesquite Flat Sand Dunes to exploring Badwater Basin's salt flats, this vast park offers an array of family-friendly experiences.
Best time to visit – All year.
Stay – Furnace Creek Campground it only has 18 sites with power so book early.
9. Learn to Surf: Huntington Beach and meet Mickey
Add a splash of adventure to your vacation by learning to surf in Huntington Beach, known as Surf City USA. Take surfing lessons or join a surf camp to experience the thrill of riding waves together as a family. Your also not to far from the wonderland of Disney so maybe you can treat the kids to the happiest place on earth between surfing lessons.
Best time to visit – All year.
Stay – Orangeland RV Park
California, known for its diverse landscapes, offers an all-season outdoor playground that caters to families seeking adventures from mild to the wild. With 1400 km's of coastline, 65,000 square km's of desert, and majestic snowcapped mountain ranges, the Golden State presents endless opportunities for fresh-air fun. Whether you're a beginner in the Motorhome world or an experienced road-tripper, California welcomes you to indulge in nature's wonders through an array of family-friendly outdoor adventures.  If you want to travel for longer? in a Motorhome you can get so much more for your dollar, especially with kids.  What kid doesn't want to go on holiday in a cubby house!!!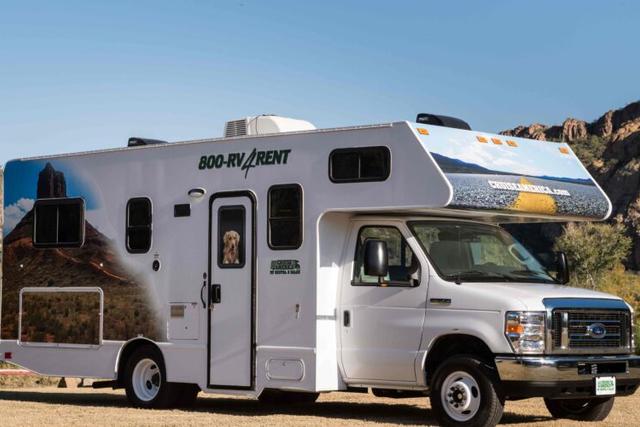 Try to book your Motorhome about 6 months in advance to ensure you get the pick up location and vehicle size you want.
See above an example of a Cruise America 25ft Motorhome Exterior.  Below, have a look at the day time and night time floor plans of your holiday house on wheels