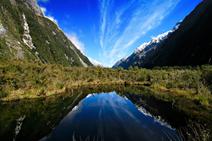 The South Island of New Zealand is one of the world's most beautiful areas. There are mountain peaks, reflective lakes and even charming, historic towns in between. The South Island has it all
Fly into Queenstown, where you can hire a campervan for your New Zealand South Island adventure. Start your journey with one of these four stunning sights.
Milford Sound
Milford Sound is one of New Zealand's most popular tourist destinations. It's a breathtaking sight at any time of year despite rain, hail or shine. The mountain peaks, valleys and waterfalls were carved by glaciers during the ice age. Go trekking, take a boat ride on the lake, try your hand at kayaking or simply stroll through the village. Any activity treats you to the amazing scenery.
Abel Tasman National Park
This is New Zealand's smallest national park but it's still large enough to spend days exploring. Hiking and swimming are the best ways people spend their time here. Go on a boat cruise, have fun canoeing or even spend the day in luxury on a sailing yacht. On the water and in the sun is how you want to spend your time in this picture perfect corner of the world.
Te Anau Glow Worm Cave
Join a guided underground cave tour to experience an unforgettable sight! Walk through a limestone passage on foot where you'll find thousands of naturally glowing lights illuminating a dark cave. The caves are about 12,000 years old, with rivers flowing through them and still carving out the shape of the caves. Guided tours are intimate and limited to groups of 12, as you learn about these mysterious creatures and the area's history.
Franz Josef Glacier
This spectacular World Heritage Area is famous for its glacier. Every year, people travel from all over the world to join a guided ice trek over the glacier. Many also opt for a helicopter scenic flight, which treats you to incredible views of the glacier and surrounding mountains.
BRIANNA PIAZZA