New Zealand is well known for its variable climate, with locals often saying that even within one city you can experience four seasons in a day.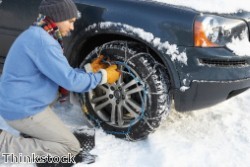 Unlike some countries where weather patterns can hang around for days or even weeks, the geographical layout in New Zealand, 'The Land of the Long White Cloud', means that weather systems often come and go within a few hours.
For this reason, when you pick up your Car Hire in New Zealand, you'll need to be prepared for driving in any kind of weather.
Here's a breakdown of the kind of weather you might experience while in the country, and how to deal with it.
Summer – December to February
Summertime in New Zealand is certainly one of the best times of the year to explore the country with your car rental, but blue-sky sunny days are not always the case.
Auckland is the most northern major city in the country and can experience the occasional tropical cyclone. This generally means heavy rainfall, high winds and storm surge.
For drivers, this can mean flooding, trees fallen across roads or minor slips and rockfalls. Fortunately these events rarely have a huge effect, and are forecast days in advance, so you will know the areas to avoid if you come across one.
Further south, Canterbury is famous for its 'nor'westers', a weather phenomenon that causes a cloud 'arch', bringing hot, dry winds across the Canterbury plains.
They are not anything to worry about for drivers, just remember that they are a fairly common occurrence. If anything, you will simply need to be wary of debris like leaves or store signs being pushed onto the road.
One of the most important things to remember about driving anywhere in New Zealand during summer is that the warm weather and holiday season will bring out more people onto the roads. You will see plenty of pedestrians in the cities, cyclists in the countryside, and cars and motorbikes on the road.
Autumn – March to May
Apart from plenty of pretty scenery to distract you, and a few extra leaves on the road, autumn is a fairly stable time of year for New Zealand roads.
The main hazard you will experience during these months is the level of dazzle from the low angle of the sun. To deal with this in the safest manner possible, don't give in to wiping your windscreen with your hands or anything other than a cleaning cloth if you get condensation or marks on the screen.
Keeping the windscreen clean inside and out, will optimise your vision. If the light is too dazzling, pull over to a safe spot and wait a few minutes until you feel comfortable driving again.
Winter – June to August
Winter is likely to throw the most driving hazards your way out of all the seasons.
Driving in snow should be expected, especially if you're heading to a ski field or taking a trip around the South Island. If you think you might come across the white stuff, make sure you hire a suitable car with 4WD capabilities, and have a set of chains on hand as well as knowledge of how to fit them.
If you come across icy or snowy patches of road, slow down, enter into a low gear, and try not to use the breaks any more than you need to. Be considerate and give yourself at least twice the usual amount of space between your car, and the one in front of you.
Black ice is arguably the most dangerous road condition you might come across. It is actually clear, but is known as black ice because it tends to look like the road beneath it, making it difficult to spot.
It will appear to be very smooth and glossy compared to the usual dull black of concrete. If you come across it, stay calm and allow the car to pass over the ice.
Keep the steering wheel straight and keep your foot off the brake to avoid the risk of skidding or spinning. If you can, change down in gear to slow down. Patches of ice are not usually particularly long, so keeping your speed down and staying calm should get you past it without any trouble.
Another weather hazard you might come across is fog. If you've driven in fog before, you'll know to slow down, allow more room between yourself and the car in front, and use fog lights if you have them or low beams to keep light from bouncing back to you. Use the left side of the road as a guide.
Spring – September to November
Spring brings with it cute lambs all around the country, but early in the season, spring can still bring hazards with it too.
You will occasionally come across flooded areas. If you think the water is too deep to cross, watch to see if other cars attempt to cross a flooded road; this will let you gauge the depth. If you are unsure, you may have to turn around and find another way through. Usually however, signage will let you know if there is another route.
Spring can still bring frosts and icy patches on the roads, especially further south. Use this as an excuse to have a bit of a sleep in, as frosty roads usually just need a touch of sun to warm up for safer driving conditions!
To be totally prepared however, it's a good idea to talk to the friendly staff member behind the desk when you pick up your car, as they will be able to help you find a weather forecast for the area you intend to drive in, and may have further tips about local road conditions.