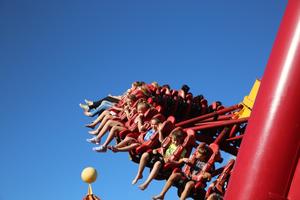 What to do when the school holidays arrive next winter has the whole family shivering in its collective boots?
You head north, hit the east coast and soak up the sun in between theme parks, that's what. But it's not for the faint-hearted. We may be heading into the warmer weather, but here's a cool plan for school holidays next winter.
A Gold Coast adventure with theme parks on the agenda in a Griswald-style escape may be an oldie, but it's certainly a goodie and the perfect way to elude the Victorian winter chill for a week or so. With five kids – aged 10, 11, 12, 13 and 14 – stacked into a people mover, the good news is cabin fever only lasts in small doses, especially if you prepare, book and deliver properly, so the "are we there yets" are few and far between. This is how we did it…
First on the list is book flights and accommodation early. For a party of seven you're crazy if you don't, and one of the first things you should do is be registered for updates from low cost carriers Tiger, Jetstar and Virgin. Tiger was the winner for us as we got in early and managed to snag seven return airfares for under $1200. Next on the list was self-contained accommodation and the ultimate scenario was to have a venue right smack bang near all the action – in Helensvale – so a three bedroom cabin was locked and loaded at Gold Coast Holiday Park, but more about that later. For more visit Tiger Airways, Jetstar and Virgin websites to sign up to newsletters.
Book a people mover at DriveNow for the best deal. Yep, you can't go past this website which is akin to Wotif in the world of car hire, and we bagged a big Hyundai Imax, an eight-seater, plenty of room for suitcases, aircon and auto for less than a grand for 10 days! The process is simple in that you search for people movers in desired location and eight or 10 options pop up with the best deals. We had wheels and there was a party going on in the cabin above them! A great website that's easy to navigate, book quickly and be all sorted for transport while away.
Gold Coast Holiday Park, a big kick-arse cabin with the works. You can either shell out and get a fancy hotel on the Goldie or you can lower your sights and get a home away from home in a more down to earth location like a modern caravan park – which are like mini resorts these days. GCHP is not just any holiday park, but a Big 4 holiday park and anyone who has stayed at one knows exactly what I mean: they're the upper echelon for raising the bar in facilities and standards. Aside from a superb spacious cabin, with kitchenette, bunk beds, great lounge area and widescreen TV was the fact Gold Coast Holiday Park is an entertainment hub in its own right with an amazing pool and waterslide adjoining Nibbles Cafe, an upmarket camp kitchen, bike track, tennis court, outdoor cinema and loads more. But the piece de resistance? It's literally five minutes by car to Movieworld or 10-15 minutes to Dreamworld! All the kids admitted a holiday spent entirely at this great park would be worth the trip to the Gold Coast alone. More goldcoast holidaypark.com.au
Brace yourself for the rides of your life. The instructions were clear from the kids: leave your fear of heights back in Victoria and strap yourself in. The best thing about staying at Gold Coast Holiday Park is they can offer the best multiple park ticket deals going – a must if you want to save some serious dollars. So with our stomachs flipped upside down, sideways and round and round multiple times over the next few days what were the highlights? The kids voted Dreamworld and Movieworld and their accompanying water parks as the best for all the action. Here are some rides that rattled our bones and insides: The Giant Drop, Wipeout, Shockwave, Superman ride, Scooby Doo Spooky rollercoaster, Arkham Asylum, the Batwing, and the Tower of Terror. Speaking of which, see inset for how we grown-ups were processing the Superman ride while our two blonde teenagers in front of us were already looking for something more dangerous! Of course, there's plenty more features to explore and absorb, including a tiger cub being walked around the grounds at Dreamworld which is a cute surprise. More movieworld.com.au and dream world.com.au
The NightQuarter night markets in Helensvale are unmissable. When you're not kicking back in the great facilities at Gold Coast Holiday Park or going nuts in the theme parks, this market experience is an absolute treat for both grown-ups and the kids. A hive of activity, there are more than 120 food trucks/stalls, micro-restaurants, bars, craftspeo- ple, musicians and other quirky points of interest in a real carnival atmosphere. Otherwise known as "shipping container city", the concept is catching on all over Australia. The food is everything from tapas, oysters, BBQ ribs and Asian choices to cronuts, chocolate fountains, amazing icecreams and more. More nightquarter.com.au