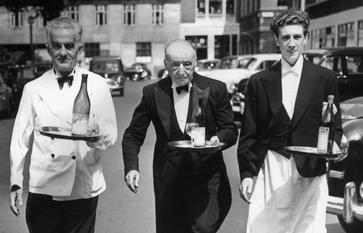 Melbourne in August is a chilly time for the last month of winter, but there are glimpses of Spring as the days slowly get longer. What's hot and new in old Melbourne town?
There's plenty, so next time you're in town try these suggestions for size, courtesy of the Tourism Victoria team.

Tetto di Carolina
South Yarra

Melbourne's newest rooftop has arrived in South Yarra with the opening of Tetto di Carolina. From the team behind celebrated venues Bar Carolina, Il Bacaro and Sarti, the European cocktail bar boasts a drinks list curated by award-winning cocktail bartender Alex Dyzart of London's acclaimed Bar III. The cocktail offering will be complemented by premium champagne and sparkling, as well as a tighter selection of European and Australian wines. Executive Chef Matteo Tine's menu will serve refined Italian small plates designed to complement guests' aperitivo of choice.
Where: Level 1/48 Toorak Road, South Yarra, Victoria, 3141.
Handsome Bar
Port Melbourne

Middle-Eastern inspired restaurant Souk has reopened its neon doors following a major revamp with the venue split to open the new Handsome Bar downstairs at the front of the venue. Entered through a separate door, the bar offers a luxe drinking spot that showcases playful and nostalgic cocktails to be enjoyed and offers up local and French imported wines. Uniquely, the compact dining menu of eight dishes is exclusively plant-based, including truffled parfait with Pedro Jiminez jelly and homemade 'sausage' rolls with Port Melbourne's own Rosella t-sauce.
Where: 13 Bligh Pl, Melbourne, Victoria, 3000.
String Bean Alley
Queen Vic Market

The iconic Queen Victoria Market has unveiled Melbourne's newest laneway experience with the opening of String Bean Alley. Twenty-six independent traders in bespoke shipping containers now call String Bean Alley home and provide a uniquely Melbourne shopping experience in the heart of the city's favourite market. With a history dating back to 1936, the name String Bean Alley pays tribute to the laneway where green string beans were once sold. 12 new businesses have joined existing traders to offer a variety of locally designed, sourced or produced fashion, vintage, jewellery, art, craft, skincare, toys, books and more.
Where: Queen St, Melbourne, Victoria, 3000. (03) 9320 5822.
Easy Peazy
Richmond

Modern Japanese eatery Eazy Peazy has opened in Richmond. From the team behind Toji Sake, the founders have teamed up with head chef Dan Chan (Yardbird Hong Kong, Cumulus Up, Supernormal Canteen) to offer an uncomplicated approach to authentic Japanese dining with a menu specialising in yakitori, hibachi and sharing plates, including raw kingfish with smoked daikon, wasabi and ponzu, Sher Wagyu striploin from the hibachi and Yuba duck gyoza with shiso and umeboshi. The traditional art of brewing sake inspired the design of the 100-seat diner.
Where: 108 Swan St, Richmond, Victoria, 3121. (03) 9965 1977.
Common Ground Project
Geelong

The Mulberry Group's latest venture, Common Group Project is working cafe, farm and social enterprise in Freshwater Creek, a 10-minute drive south of regional city Geelong. From the team behind new city café Liminal, along with Higher Ground, Top Paddock and Kettle Black cafes, the farm has been designed to provide chefs with the opportunity to engage with the land and improve mental health. Along with a seasonal farm-based menu at the on-site café, the project will see participating member restaurants send their chefs to the 1.6-hectare biodynamic farm to meditate and work on the farm at least once a week. Revenue raised from the café and membership fees will be reinvested into the farm and mental health initiatives.
Where: 675 Anglesea Rd, Freshwater Creek, Victoria, 3217.