HOLIDAY parks are experiencing a boom time period, there's no doubt about that, with more and more Australians realising the idea of a road trip holiday staying at the new breed of caravan parks is not only a financially convenient option, but also a fun one.
So, where do you begin? Let's start with Victoria and, as a starting point, let's choose the state's capital city for collection of your Melbourne campervan rental. Then let's look at one of the more popular holiday park chains  – Family Parks. The facilities at most holiday parks these days are ideal for campervanners and caravanners, and Family Parks destinations cater for just about every type of road-tripper.  The company motto? "Holidays for all the tribe". Their philosophy is simple and effective: "Family has so many different meanings whether it be you and your partner, you and your pet, you and your extended family or you and a close group of friends – no matter your family situation, you are assured of being treated with kindness and friendliness".
From Melbourne, many roads lead to a Family Parks destination, so here are five recommendations.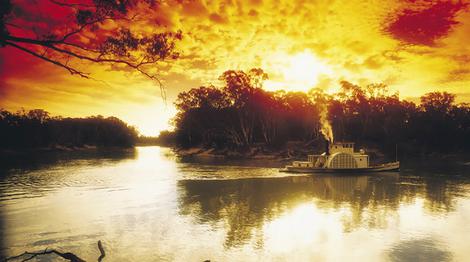 1) Merool On The Murray, Echuca-Moama. Journey = 227km, north on the Hume Hwy and Northern Hwy.
Head north of Melbourne to the closest point of the mighty Murray River and about three hours later you will discover this gem of a place steeped in history and loads of water activities to enjoy. The park itself is set in tranquil bush surrounding a world away from the hustle and bustle – but that"s only five minutes away from Echuca/Moama's main attractions. Best of all, it's only 600m away from the RSL Club, a whopper with pokies, great food and entertainment. The park has powered sites from around $30 ina  spacious setting.
2) San Remo Holiday Park, San Remo (Phillip Island). Journey = 125km, south on the M1.
Head southbound on the M1 and about an hour and a half later you will hit the "gateway to Phillip Island" where the activities and sights are endless, including penguin parades, Phillip Island grand prix circuit, and much more. The park is close to the beach, shops and services and prides itself on being "a private family park with personal service". Powered sites start around $27.
3) Painters Island Caravan Park, Wangaratta. Journey = 250km, south-east on the Hume Freeway.
Sometimes the simple things are often the best, as they say, and this humble park is on the banks of the Ovens River and only a two minute walk into the main strip. This place is right in the heart of Ned Kelly Country and a beautiful food and wine region, so there's much to explore. The facilities at the park are ample and clean, including a great playground, camp kitchen and undercover free BBQs. Powered sites start from $26-$30.
4) Daylesford Victoria Caravan Park, Daylesford. Journey = 111km, west on the Western Freeway and Ballan-Daylesford Rd.
Spa Country in Victoria is something every visitor must visit and this Family Park is a beauty from which to explore the region. Nestled in a quiet botanical parkland setting with giant redwords, the facilities are basic and it's only a short walk to shops and the renowned lake where you can enjoy a wonderful lunch experience at the Lake House. Powered sites start from around the $30 mark.
5) Grampians Gardens Tourist Park, Halls Gap. Journey = 250km, west on the Western Freeway and Western Highway.
Head west and three hours later in the magnificent Grampians you will discover this beaut family orientated, nature based tourist park on about 10 hectares. It's right on the edge of the Grampians National Park in Halls Gap and boasts local residents including kangaroos, native birds and other wildlife. Dogs are allowed, too, so bring the family pooch along! Great facilities include a swimming pool, playground and basketball hoop, daily bird feeding, and powered sites for your camper start at about $27.
SCOTT PODMORE