A journey through NSW can be so many things, but one thing it should always be is an exploration of culture, specifically the first people's culture of this wide brown land.  By engaging with local Aboriginal guides you will enrich your spirit with the knowledge and connection that only the Traditional Custodians can bring to life.  The generosity and pride that local guides bring to your experience will stay with you long after you return home.
All of the tour businesses recommended are Aboriginal-owned and operated with the exception of what I recommend you do in Sydney, so let's start there.
Sydney
The Australian Museum – On the land of the Gadigal people in central Sydney.  Book in for a personal Waranara First Nations Tour led by a First Nations member of the AM's staff.  The Australian Museum houses over 20,000 objects of Aboriginal and Torres Strait Island origin, some dating back 32,000 years.  It's a great way to start your education.
The Royal Botanical Gardens – The Aboriginal Harbour Heritage Tour – gives you a unique perspective of Bush Tucker by showing you the trees and bushes that the Gadigal people have traditionally gathered their wild food from – takes about 90 minutes with one of the Gardens Indigenous staff. – check the website for days and times
Dreamtime Southern X – Wonder what Sydney or 'Wocconmagulli' looked like before the white settlement?  What was the daily life, culture, and beliefs of the people of the Eora nation?  Take a leisurely 90-minute walking tour from the Rocks with this award-winning Aboriginal-owned company.

Port Stephens
Sand Dune Adventures – Home of the Worimi people, Stockton Beach on Port Stephens is 4200 hectares of sand dunes.  This is not a leisurely tour, it's adventure and fun on quad bikes (no experience required) or a specially converted Hummer over sand dunes that have featured in Mad Max movies. Learn about the lives of the original inhabitants, visit ancient middens and even sandboard down a 40-meter high sand dune….Wooohooo! Run by the local Aboriginal Land Council.

Coffs Harbour
Wajaana Yaam Adventure Tours – The land of the Gumbaynggirr saltwater people on the NSW Mid North Coast is a land of crystal clear abundant waterways.  A fun-filled and educational day with Clark Webb will include Standup paddleboarding (no experience required) walking to culturally significant sites of the area. Clark runs a few different tours that depart from different locations, check out the website to choose which one suits you best.  It's a really unique way to understand the deep connection that the saltwater people have to the ocean and the coastline.
Narooma
Ngaran Ngaran Culture Awareness – Mount Gulaga is the sacred ancestral home of the Yuin people, dominating the landscape around the Narooma and Tilba areas south of Sydney. This is a 2 day and 2-night experience combining all aspects of traditional life. Read the in-depth details for the retreat.  It's a once-in-a-lifetime experience in a truly special destination.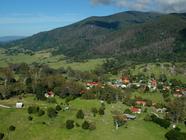 Wagga Wagga
Bundyi Aboriginal Cultural Tours – Wagga Wagga is the traditional home of the Wiradjuri people in the NSW Riverina region. Mark Saddler, a proud Wiradjuri man, will customise a tour of this rich and fertile region for you depending on your time and any special interests. Explore ancient middens, canoe 'scar trees', and spiritual ceremonial locations. Learn about bush tucker, native flora and fauna, and the Dreamtime.  Mark will take you on anything from a 2-hour walking tour to a selection of full-day tours or he can customise something for you.  Mark has a variety of vehicles to cater to all group sizes.  Check out the website for details.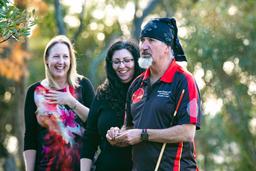 I hope that helps you narrow down where to get a really good, diverse, and educational indigenous experience. These operators have all passed a stringent selection process for integrity and authenticity to be part of Tourism Australia's 'Signature Experiences' so you can use them with total confidence.
Where ever you are traveling in NSW the local information centers will be able to help you with information on the aboriginal sites of significance in the area, even if there is no tour operator.  No matter your destination always pay your respects to the traditional custodians, elders past, present, and emerging and support indigenous businesses whenever you can.
Photo credits: Tourism NSW and operators.