When you think of Queensland, rainforest, reef, tropical islands, the Gold Coast's squeaky white beaches, and probably cane toads come to mind.  Of course, all of that is great but why not add a layer of depth to your experience and include some exploration of the first people's culture in the tropical playground that is Queensland.   By engaging with local Aboriginal guides you will enrich your spirit with the knowledge and connection that only the Traditional Custodians can bring to life.  The generosity and pride that local guides bring to your experience will stay with you long after you return home.
All of the tours recommended are operated by Aboriginal-owned or partnership businesses.  These operators have all passed a stringent selection process for integrity and authenticity to be part of Tourism Australia's 'Signature Experiences' so you can use them with total confidence.
South East Queensland  
Spirits of the Red Sands – A 2.5 hours interactive theatre experience.  Follow the artists around to different performance locations to experience the story of white settlement.  It's emotional, confronting, and an educational experience presented in a unique and traditional way. 
Tropical North Queensland
Pamagirri Aboriginal Experience – Located in the Kuranda Rainforest Nature Park, this authentic experience combines dance performance, guided Dreamtime walk, hands-on didgeridoo, boomerang and spear throwing.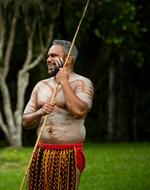 Dreamtime Dive & Snorkel – So you're going to do the reef, and probably more than once so make sure one time you combine the Dreamtime stories from the coastal dweller first nations guides.  Do guided snorkels as the ancient ancestors would have when hunting and gathering on the waters of the Great Barrier Reef. 
Jarramali Rock Art Tour  – If you are hiring a 4wd camper there is a great 'tag along' option for this tour.  From Cairns or Laura – 300km northwest of Cairns. This tour takes you to the Quinkan peoples 'Magnificent Gallery', thought to be 20,000 years old rock art on a grand scale. The stories of local wildlife and society are astounding.  This is a 2 or 3-day immersive experience, with overnight fireside entertainment and bush tucker meals.  Not something to be missed.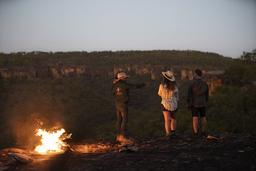 Walkabout Cultural Adventures – When you are based in Port Douglas these half-day, full-day, and private custom tours are designed and guided by Juan Walker a Kuku Yalanji man native to the Daintree, Cape Tribulation, and Mossman area, and are an ideal way to genuinely understand the mangrove's, tidal mudflats and rainforest bounty that the indigenous people have foraged for centuries.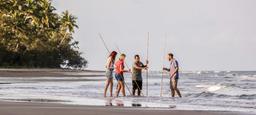 Janbal Gallery  – in Mossman outside Port Douglas is a great place to invest in some genuine indigenous art.  Buy with integrity and the added advantage of Binna Swindley the gallery owner and one of its artists on hand to help interpret the art so you go away with a piece you fully understand and will be connected to for life.  You can even participate in an art workshop. 
Flames of the Forest  – 10 minutes from Port Douglas there has been a magical dining and entertainment experience set up.  It's high-end, delicious and entertaining. Your Kuku Yalanji hosts will even pick you up and deliver you back to Port Douglas – treat yourself! 

Photo credit: Flames of the Forest, Jarramali Rock Art Tours, Pamagirri Aboriginal Experience, Walkabout Cultural Adventures.