Whether you are an American tourist or coming from abroad, DC is always on the travel 'to-do' list. History, culture, architecture, beauty, and more recently quirky-cool – it's a must-do for any Americanophile. 
Specifically talking here to people who have hired motorhomes, RV's and campers, because you need to approach the city in a slightly different manner from those that have flown in and are staying in a city hotel. 
Where to stay 
Firstly,  understand that you are not going to be able to drive your RV around Dupont circle, so, let me introduce you to Cherry Hill Park the closest park to DC, and let me tell you that this is how all holiday parks should be, spacious sites with all the amenities you need for your vehicle plus a lot of extras for you.  Picnic table, chairs, and a fire pit as part of your site, Free Wi-Fi, Swimming pool, splash park, hot tub and sauna, playground, mini-golf, and a grocery store, even a cafe that can do a takeaway for you if cooking is too much after a long day walking the sites of the capital.
Secondly, and importantly, there is a Concierge at Cherry Hill Park to help you with getting back and forth and general sightseeing advice in DC.   There are quite a few options on how to do this.  The sights of DC are only 27km (17miles) from Cherry Hill Park, which is actually in Maryland.  Cherry Hill has its own shuttle bus,  local buses come into the park and two Metro stops are only a short taxi ride away.  If you stay out for the night in DC and have to cab it back it will cost you between US$80-90. 
The Facts about DC
The Federal District of Columbia is not a state but it is between the states of Maryland and Virginia, it is only 20 square km (13 sq miles) with a population of only 700k, however, DC hosts over 24 million visitors every year, so it will probably be crowded when you are there.  Don't visit in winter, there might be fewer crowds but it's freezing and a lot of the services on offer are seasonal. It has extensive and affordable public transport as well as being extremely walkable and rideable on bikes, scooters, or, my favorite, segway's.
Public transport – Union Station is the hub for all public transport into and around the Capital. Get yourself a Smartrip Card so you can use both the Metro (underground/subway rail system) and the circulator bus. It's US$3 a ride but there are 1 day and 3 day passes that suit tourists better.  There are 143km's of bike lanes and bike and scooter share options available,  you will see their docking stations around the popular areas,  a credit card will activate them, they are very reasonably priced and a great way to get around. 
The must-do sights

The Mall – Above is the route of the Circulator bus and shows you where all the Metro stations are.  For context, it's about 5km's from 1. Union Station to 9. Lincoln Memorial.
My tip – It's always good to do the Hop on Hop off bus tour in any city, the commentary is always so informative and it orientates you to go back and give more attention to what you're most interested in.  In DC do the tour and don't hop off (pick it up at Union Station)  then walk or use the Circulator bus to go back to each of the monuments.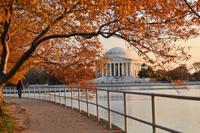 You will be able to see, above, the Jefferson Memorial and all the other memorials – Franklin D Rosevelt, Martin Luther King Jnr, Korean War Veterans, Lincoln, Vietnam, WWII, the Washington Monument obelisk, and of course The Whitehouse. 

Capital Hill – It's all about the US Captial Building, Library of Congress, Supreme Court, and the Botanical Gardens. But there is also the Eastern Market, and a lot of stately 19th century homes.  Tip – if you are in DC in the summer US Marine Barracks has a parade on Friday nights,  get there by 7.30 pm to ensure a seat. 

Dupont Circle – This is where you will find all the embassies as well as the National Geographic Museum, President Wilson House, and Anderson House – The American Revolution Institute.   Tip – make sure you visit the 1894 Henrich House, the museum of Christian Henrich pioneering brewer, try their latest brew in the 1921 Garden Bar.

Downtown – is fancy, this where you will find all the high-end shops and restaurants as well as the National Portrait Gallery, and Capital Arena (home of All Caps ice-hockey team).  Tip – Go to the Old Post Office Building, you can go up the clock tower and get the best view of the city. 

Fun and funky neighborhoods
Georgetown – Has heaps of old stone stately homes that you can wander the streets and breath in, as well as the Kennedy Center (everything performing arts and a tribute to the legacy of JFK).  M Street shopping (see below) is great as well as a walk/cycle or scooter along the Potomac River.  Tip – Dine along the river. 
14th and U Street corridor – Vibrant in its own quirky, Street Mural, Jazz Club, Ben's Chilli Bowl way.  Conversely, the gracious elegance of Meridian Hill Park is a must-visit.  Tip – Did you know that the largest Ethiopian population outside Ethiopia resides in DC, so guess where you will find great Ethiopian food? 
Adams Morgan – Funky and eccentric, with eclectic cafes and lively blues bars. Home to the National Zoo, Rock Creek Park. Tip – Brunch is a weekend religion in DC, so make sure you book any restaurants that you get recommended.  Perry's is rather famous and very popular.  
This just scratches the surface of what there is to do in Washington DC, depending on your interests you may lean more heavily towards museums or the Smithsonian institutes.   For everything Washington DC see – washington.org
Photo credit – Washington.org, circulator bus, Georgetown BID