Utah is known as America's Beehive state, why?  not because it's the honey-making capital of the US,  not even because all the hoodoo's in the national parks could possibly look like beehives, No, it's because they are industrious. I would also add quirky, unconventional, unorthodox, and very environmentally conscientious. 
When you're on an RV/Campervan road trip it's great to have a break from constantly moving but still tripping. Southern Utah's town of Kanab, capital of Kane County, can be your base to experience what this exclusive part of the U.S. has to offer. 
Where to stay: 
Because you will be basing yourself in Kanab for 5 – 7 days you'll want to stay in a park with good facilities that suits your traveling party.  If you use your RV for breakfast, lunch prep, and transport, then you might want to stay at one of the town parks so you can easily access the local food scene for dinner. We recommend – Crazy Horse RV Park 
If you mostly fully cater and/or have a bunch of kiddies in tow then you are going to love Dark Sky RV Campground.  This family-run campground cares about you having a happy stay, they rent out 3 seater e-bikes that you can ride into town, which is less than 7 miles away, but far enough for the night sky to be a feature of your stay. 
What to see and tips: 
As always it's best to check in with the regional Visitor Centre wherever you go, things change, weather can be a factor and they will be all over anything you should be aware of.  Stay flexible and take their advice.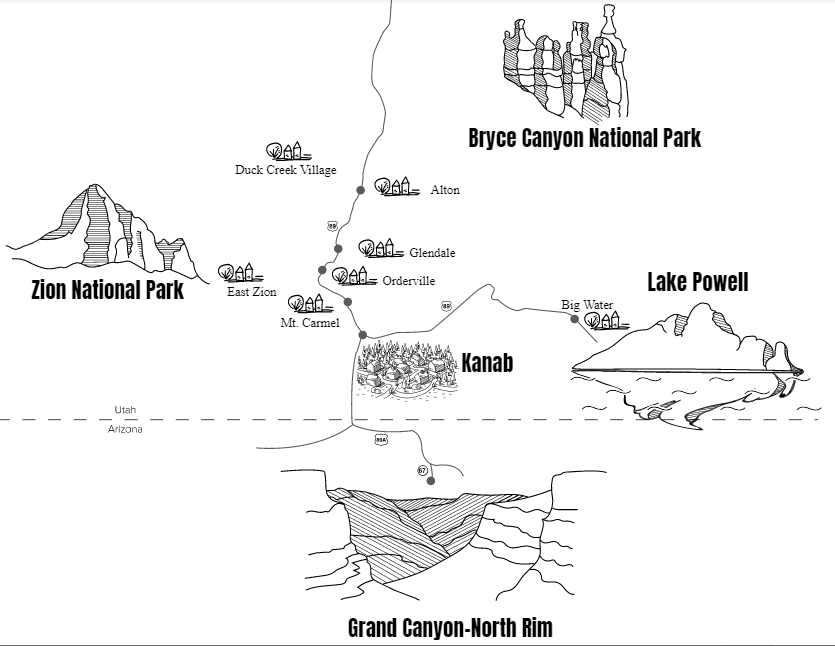 Zion National Park – 1hr, 42miles/67kms 

Leave early and park in Springdale to catch the shuttle bus into the park. (this is the most popular NP in the U.S.)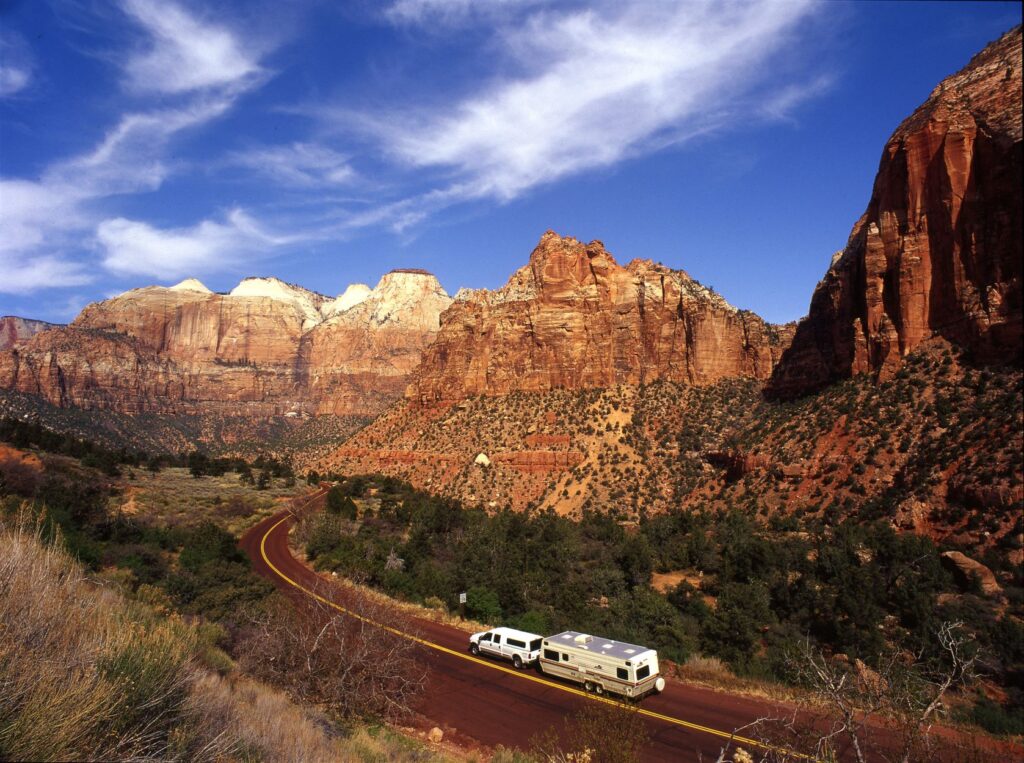 Photo credit: Utah office of Tourism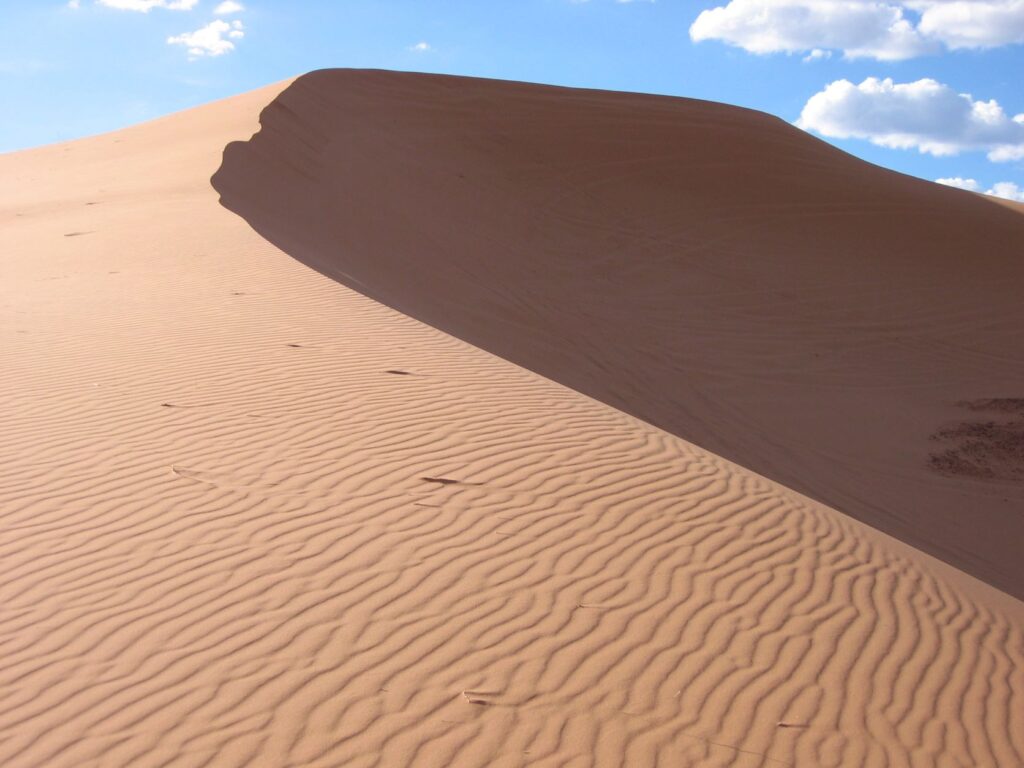 Photo credit: Utah office of Tourism 
Because this area is on the border with Arizona you will be passing over into Arizona and back again, multiple times. 
Downtown Kanab
With a population of approximately 5,000, it's a small town to be considered the heart of the wild west. Kanab is known as 'Little Hollywood'.  While you walk around downtown you will see plaques commemorating the movies made in the Kanab area and the movie stars that made them famous.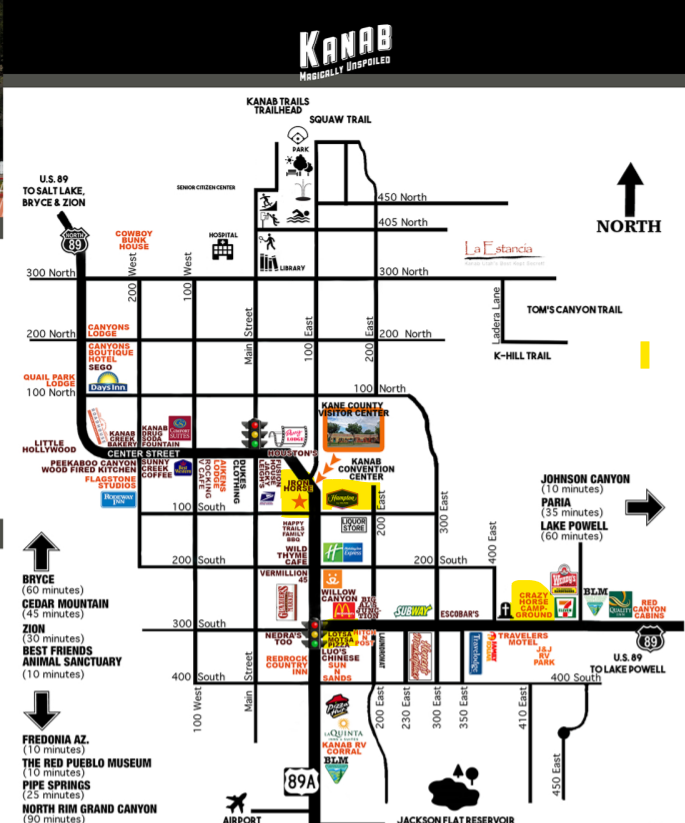 Map courtesy of  Visit Southern Utah
Eating in Kanab
You might be surprised to find 'fancy' in the heart of the west but Sego, Vermillion 45, and Wyld Thyme are all first-class restaurants.
If you are an international tourist like me you will have a desire to experience a diner, in this case, western style, Iron Horse Restaurant and Salon and the Rocking V Cafe are so fun. 
Pizza is always a traveling staple and in Kanab, you have a choice of  Lotsa Motsa or if you prefer vegetarian/vegan there's Peekaboo. 
Your responsibility as a traveler 
It's an attitude that you should take anywhere but to this unique, beautiful, fragile part of the world, it's mandatory!  
Leave No Trace as you recreate with passion and care.
Respect the power of nature.
Honor local community, history, and heritage — show gratitude.
Share your knowledge to guide and enable others.
Celebrate the diversity of people and places.
            -Utah Office of Tourism 
Photo and image credit: Visit Utah and Visit Southern Utah