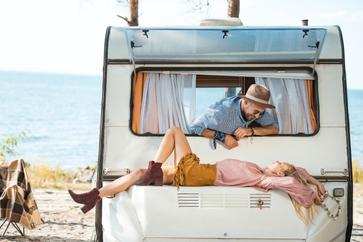 Do you know people who always seem to get lucky with travel deals? Did you know that rental companies will often rent their campervans and cars for an incredible cheap price and even throw in free fuel. It's so they can relocate vehicles around the country, to cities where demand for rental cars is highest.
Luckily, you can be one of those people! It's so simple. Just sign up for DriveNow's watchlist for one way rentals and relocation deals for Australia and New Zealand and you'll be the first to know when a bargain is up for grabs. The list is updated on a daily basis.
Here are five incredible one way rentals that are available right now at the time we publish this blog. You'd better jump in quickly, but if you miss these never fear – there are always more on the way.

Melbourne to Sydney
For just $5 a day you can secure a Britz Voyager. The vehicle features two double beds and a top bunk. You'll be self sufficient with a fridge that has a capacity of 80 litres and ample cupboard space, so you can store food. Outdoor table and chairs are also available for an extra cost. Available now, for a minimum of three day's hire.
Adelaide to Perth
What better way to explore the natural Nullarbor region on your way to Perth? For $5 a day you can hire a Britz 4 berth Voyager for 6-7 days. This incredible deal includes up to $120 free fuel and 3975km free. This is perfect for anyone who wants to head to Perth for a little break soon!
Hobart to Melbourne
Have you always wondered what it would be like to take the Spirit of Tasmania across the Bass Strait and drive around Tassie? Well here's your chance. Just $5 a day for 4-5 days will get you a Maui River, Ultima or a Britz Voyager. All Hobart to Melbourne deals include up to $350 free fuel and 850km free.
Brisbane to Cairns
Tropical Far North Queensland is popular at the moment, which means there are plenty of DriveNow one way rentals up for grabs. Hire a Britz Venturer Plus for 4-5 days. You'll get $250 free fuel and 2262km free, which means you have options and detour along the way up the scenic coast.
BRIANNA PIAZZA