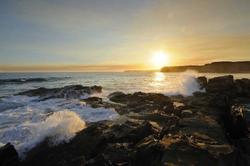 The air is chilly in winter down south, but that's a great reason to load up the car or campervan and set off on a road trip through Victoria's beautiful Gippsland region. Stretching all the way from the rugged coastline of Phillip Island to the sheltered beaches of Mallacoota, Gippsland also covers picturesque alpine regions and scenic country sides. Whether your interest is fantastic local food and wine, finding the perfect fishing spot, or enjoying an action-packed trip of adventure, Gippsland Touring make mapping out the ideal road trip easy with itineraries to suit everyone's tastes. Explorers can select from a range of routes, each filled with its own hidden treasures waiting to be uncovered. 
Bunurong route
The Bunurong route (pictured) showcases breathtaking coastal scenery and lush countryside in the same setting, the perfect location for enjoying a local-produce picnic by the beach. The 7km George Bass Coastal Walk is sure to work up an appetite and for those who prefer two wheels, the16km Bass Coast Rail Trail is dedicated to cyclists as well as walkers. After all that exercise, plenty of cosy accommodation and dinner options make this coastline trip the perfect winter getaway.
La Trobe route
For hidden antique treasures, local art galleries and incredible produce, the comforts of winter are a welcome sight on the La Trobe route. Think red wine by the B&B log fire after a day exploring Glengarry, a historic village established in 1883 and now known for its fresh and locally sourced produce and wine.
Country Drive route
The Country Drive route takes visitors through the town of Briagolong, which boasts heritage buildings on every corner. The self-guided Historic Town Walk is a great way to absorb the history of the buildings and reflects the rich heritage of the town, predominantly in farming and gold mining. Nowadays Briagolong is famous for local artwork and those passing through are treated to paintings, sculptures and paper creations by established and aspiring artists, displayed in the many galleries and workshops open to the public. The Country Drive then winds through to Stratford, a charming village on the banks of the Avon River, the ideal backdrop for the town's very own annual Shakespeare festival.
Inspiring Gippsland Hinterland Drive
For the more adventurous, the Inspiring Gippsland Hinterland Drive guides explorers through the small towns of Yarragon and Walhalla to Melbourne's closest downhill ski resort, Mt Baw Baw Alpine Village. Walhalla, another township bearing the heritage of the gold rush treats visitors to one of the most spectacular rail journeys in Australia. Operated and maintained solely by volunteers, the Goldfields Railway 60 minute trip offers everything from wildflowers and waterfalls to autumnal leaves that light up the valley.
For more information about Gippsland's Touring Routes, visit:
www.gippslandroadtrip.com.au
RUTH BIRCH & SCOTT PODMORE